.
Canon EOS 7D DSLR
APS-C Wonder Child
Peter Kun Frary
.
---
.
The EOS 7D, released Fall 2009, intiated a new product catagory for Canon: the pro-grade APS-C DSLR. It took aim squarely at sports and BIF shooters, providing APS-C "reach" within a weather sealed high performance camera. During the last 5 years I've gotten to know this groundbreaking DSLR well.

Bridge Tender Reflections | Seaside, OR | Canon EOS 7D, EF-s 15-85 3.5-5.6: 31mm, F5.6, 1/4, ISO 800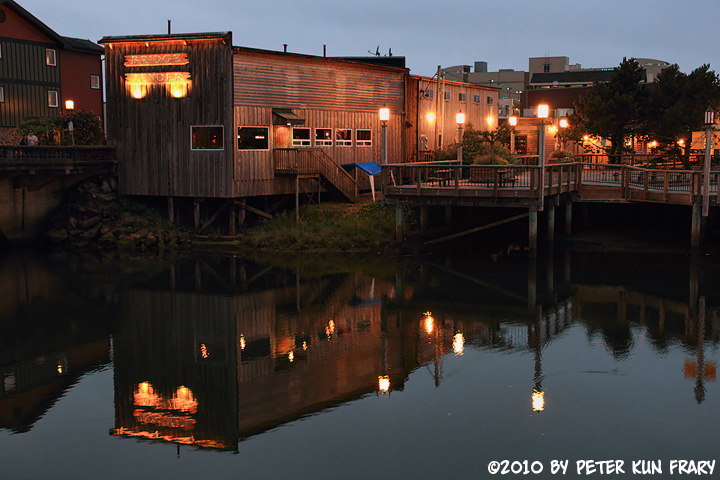 Canon EOS 7D | Photo courtesy Canon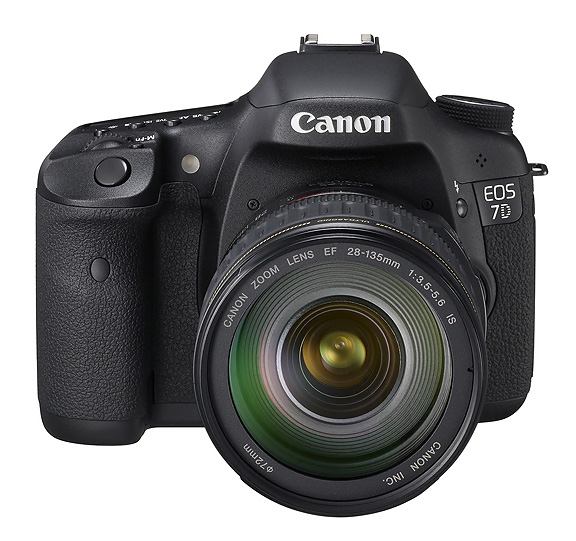 Here are the 7D's main improvements over the previous model, the EOS 50D:

• 18 Megapixel APS-C CMOS sensor (1.6x crop factor)

• 19 Cross-type autofocus sensors

• 100% viewfinder at 1.0X

• Weather sealing at the level of the EOS 1N

• HD video (1080P) at 24, 25 & 30 FPS

• Pop-up flash with trigger functions (Speedlite Transmitter)

• 8 FPS maximum shooting speed

Like the 50D and 5D Mark II before it, the 7D shares the excellent 3" 920k LCD for chimpin' and Live View.
Construction

With weather seals at the level of the legendary EOS 1N, high performance appointments and contoured magnesium body shell, the 7D is like a diminutive 1D. Deep finger grooves in the grip and thick textured rubber make for a comfy and secure hand hold. The large thumb rest helps anchor the thumb and increase grip security.

Red Goose Shoes (Las Vegas) | Canon EOS 7D, EF-s 15-85 3.5-5.6: 85mm, F5.6, 1/15, ISO 400.

The CF card door sports weather stripping and is reinforced with a stainless steel panel and metal hinge. The hinge is spring loaded and pops the door open when released. The battery door also has a metal hinge and weather stripping.

The shutter is softer than a 50D but louder than my 60D and 6D. If you're a DSLR shooter you'll consider the 7D pianissimo. ILC folk will call it forte. At 8FPS I call it fast.
User Interface

Controls revolve around 3 wheels, 19 buttons, 1 joystick and 11 tabbed menus. Major features rely on physical controls can be set by feel while looking through the viewfinder. Menus ares used for options. Wheels have stiff resistance, making accidental turning unlikely. EOS veterans would feel at home and will barely need to crack the manual.

Seaside, OR | Canon EOS 7D, EF-s 15-85 3.5-5.6 IS USM, F5.6, 1/3 sec, ISO 1250, -.67 EC, 70mm
Button City

Most controls can be reprogrammed. I configured the joystick for direct selection of AF points and assigned center AF point to the DOF button. Menus can be configured too, e.g., group favorite settings under a single tab. The menus are well organized with all options on a single page.

Buttons galore | The LCD frame seen on previous models was omitted to make room for more buttons. The LCD cover is glass and more scratch resistant than previous plastic designs. Photo courtesy Canon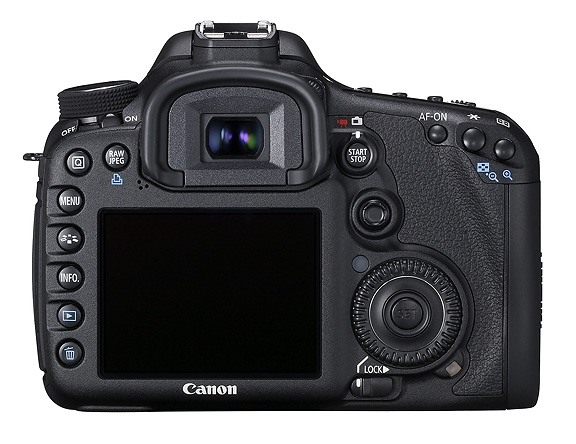 Quick Control Screen

Poke the "Q" button and the Quick Control Screen (QCS) activates. QCS gathers major camera functions—AF mode, aperture, ISO, etc.—on a single screen. QCS excels at fast multiple adjustments, e.g., changing ISO, AF mode and FEC consecutively. If you're only changing one setting, it's faster to use a button or wheel.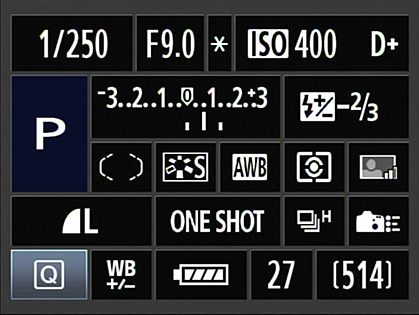 Viewfinder

The viewfinder shows 100% of the image at 1.0X magnification. It's the best APS-C viewfinder I've used. The focusing screen is not user replaceable but the transmissive LCD display—transparent LCD over the focusing screen—can simulate five AF patterns and grid and plain matte screens. The red AF display flashes may be changed to dark gray or disabled. The viewfinder data display is bright and easy to read.

Viewfinder AF overlay. You can go with clean 'n simple or cluttered depending on your mood. Photo courtesy Canon

Viewfinder with grid and 19-point AF overlay. Photo courtesy Canon

Autofocus

The 19-point cross-type AF array is the most significant 7D innovation. Off-center points are normal crosses but can snag almost anything. Although the 7D has double the AF points of the 50D, the AF area is the same size. This high concentration of AF points means lock AF and recompose is rarely needed. AF selection via joystick is precise and quick.

The Flame | Canon EOS 7D & EF-s 15-85 3.5-5.6 IS USM: F3.5, 1/30, ISO 100

Double Cross

The 7D features a double cross center AF point. Imagine two superimposed crosses: rotate one cross so the arms fall in between the axis of the other. A F2.8 or faster lens is needed to enable high precision mode and double cross sensitivity. With slower optics it reverts to normal precision and single cross.

POM at Ala Moana Center | Canon EOS 7D, EF-s 15-85 3.5-5.6 IS USM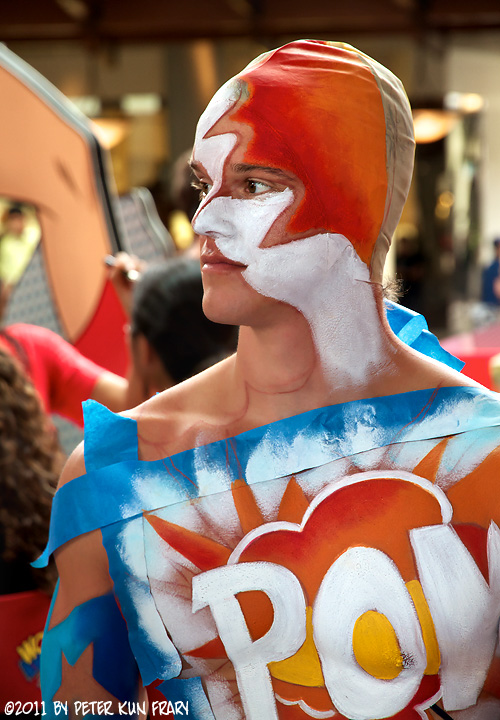 AF Modes Galore

Initially I was befuddled by all the AF modes—single point, spot, point expansion, zone and 19-point—and it took weeks to figure out which worked for me. AF modes may be changed on the QCS or directly with buttons and wheels. Changing modes while looking through the viewfinder is fastest. AF pattern/mode graphics are displayed on the viewfinder overlay.

You can remove AF modes (via custom function CF-III-6) so you won't have to toggle through the ones you never use. I find all of them useful so I leave everything loaded.

Bridge Reflections at Twilight | Seaside, OR | Canon EOS 7D, EF-s 15-85 3.5-5.6 IS USM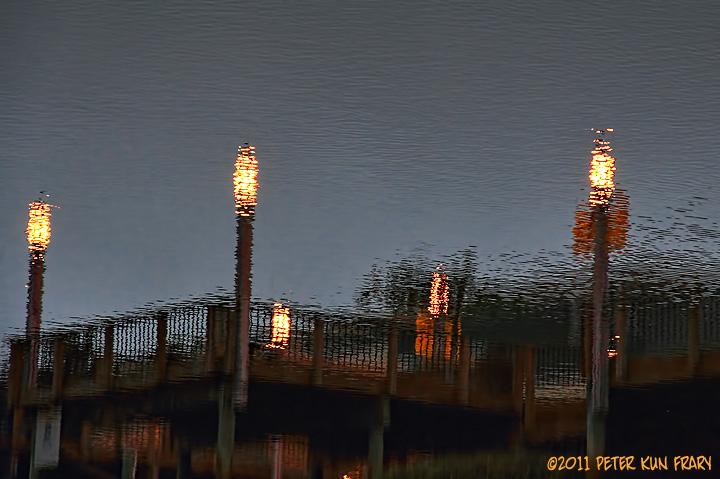 19-Point Auto Selection

My main disappointment with 19-point auto select is I can't directly override active points with the joystick. Instead, press the AF selection button and use the M-Fn button to cycle through AF modes until single point AF appears. Finally, select the AF point with the joystick! Oddly, individual AF points may be chosen in 19-point AI servo. However, the selected point is a starting point for AI servo tracking: focus is handed off to each of the 19 points as the subject is tracked across the frame.

My compromise for the problem above is to use Zone AF with center point activation assigned to the DOF button. Zone AF behaves like 19-point AF, but limited to one of 5 large user selected zones. Zones may be chosen directly via joystick and, if pin point accuracy is needed or it misses, press the DOF button to narrow AF to a single point within the active zone. Essentially it becomes 5-point AF with the DOF button. Release DOF button to return to normal operation.

Carrousel | Seaside, OR | Canon EOS 7D, EF-s 15-85 3.5-5.6 IS USM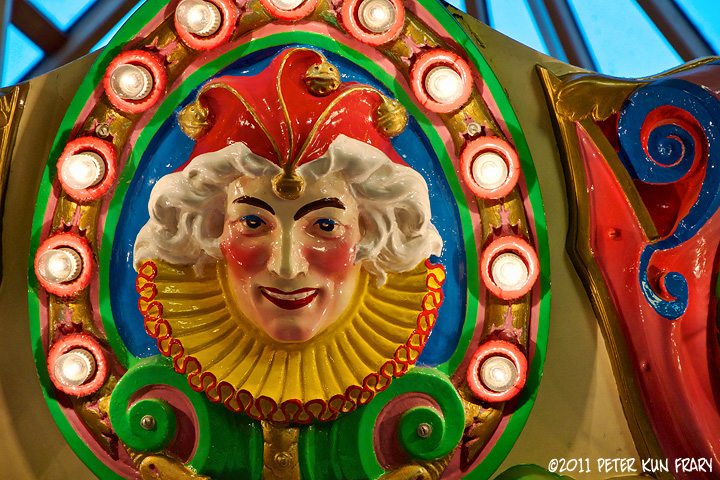 Spot AF

Spot AF reduces AF point size for precise control of the focal point, ideal for macro and portraits. Why not use normal Single point AF? Normal AF points are large and may cover both the eye and eyebrow in a tight portrait, locking on the more contrasty eyebrow. Reducing AF point size insures an eyeball lock.

Pink Hibiscus | Canon EOS 7D & EF-s 17-55 2.8 IS USM: F5.6, ISO 400 | Using Spot AF, I locked the center AF point on the edge of a petal.
Spot AF is the most significant focusing breakthrough of the past 5 or 6 years. It's not for everyone, but makes macro and portrait shooters happy.

EF 85 1.8 USM | Canon EOS 7D & EF-s 17-55 2.8 IS USM: F11, ISO 400, foil & white reflectors, RC-1 & Bogan tripod. Off-center Spot AF lock on MF ring.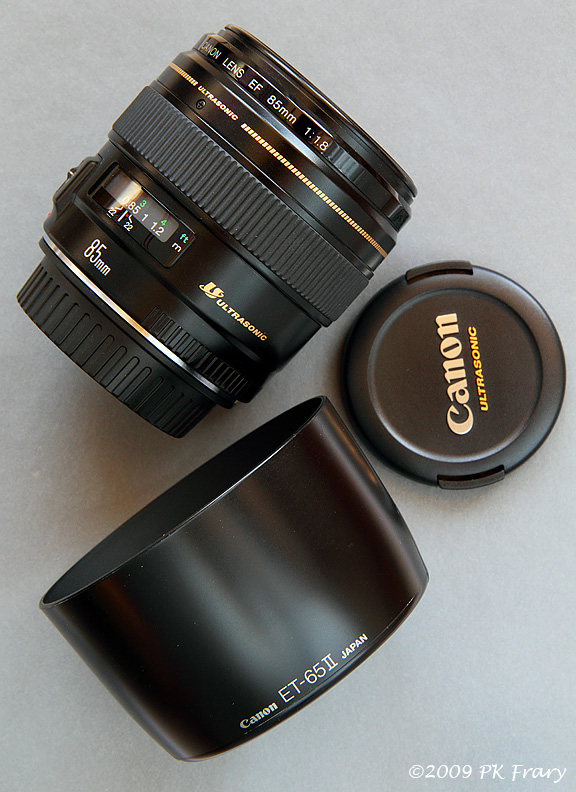 Metering

Sixty-three zone metering debuted in the EOS 1D Mark III and filtered down to the 7D. Evaluative metering integrates color data into the algorithm and is better at avoiding overexposure of reds, a problem for the 40D/50D. It's a minor improvement over the 35-zone metering of XXD cameras but slightly better in tricky lighting. Exposure compensation (EC) is adjustable to +/- 3 stops.

Evaluative metering is more biased to that active AF point than earlier EOS DSLRs such as the 50D. In other words, the object you focus on has more weight in the camera's exposure calculation. In Zone AF where a large group of AF points lock, the exposure is more averaged.

Flash

The 7D houses a retractable E-TTL flash above the pentaprism: 1/250 and slower sync, 39 feet Guide Number (ISO 100) and fixed 15mm coverage. It's great for fill flash and snapshots. In Full Auto mode, it auto erects during backlighting or low light. In Creative Zones (P, Av, Tv & M), it activates via the flash button. Unfortunately it pulses like a disco strobe for AF assist but can be disabled in the menus.

Pop-up Daytime Fill Flash | Canon EOS 7D & EF-s 15-85 3.5-5.6 IS USM: Av mode, F5.6, 1/40, ISO 400.
Flash exposure compensation (FEC) in -3 to + 3 in 1/2 or 1/3 stop increments, FE Lock (M-Fn button) and second curtain sync are available in the flash menu. Flash exposure is normally accurate and I rarely need FEC, save for very dark or light subjects. FEC has a dedicated button and can be set without taking your eye from the viewfinder.

If you use auto-ISO with flash, it defaults to ISO 400. Often that is not high enough for balanced fill in low light, and too high for fill in bright light, so you need to manually dial in ISO settings.

Flash Menu

The flash control menu can access features of recent model Speedlites, e.g., 430EX II and 600EX, but isn't compatible with older Speedlites, e.g., 430EX and 580EX. Older Speedlites work fine but most menu options are grayed out. Instead, you control features from the flash itself. No joy with units lacking controls or LCD, e.g, 420EX and 220EX.

AF Assist with 220EX & 430EX

The near IR AF assist of a Speedlite is more effective and elegant than the blinding AF assist of the 7D popup. I tried my two old Speedlites to see how they fared with the 19-point AF array of the 7D. The AF assist of the 220EX only covers the center cluster of AF points. No outer coverage whatsoever.

My vintage 2005 430EX fared much better: it rocks with all AF points in 19-point auto selection, zone and single point modes. In other words, I can select any individual AF point, including outer or upper points, the AF assist pattern projects and I get a focus lock. And, yes, it passes the dark room/blank white wall test: all individual AF points lock focus. My 5DII and 50D were not so fortunate. However the 430EX AF assist pattern is brighter in the center than outer areas, so the center AF assist has more range.

Pastel Sky & Gulls | Lincoln, OR | Canon EOS 7D, EF-s 15-85 3.5-5.6 IS USM, F5.6, 1/60 sec, ISO 400, 40mm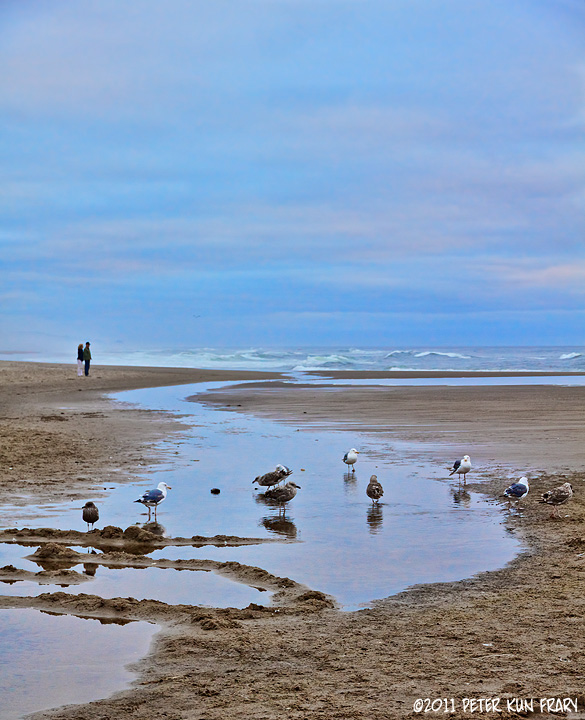 ST-E2 in a Popup

The popup flash sports a new feature: wireless Speedlite Transmitter (E-TTL flash trigger). This is a first for Canon. I don't find it as elegant as the ST-E2 Speedlite Transmitter. Why? The ST-E2 sends signals via near IR pulses (deep red) rather than bright white flash pulses. Also, the flash menu is more fiddly than using the external controls on the ST-E2. However, it works well and is always with you.

The EOS 7D really shines when you attract an EX series Speedlite to the hot shoe. With my 430EX II, automatic balanced fill-in light was a joy in Av mode, even in dim ambient light it did a fine job blending flash with background light.

Image Quality

At low ISO there isn't much improvement over 15MP 50D RAW files. That's not a bad thing as the 50D is excellent at ISO 100-400. However, 7D high ISO shows significant improvement over its predecessor with reduced noise artifacts, especially banding. The 7D pulls off a great ISO 800 and a good 1600. With default DPP noise reduction files are fine for nice 11 x 17 or 13 x 19 inch prints. In a pinch I wouldn't hesitate to use ISO 3200 with noise reduction.

Vintage door handle | Canon EOS 7D, EF-s 17-55 2.8: F 3.5, 1/100, ISO 1600
Vintage door handle pixel level view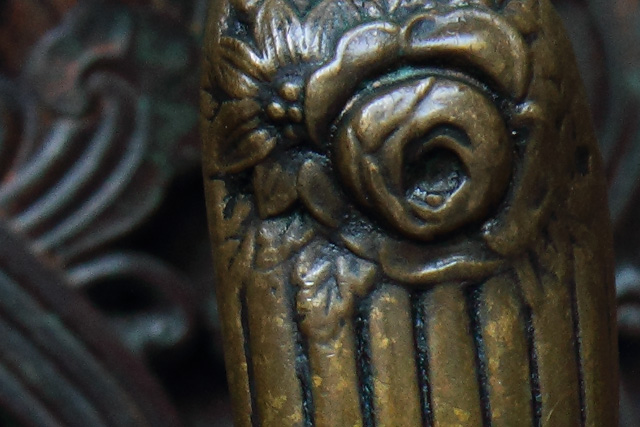 The above image was shot at dusk in the shadow of tall buildings, so it was dim. I'm extremely pleased with ISO 1600 and, as the above image shows, noise is well controlled even in low mids and shadows.

APS-C cameras are less tolerant of underexposure than full frame models and the 7D is no exception to this tendency. I shoot RAW, "expose to the right" and pull back exposure in PP a 1/2 stop or so prior to converting to TIFF. The resulting image is cleaner than normally exposed ones. Avoid AutoISO and select settings with less noise: ISO 160, 320, 640 and 1250, rather than 200, 400, 800 and 1600.

Tamarind Park | Canon EOS 7D, EF-s 15-85 3.5-5.6: 24mm, F4, 1/25, ISO 3200

Power Efficiency

The manual states the 7D is good for 1000 images per charge and I've found Canon's estimate is accurate. Obviously use of video and live view reduce battery time considerably. The LP-E3 batteries are dependable and have a usable life of about 3 years.
Remote Controller RC-6
The Remote Controller RC-6 is one of my favorite accessories. It can trip the shutter from about 16 feet in front of the camera or slightly behind the camera. It will also fire the shutter from a few feet above, below or to the side of the camera so it makes a fine cable release.

The range of the RC-6 infrared beam increases indoors or in places with reflective surfaces, e.g., white walls and ceilings. You have a choice of immediate release or 2 second delay. If you hate plugging in electronic releases, the RC-6 is the freakin' cat's meow. No more fumbling in the dark with port covers, sockets and my damned RS80N3 wired switch.

Canon RC-6 Wireless Remote Controller

The RC-6 is capable of controlling both bulb and MLU. For bulb exposures, fire the RC-6 once to open the shutter and again to close it. In mirror lockup mode, fire it once to lift the mirror and a second time for the exposure.

The 7D is also compatible with the RC-5 (immediate release) and original RC-1 (immediate release & 2 second delay). The RC-1 was discontinued in 2010 and replaced with the RC-6. I prefer the smaller form factor of the RC-1 (clips on your strap!) but the RC-6 is larger and easier to hold for those with big mitts. Canon claims the RC-6 has an additional foot of range over the RC-1 (15 feet vs 16). The RC-1, RC-5 and RC-6 are compatible with all the Elan series, most Digital Rebels and XXD series, 7D series and most of the 5D series.

Lip Signage at Las Vegas | Canon EOS 7D, EF-s 15-85 3.5-5.6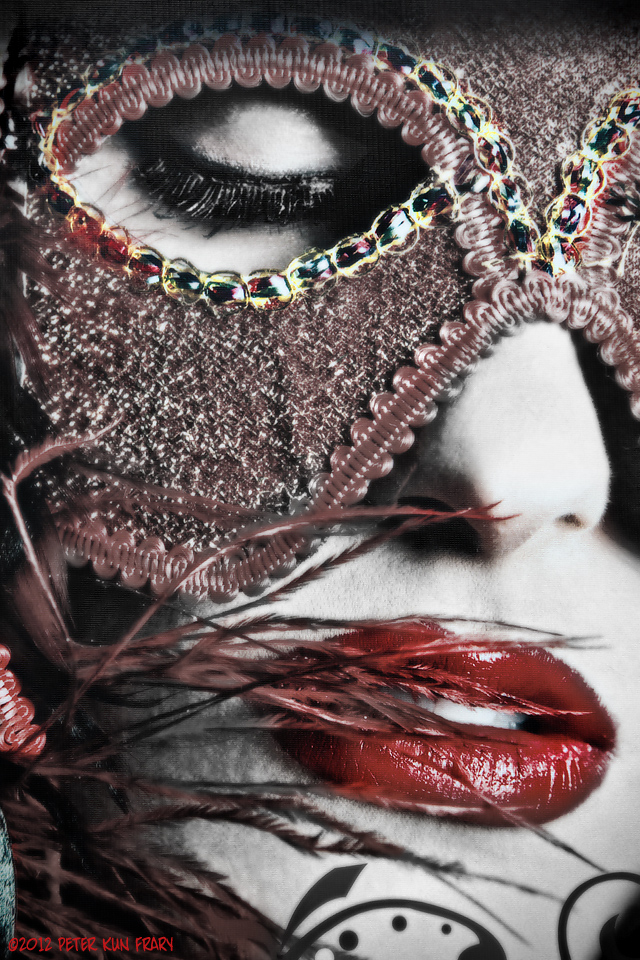 Final Remarks

The 7D is a nimble, precise and capable instrument, and a significant upgrade over the 40D and 50D. Durable construction and AF performance make it more like a mini 1D. However, the 7D is not for everybody: it's a heavy camera compared to a Rebel and the plexus of features insure a long learning curve. The 7D was replaced by the 7D MKII in 2014. However, the 7D is still an able high performance camera and a vible option if you're on a tight budget, with used and refurbished models selling for a significant discount. I owned the 7D for five years and it still delivers in spades.

Red Barn Neon | Canon EOS 7D, EF-s 15-85 3.5-5.6: 15mm, F3.5, 1/30, ISO 100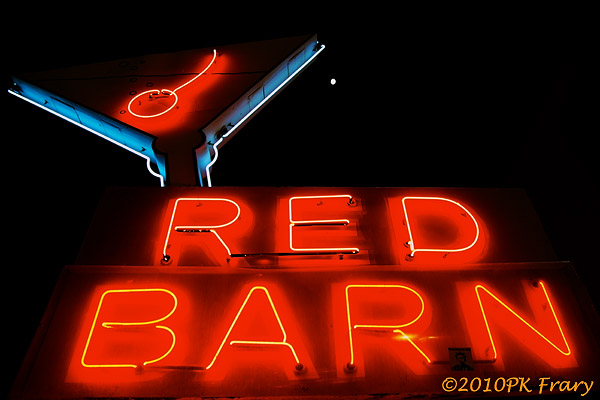 Postscript | September 01, 2012

A major firmware update for the 7D, 2.0.x, was issued Summer 2012. New firmware to fix bugs or add minor features are the norm. This one added major features late in the product cycle: onboard RAW processing and resizing, time zone support, GPS support, increased burst rate, definable maximum limit for Auto-ISO, manual audio (for video) and various speed tweaks. A nice surprise and a wee bit of goodwill from Japan.

Postscript | December 19, 2013

A firmware update for the 7D, 2.0.5, was issued during late Fall 2013 to fix bugs. However, an update this late in the product cycle demonstrates continued supported and that the 7D still has a little wind in its sails.
Source Materials
Canon EOS 7 Instruction Manual (CT1-1032-000). Canon Inc., 2009.

Images taken with the 7D

| | | |
| --- | --- | --- |
| | | |
| | | |
| | | |
| | | |
| | | |
| | | |
| | | |
| | | |
| | | |
| | | |
| | | |
| | | |

10/15/2009 | Updated 06/20/2017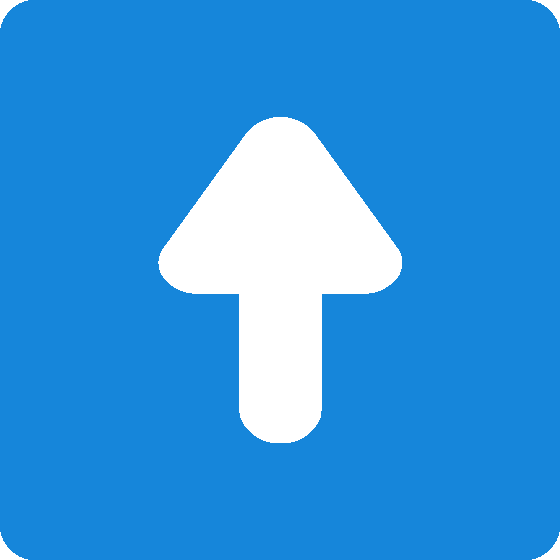 ©Copyright 2009-2017 by Peter Kun Frary | All Rights Reserved