.

Crumpler Pleasure Dome (M) Review•

Wee Bag for Pleasure Seekers

Peter Kun Frary

.

---

.

The Crumpler Pleasure Dome (M) is a bag for carrying a mirrorless CSC or small DSLR and a few accessories. It's a stylish but minimalistic bag, retaining the form factor and most features of the original Pleasure Dome (circa 2012). The most significant improvement over the original is the use of D-rings to attach the strap rather than string loops.

Downtown Honolulu | Canon EOS M3 & EF-M 18-55 3.5-5.6 IS STM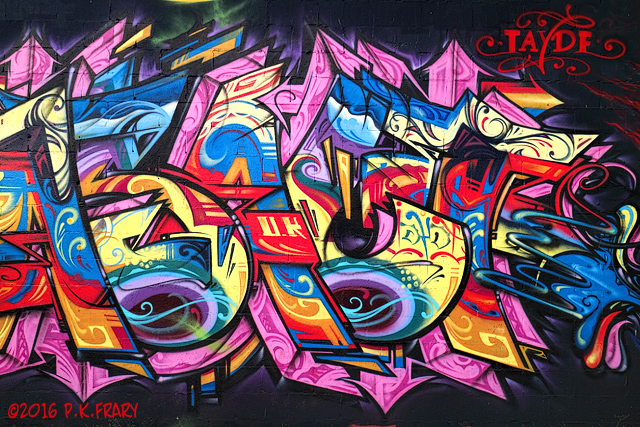 Crumpler Pleasure Dome (M) | New design | Photo courtesy Crumpler Inc.
What Fits

The interior compartment may be configured with a Velcro secured divider. Remove the divider, and the Pleasure Dome holds a compact DSLR with mounted small lens. Install the divider and there's room for a micro 4/3 or APS-C mirrorless camera and second lens.

Crumpler Pleasure Dome (M) | Canon SL1 & EF-s 18-55 3.5-5.6 IS STM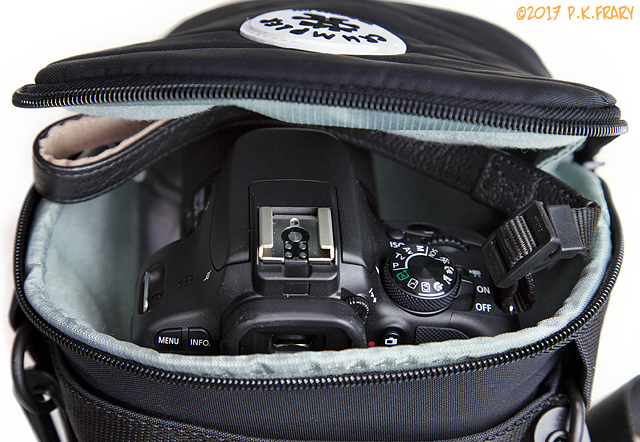 The above image shows a Canon Rebel SL1 with EF-s 18-55 3.5-5.6 IS STM and hand strap (no hood) in a Pleasure Dome. It's snug but fits fine once the divider is removed. The bag stretches and molds to the camera shape with use. A medium or larger DSLR like a 80D or 5D MKIII is a no-go for this bag.

Crumpler Pleasure Dome (M) Stuffed | I don't stuff bags this full because it's hard to draw my camera quickly | Photo courtesy Crumpler Inc.
The two inside pockets on the lid have ample room for small flat objects such as SD cards, short cables and ID. There are no exterior pockets or belt loops.

I also tried my EOS M3 with mounted EF-M 18-55 3.5-5.6 IS STM and EVF-DC1. They fit the Dome with plenty of wiggle room. A small lens or flash can fit behind the divider if I remove the EVF.

Crumpler Pleasure Dome (M) Reality with Canon EOS M3 with EF-M 22 2.0 STM and EVF-DC1 | I like bag contents loose so I can pull my camera quickly.
Construction

This petite Goth black top loader sports a grab handle, removable strap and non-scratching nylon zipper. Exterior fabric is tough (similar to Cordura) but smooth and textured like a pleated couch pillow!

I can open the zipper single-handedly with a quick pull. The zipper opens the bag clamshell style. Gussets, one on each side, allow the lid to open wide for quick extraction while preventing it from flopping all the way open and spilling your goodies.

The interior is a faded light blue, making it easy to see inside. The single divider is secured with Velcro, and may be removed or repositioned. The interior ripstop walls and bottom are padded with foam and lined with soft brushed fabric: gentle on camera delicates while grabbing Velcro like glue.

Crumpler Pleasure Dome (M) | Photo courtesy Crumpler Inc.
Gotchas

The strap is thin (1" width), bitting into my shoulder like a hungry dog when the bag is stuffed. Luckily the strap clips on and is easily removable. I swapped in a 2" Tenba strap and it was much more comfortable. The big white Crumpler logo is an eyesore but easy to remove with a seam ripper.

At $65 USD the redesigned Pleasure Dome is overpriced. However, variants of the older model are abundant online and often heavily discounted. They're the same save for minor cosmetic changes, a belt loop and the use of strings instead of D-rings. The older model may be distinguished by the four-section radiating pleat and cloth logo (the redesign has horizontal pleats and a round plastic logo). I have a 2012 Pleasure Dome and it has held up well (including the string strap loops).

Final Blurb

The petite Pleasure Dome makes for an easy carry and affords reasonable protection should I get clumsy or caught in the rain. It also sits upright in my messenger bags, allowing quick access when used as a camera insert.

The Pleasure Dome hits the mark with quality construction and materials, fast access, simple uncluttered appointments and stylish design. It's weaks points are high MAP and a thin strap. All in all, the Pleasure Dome is a great little bag for a minimalist carrying a small DSLR or mirrorless kit.

Nuuanu Valley | Canon EOS M3 & EF-M 18-55 3.5-5.6 IS STM
Please support this site by purchasing the Pleasure Dome at Amazon.
Specs

Water resistant Polyester outer fabric in a choice of black or red
Plush brushed nylon lining
NBR foam in the base for impact absorption
Adjustable 25mm (1") wide detachable shoulder strap (150cm max length)
Configurable main compartment with a velcro-fastening divider
Anti-spill gussets
Grab handle
Volume: 1.5L | 201.84 cu in
Dimensions: 18 (W) x 17.5 (H) x 10.5 cm (D) | 7.1 (W) x 6.9 (H) x 4.1 (D) inches
Weight: 0.21kg | 0.46lb

1/21/2017
Walk on Water | Ala Moana HI | EOS Rebel SL1 & EF-S 10-18 4.5-5.6 IS STM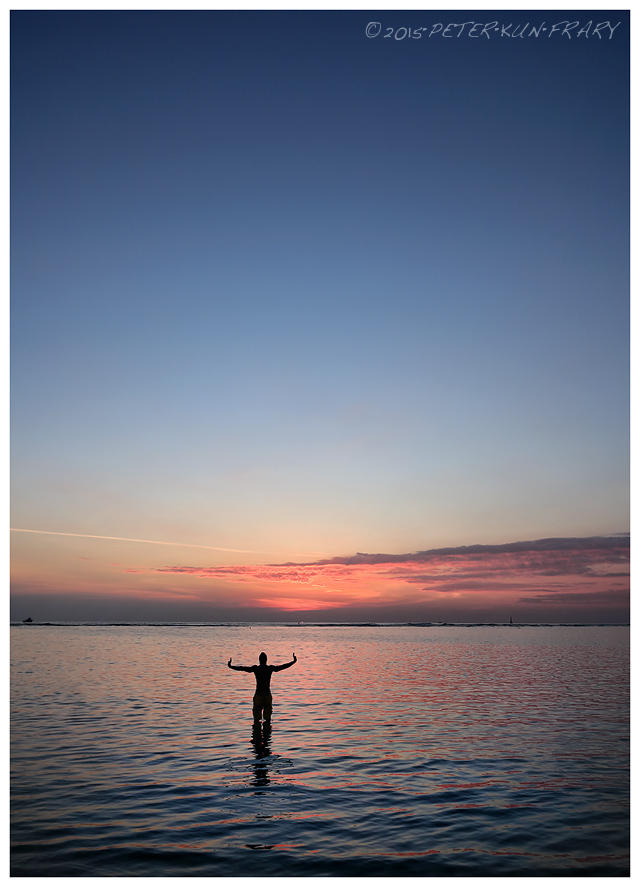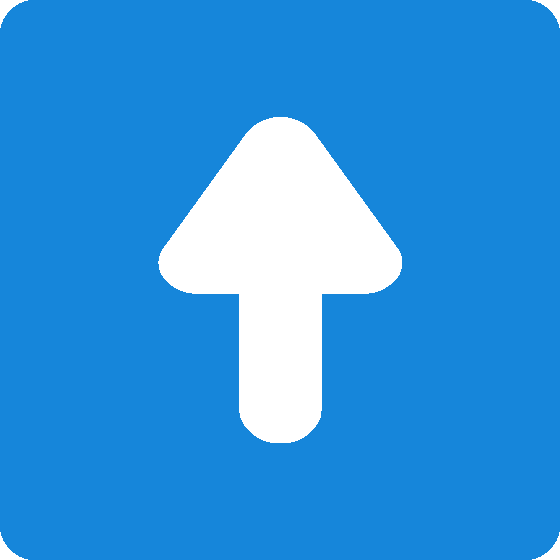 ©Copyright 2017 by Peter Kun Frary | All Rights Reserved