..

Canon EF-M 22 2.0 STM

User Review

Peter Kun Frary

---

•

The EF-M 22 2.0 STM was released Spring 2012 and joins the EF-s 24 2.8 STM and EF 40 2.8 STM as one of three pancake lenses in Canon's lineup. However, the EF-M 22 2.0 STM mount is EOS M series only, and does not fit Canon APS-C or full-frame DSLRs. Here's my thoughts on the EF-M 22 2.0 STM after shooting with it for a few months.

Chinatown Mural | Honolulu | Canon EOS M3 & EF-M 22 2.0 STM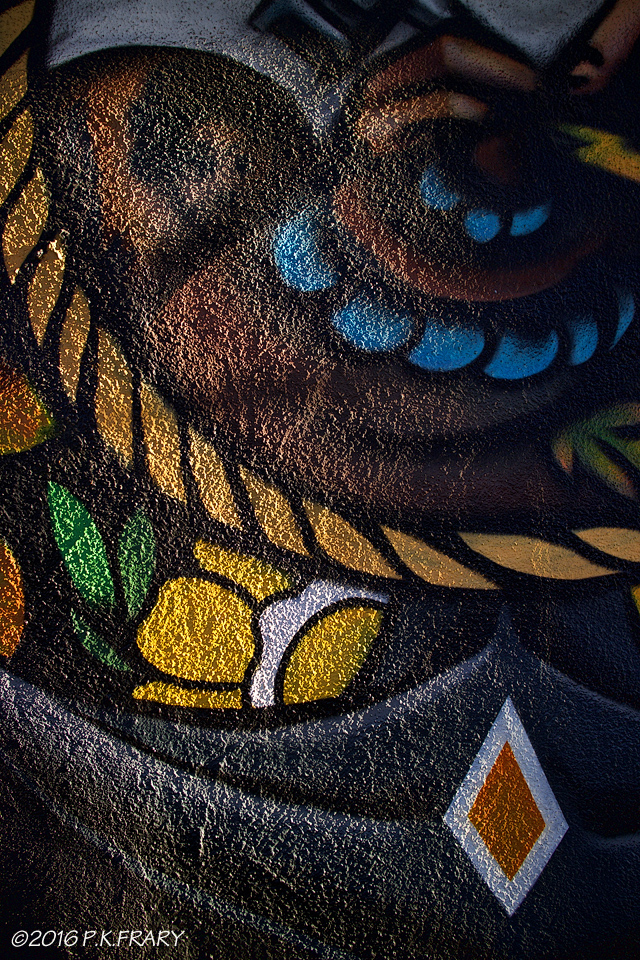 Build

This pancake lens is compact but robust in construction. The anodized aluminum barrel, knurled metal focus ring and metal lens mount impart a premium look and feel. There is no distance scale or AF/MF switch and it uses 43mm filters.

It looks deceptively large mounted on the diminutive EOS M3, but is only 24mm in length and 7mm smaller in diameter than the petite EF-s 24 2.8 STM. Mounted on the M3, the kit fits in my coat pocket and is so light it feels like I forgot the lens!

EF-M 22 2.0 STM & EOS M3 | Small enough to slip in a coat pocket or purse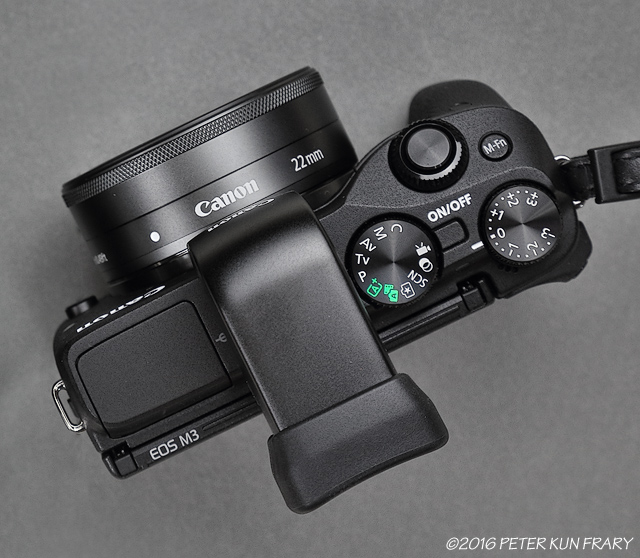 Focus

Auto focus is peppy and faster than the EF-M 18-55 3.5-5.6 IS STM. Minimum focus distance is six-inches, allowing for quasi-macro shots. Most significantly, AF is accurate and rarely misses on my M3. Focus is buttery smooth and great for touchscreen pulls during video. The focus motor is inaudible to my ears.

Ala Moana Center | Canon EOS M3 & EF-M 22 2.0 STM | F2.0@1/50 ISO800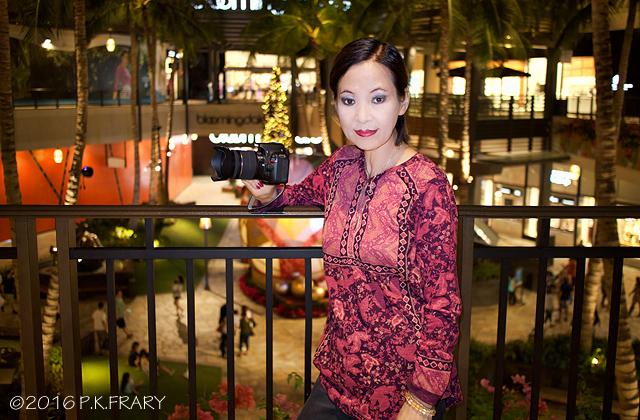 Manual focus is "focus-by-wire"; i.e., the MF ring activates the focus motor but isn't mechanically coupled to the lens. The tiny nested barrel moves during focus, growing slightly longer at close focus. MF is only active when the shutter button is half-depressed. Depending on the camera model, MF features may need to be enabled in the menu.

Fremont Casino | Las Vegas | Canon EOS M3 & EF-M 22 2.0 STM
Image Quality

Field of view is equivalent to 35mm on full-frame and, coupled with a fast F2.0 aperture, is an ideal lens for candid and low light photography. Wide open it's sharp and vivid but slightly soft in the corners. Stop down to F2.8 and it's amazing sharp across the frame.
It's surprisingly flare resistant and landscapes with prominent horizons and/or vertical lines have no noticeable distortion, unlike my EF-M 18-55 STM.
Disable Peripheral Illumination in camera menus and you may notice a modest amount of light falloff (vignetting) in images of blue skies or light colored walls at F2.0. The corners are about a stop below center brightness. Stop down and light falloff fades, and is nearly gone by F4. Although light falloff is considered a drawback, I find vignette pleasing for portraits and nostalgic landscapes. Plus, light falloff isn't apparent in night images shot at F2.0 due to the naturally dark periphery.

Iron Grill | Canon EOS M3 & EF-M 22 2.0 STM | F2.0@1/125 ISO1600
Mild chromatic aberration (CA) may be found in high contrast areas at frame edges, e.g., tree branches against a bright sky, but not present center frame. CA fades as the lens is stopped down. I would not have noticed CA unless pixel peeping frame edges of tree silhouettes. CA is easy to remove in Lightroom or Aperture.

Defocused areas, i.e., bokeh, at F2.0 are pleasantly smooth. Depth of field is pretty deep even at F2.0 so bokeh is only apparent when the subject is fairly close.

Bokeh at F2.0 | Canon EOS M3 & EF-M 22 2.0 STM | -2/3 EC and -1/3 FEC.
Floral Fingers | Canon EOS M3 & EF-M 22 2.0 STM
In short, image quality is excellent open wide and even better a stop down. F2.0 is my most used aperture and I'm pleased with results. I feel confident in capturing a sharp and vivid image wide open or stopped down.
Lens Hood

A hood isn't included with this lens. However, an optional hood, the EW-43, is available but is silly small: a 43mm aluminum filter ring around a disk with a hole in the center. It provides little shading or protection. If you don't mind nixing the pancake vibe, a 43mm thread generic metal hood yields better protection and costs less. I use a JJC LH-JXF35 Metal Lens Hood and it fits, looks and works great.

Canon ES-43 Lens Hood (image courtesy Canon)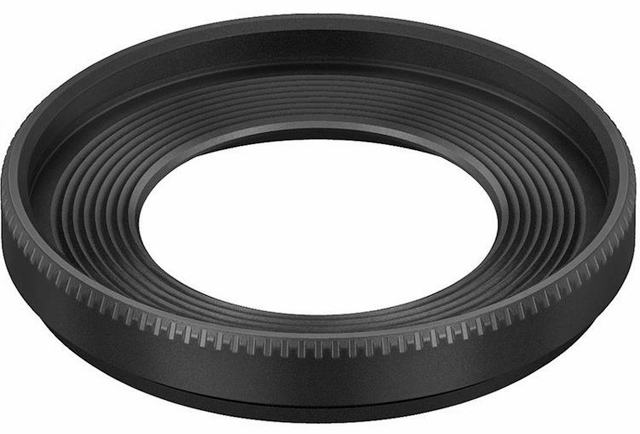 Last Blurb

I like this little lens a lot: easy to take pictures with due to its natural perspective and ease of handling. Mounted on an EOS M3, the entire kit fits in my coat pocket. These before mentioned qualities make it an ideal "walk around" lens. Plus, the fast aperture allows photography in nearly any available light situation, especially if you're willing to pick contrasty targets to lock AF.

Finally and, most importantly, it delivers vivid and sharp images with little struggle on my part, easily besting my EF-M zooms in terms of image quality and AF performance.

Finally, please help support this website by purchasing this lens at Amazon.
Reflections on Fremont Street | Las Vegas | Canon EOS M3 & EF-M 22 2.0 STM
Specs

Focal Length: 22mm

Aperture: F2.0 to 22

Lens Construction: 7 elements in 6 groups

Closest Focusing Distance: 0.49 ft./0.15m

Diagonal Angle of View: 63°30'

No. of Diaphragm Blades: 7

Filter Size: 43mm

Diameter & Length: 2.4 x 0.9 in. / 60.9 x 23.7mm

Weight: 3.7oz / 105g

Included Accessories: lens caps

Cost: $249.00 (MAP)

Denny's | Las Vegas | Canon EOS M3 & EF-M 22 2.0 STM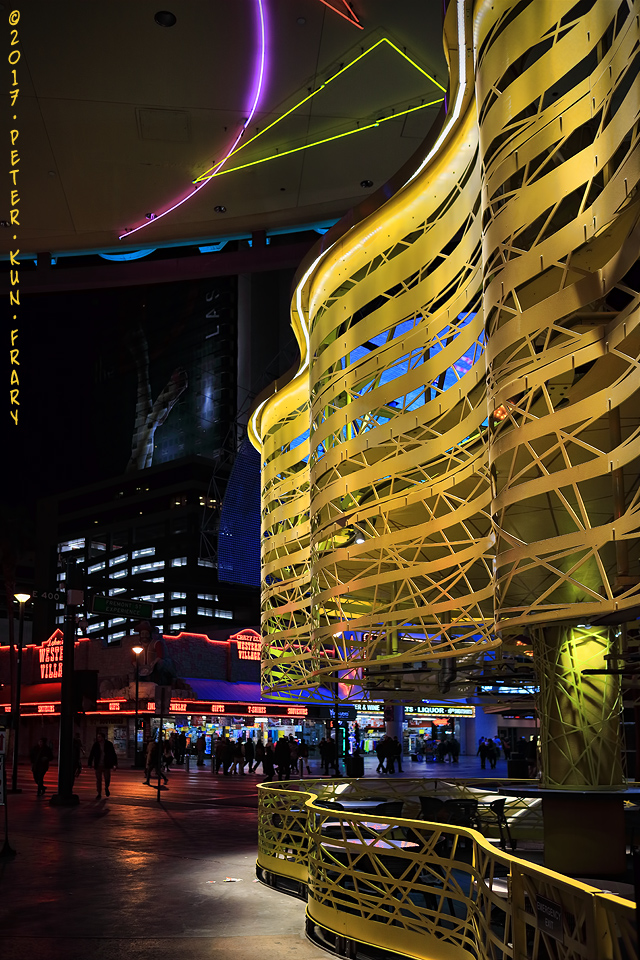 Image Samples | Click to Enlarge
01/01/2017

©Copyright 2017 by Peter Kun Frary • All Rights Reserved