.
Think Tank 747
Retrospective 7 Camera Bag
Stealthy Army Surplus Vibe
Peter Kun Frary
.
---
.

Camera bags are as near to a "man purse" as I dare tread. And I sheepishly admit to owning more camera bags than my wife owns purses. I gravitate towards slim bike messenger bags over boxy camera bags: easier to squeeze through crowds, attractive but doesn't look a camera bag. Indeed, one of my favorite camera bags is a Timbuk2 bike messenger with padded insert.

Retrospective 7 | Faded olive green (Pinestone in Think Tank land).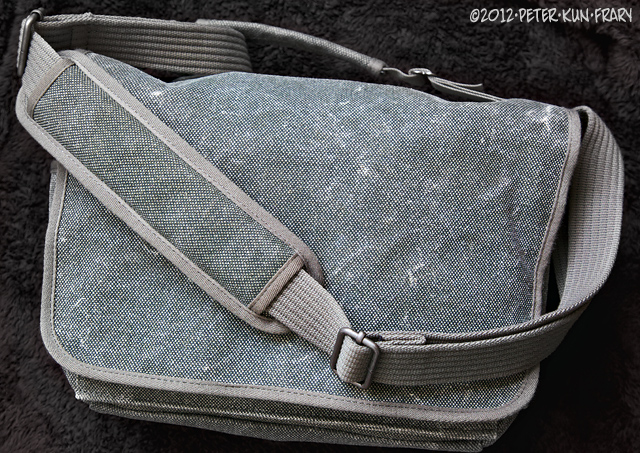 Appearance & Construction

The Retrospective 7 sports a rustic army surplus vibe that will not win fashion contests or draw attention on the street. Pair it with a beater leather jacket, graphic tee and destructed jeans and you'll look like an urban Johnny Appleseed. Nobody will suspect you're carrying expensive photo gear. And being incognito is the point of this bag.

Rustic Grab Handle | Detachable and adjustable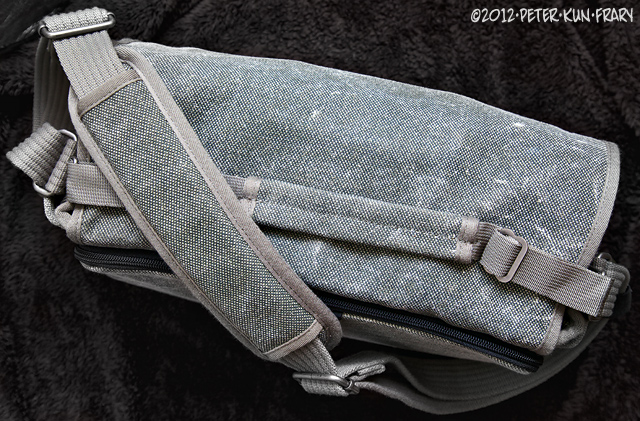 Although it looks like an army satchel, the fabric is softer and more flexible than military grade canvas. The soft cotton canvas molds to your body thereby taking some weight off the shoulder. The color is a faded and weathered olive green, and not the tan khaki depicted in official product pictures. The fit and finish are excellent inside and out, but the thoughtful details of the interior are telling: nylon lining to reduce lint, a variety of dividers, pockets galore and end flaps to prevent rain from flowing into the compartment. Unlike my black Domke bag, the weathered olive green is good at hiding dust and cat hairs.

Although padding protection is partial, your gear is well protected in the event of a knock or fall. The bottom sports thick closed cell foam padding and the back padding protects your iPad. The top, front and sides lack foam padding but layers of canvas, pockets and lining are good protection against light knocks and scraps.

Think Tank claims the "fabric exterior is treated with DWR while fabric underside is coated with PU for superior water resistance." I haven't seriously tested the water resistance but this bag did well as I ran for shelter during a tropical downpour. I was drenched but my gear was dry. I did not deploy the rain cover and would only bother if I was on an extended hike in the rain.

Backside | Rear entry for iPads. Labels/logos are only sewn onto the the back of the back. Hang a baby bottle off the side (diaper bag vibe) if you're paranoid about camera thieves.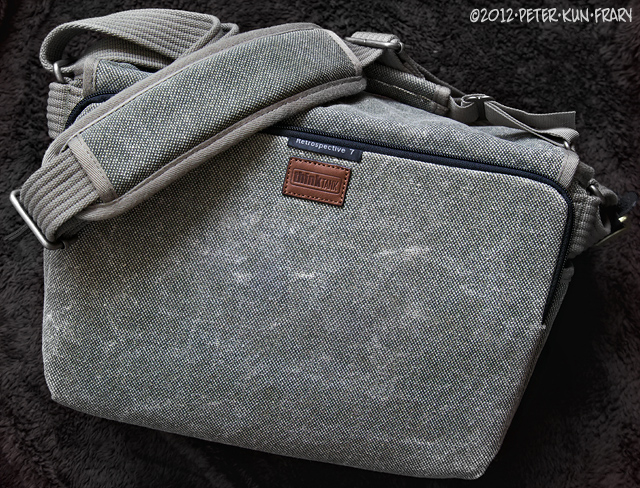 The rear zippered compartment is padded and designed for an iPad or 11" MacBook Air and they fit fine. I stowed my iPad there a few times but it stiffened the bag too much. Since the bag no longer conformed to my body shape it bounced off my backside as I walked and felt heavier. Luckily the iPad fits in the front pocket so all is well. Side pockets are big enough for smokes, iPhone or plane tickets. You can hook a sidecar pouch or water bottle on the strap hook above the pocket.

Unlike bike messenger inspired camera bags, the Retrospective 7 lacks a removable camera insert and thus can't be converted for office or school use.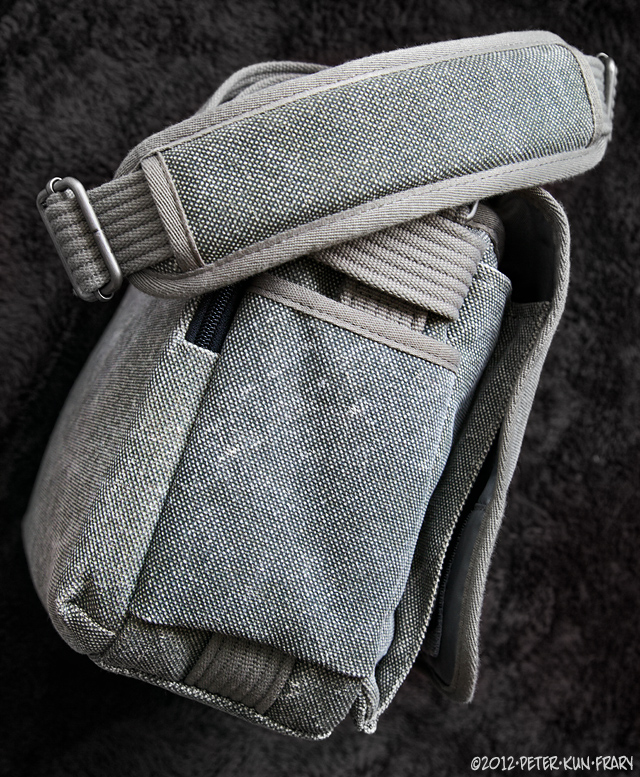 Stuffing in Gear

Think Tank claims the Retrospective 7 carries "one standard-size DSLR with 2-3 lenses and accessories. iPad/11" MacBook Air fits in rear zippered pocket." Indeed, the Retrospective 7 swallowed my 7D with mounted EF-s 15-85 3.5-5.6 IS USM and hood (not reversed) without distortion of the main comportment. There was plenty of room for an EF 70-200 4L IS USM and Speedlite 430EX. I could squeeze in a couple small primes if needed. The right divider is shorter than the left, and sports a small platform for the camera grip (when stowed lens down). The dividers have a PE board stiffener so they won't fold under the weight of a downward resting camera.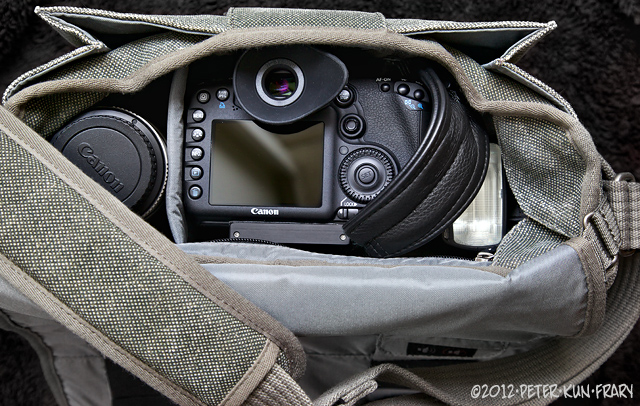 Cons

This is the same 1.5-inch strap and pad supplied with the tiny Retrospective 5. The designer should have bumped the strap size up to 2 inches. A wider strap distributes the weight better across the chest and shoulder. With that said, the shoulder pad above average, grippy and flexible so I can live with the thin strap.

The mammoth Velcro under the front flap is too strong, grippy and loud. The built-in Velcro cover will silence the noise but then nothing is holding your gear inside should the bag tip over. An easy fix: use a Velcro patch to cover 75% of the two Velcro patches. It still grips but is weaker and less bothersome. A leather and brass latch would be a more elegant solution. Maybe I'll have a go at adding one someday.

Compared to similar size bags I own—Crumpler and Billingham—this bag is heavy. Not a deal breaker but at 2.5 LB it's 8 OZ heavier than my Crumpler 6 Million Dollar Home, a more thickly padded and slightly larger bag. The extra weight is the price paid for the vintage canvas and pockets galore.

The padded iPad pocket makes the bag fat. If you prefer a slimmer profile, consider the Retrospective 10. The Retrospective 10 is the about the same overall size as the Retrospective 7, but roomier due to the lack of an iPad compartment.

Final Blurb

This is my first Think Tank bag and I'm pleased: handsome, comfy, excellent fit and finish, quality materials and thoughtful design. Yes, it's pricey but boasts plenty of storage in a wee space, with endless pockets for knickknacks. The extra pockets, comfy ride and inconspicuous appearance make it an ideal bag for travel. Plus the quasi-miltary design ethos nixes the techno-geek man-purse vibe often associated with computer and camera bags.

Finally, please help support this website by purchasing this item at Amazon.
Features

• Sized for standard DSLRs with rear pocket for an iPad or 11" MacBook Air
• Velcro Sound Silencers™
• Cushioned and padded nonslip shoulder pad
• Zippered pockets for accessories
• Removable grab handle
• Rain cover
• Expandable front pocket fits an iPad or small camera

Specs

MATERIAL:
Washed cotton canvas exterior with nylon lining (Pinestone color). Fabric exterior treated with DWR while fabric underside is coated with PU for superior water resistance. Sand-washed 100% cotton canvas, antique nickel plated metal hardware, YKK® RC Fuse (abrasion resistant) zippers, nylon webbing, 3-ply bonded nylon thread.

DIMENSIONS:
13.5"L x 7"W x 9.5"H

WEIGHT:
2.5LB

11/16/2012 | Revised 12/27/2015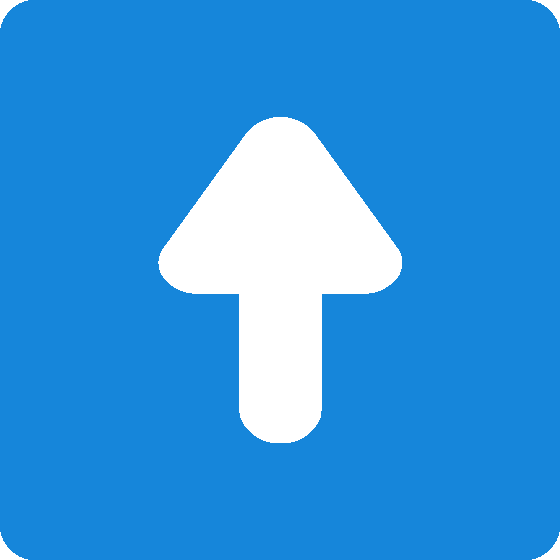 ©Copyright 2012-2017 by Peter Kun Frary | All Rights Reserved