.
Tascam DR-60D MKII
Portable 4-Track Audio Recorder
Peter Kun Frary
.
---
.
The DR-60D MKII is optimized for DSLR video shooters—lacking music extras like a tuner and metronome—but otherwise sports most of the features of the DR-40 but housed in a camera and tripod friendly case.

Tascam DR-60D MKII | Buttons and knobs galore: faster adjustments and less menu surfing (images courtesy Tascam).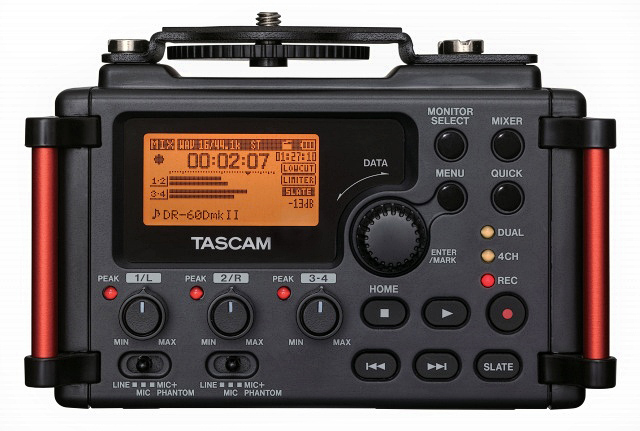 Frary Guitar Duo | Duo Op. 34 No. 3 (Sor) | Tascam DR-60D MKII (Wav 48K & 24-bit stereo) | Neumann KM184 (2X) | EOS 80D
Appearance and Construction

Although tiny, the boxy form factor isn't palm friendly and is at its best on a tripod, Magic Arm or cage. The plastic body feels well made but is not as sturdy feeling as the metal body of the DR-100 II. Unlike most Tascam portable recorders, there are no built-in mics. A tiny forward facing monochrome LCD displays levels, modes and menus. It isn't a touchscreen but is clearly visible in darkness and direct sunlight. And, because it's not angled like the DR-70D LCD, it's visible in an audio bag, on the floor or topside a camera.

A tripod socket beneath and tripod bolt above allow easy connection to studio support and cameras. I leave an Arca plate on it for fast mount/dismount. The top tripod screw is flimsy and I wouldn't trust it to hold anything heavier than a battery pack.

Peter Kun Frary | Allemande (Losy) | Tascam DR-60D MKII | Neumann KM184 (2X) | Shure A27M | EOS 80D (2X)
Control Interface

I choose the DR-60D MKII over the DR-70D due to the abundance of physical controls—specifically phantom power switches—and the forward facing LCD. When mounted on an arm or tripod, the frontal LCD and controls are easier to see and use compared to "palm" recorders like the H6 or DR-100 MKII. The rubberized buttons and wheels operate smoothly and are easy to access. Channels 1/2 have individual gain controls but, oddly, 3/4 sports only a single global level adjustment.

Right Side Layout | USB port, SD card slot, line out and headphone jacks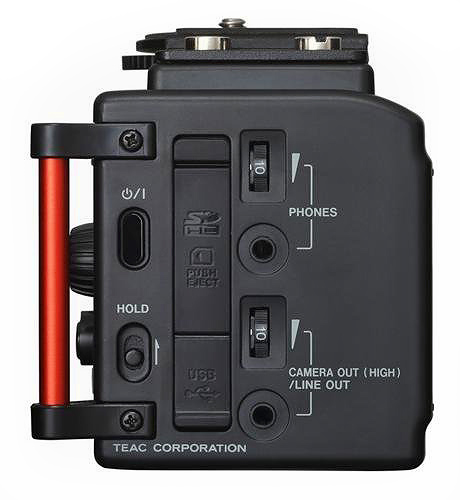 Left Side Layout | Clean mic preamps with locks and TRS!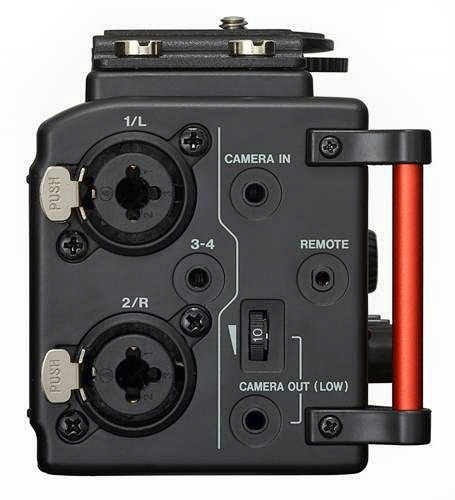 Bare Bottom | Tripod socket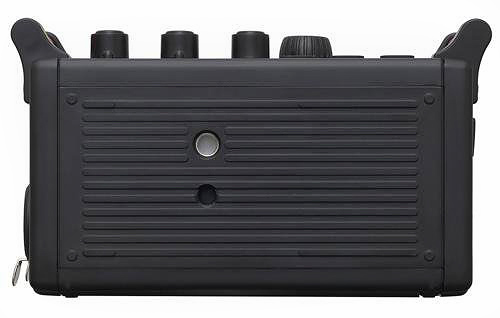 Connections

Combo XLR and TRS inputs allow recording from external pro mics or line level sources such as mixers or outboard mic preamps. XLR preamps have four levels of input sensitivity but, unlike the DR-100 II, sensitivity is set via menus (no switches). There's a switch to toggle XLR inputs from mic, phantom power and line level. Mini/3.5 mm stereo mic input is also supported, defaulting to channels 3/4. Power for the 3.5mm mic input lacks a switch and must be activated from a menu.

Batteries

Four AA batteries are housed in a compartment on the backside. Batteries can be swapped out while the unit is tripod or arm mounted. I use Eneloop Pro rechargeable batteries and they only last about four hours with phantom power. I avoid standard Eneloop as they're hard to install/remove due to the slightly larger size. The short battery life is disappointing but easy to work around (see below).

The mini-USB port is only for bus power or uploading to a computer. For long sessions I plug in a USB "lipstick" battery bank and it yields an additional four or five hours. For marathon sessions I strap on a USB battery bank, the Anker Astro E4 13000mAh Portable Charger: power for days with phantom power and can be screwed into the top of the DR-60D with a smartphone tripod mount.

Peter Kun Frary | Sarabande BWV 995 (Bach) | Tascam DR-60D MKII | Neumann KM184 (2X) | Shure A27M | EOS 80D (2X)
Sound Quality

I mainly record soft finger picked guitars and preamps have plenty of gain when set to "high" sensitivity: 25 to 50% gain for -12 dB set with KM-184 mics. Quiet passages and rests of classical guitar pieces were wonderfully clean and devoid of noise. Preamps are significantly cleaner than the DR-40 and a notch better than the DR-100 II.

Finally, the 60D MKII can record various combinations of stereo and mono modes, e.g., stereo plus two mono tracks, but these tracks must be recorded simultaneously. In other words, unlike the DR-40 and DR-44WL, it lacks the ability to "punch in," while playing back a track. Normally I'd add additional audio in a DAW during post production but it seems shortsighted to omit such features when similar units have them.

Session Ready | With the DR-60D MKII on a small tripod, it's easy to control and monitor audio while shooting music video "selfies." The white cable on the right is connected to an Anker USB battery pack.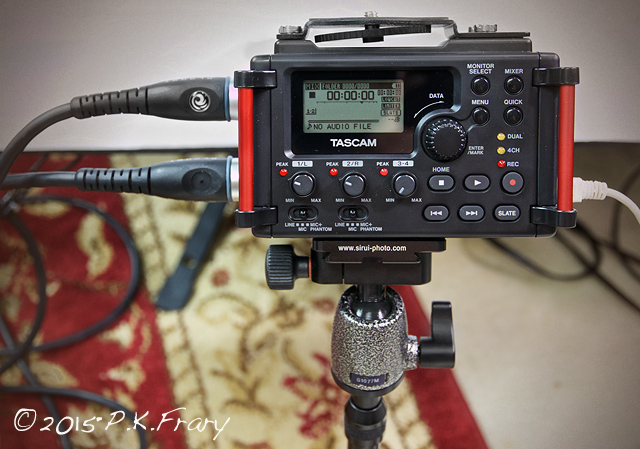 Last Blurb

I'm happy with the DR-60D: excellent recording quality, clean preamps, easy to access controls and plenty of gain for soft instruments. I'm especially pleased with the easy to use form factor for "selfie" audio and video recording and its physical phantom power switches. Plus operation is straightforward and I barely needed to crack the manual. Cons are short battery life, no built-in mics, small LCD and no punch-in features. All in all, the DR-60D MKII is a great choice for those needing to record live music performances and DSLR audio.

Finally, please help support this website by purchasing this device at Amazon.
DR-60D MKII Recording | Grace Frary playing Bach's "Sleepers Awake": Neumann KM184 (2X) mics, Wav 48K/24-bit stereo and audio synced to EOS 80D video.
Features

• Two Locking XLR/TRS balanced MIC/LINE inputs with phantom power
• 3.5mm stereo TRS (1/8") input jack
• Stereo, four-channel, or dual stereo recording modes
• Up to 96kHz/24-bit WAV/BWF recording
• Independent adjustable LINE OUT and HEADPHONE jacks
• Limiter and Low cut filter (40/80/120Hz)
• Record to SD/SDHC card (up to 32GB)
• 128x64 monochrome LCD with backlight
• Tripod and camera mounts
• Slate tone (0.5/1/2/3 sec, when auto-generated)
• Batteries: Four AA

Included accessories
Micro USB cable and paper manual

Frary Guitar Duo | "Father I Adore You" | Tascam DR-60D MKII | Neumann KM184 (2X) | Shure A27M | EOS 70D
Please subscribe to our YouTube channel.

12/07/2015 | Revised 08/08/2017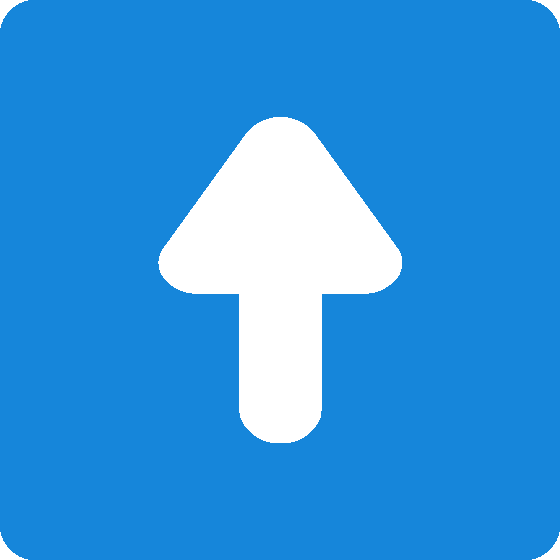 ©Copyright 2015 by Peter Kun Frary | All Rights Reserved