Ritter Revolution RG4000-9-C
Classical Guitar Gig Bag
Peter Kun Frary
.
---
.
I wanted a gig bag for my Hirade classical guitar and the Ritter Revolution RG4000-9-C seemed a good fit: attractive, well padded, backpack straps and pockets galore.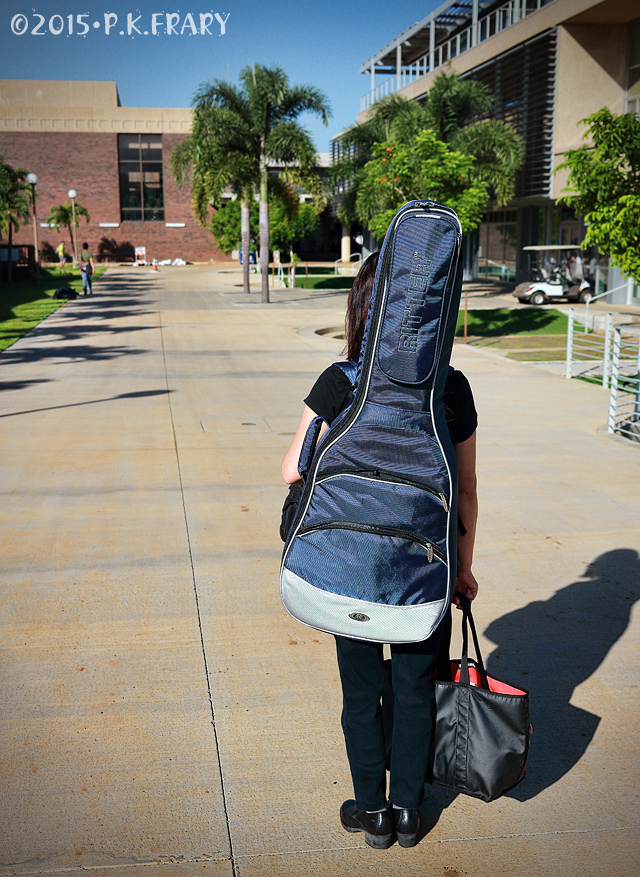 Exterior

My first impression was this is a handsome bag. The exterior is dark blue with a silver accent panel on the lower bout and silver edge binding. The heavy duty polyester fabric resembles ballistic nylon and has an attractive sheen, almost glossy, but is kind to your clothing (no abrasion of your shirt). Industrial strength zippers with large metal pulls make for smooth zipping. Three pockets provide storage for knickknacks like strings, cables or straps. However pockets over the soundboard are tight and only good for a thin music score. The pocket over the head stock is large enough for a cable, tuner and a sandwich! Workmanship is excellent with no crooked seams or loose threads.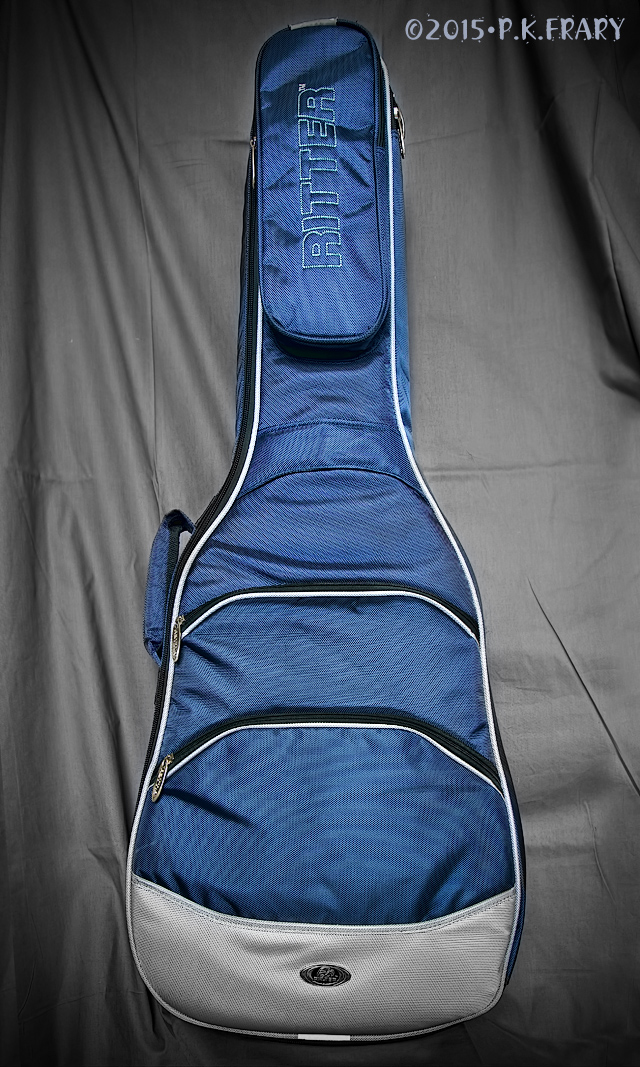 At 4.4 LBs this bag is on the heavy side but speaks well of its level of protection. The ultra thick padding—well over an inch all around—reinforcing patches at stress points, beefy zippers and ballistic grade fabric account for the extra weight.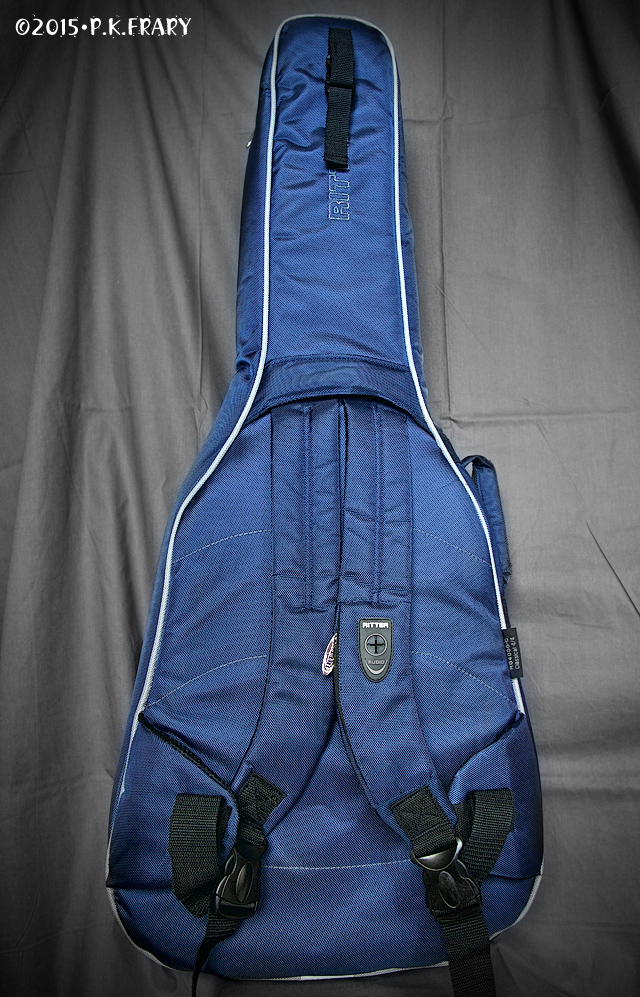 Interior

After such an extravagant exterior, I was surprised to find a Spartan interior: thin but smooth polyester fabric, reinforcing panels over headstock and bridge areas (protect from string snags) and a Velcro secured neck stabilizer. My Takamine classicals fit so snug there isn't much reason to use the stabilizer. No neck support—not usual in a gig bag—but you can add a piece of contoured foam if you're worried. There are no interior stash pockets but room along the sides of the guitar to stow a micro fiber cloth or set of strings.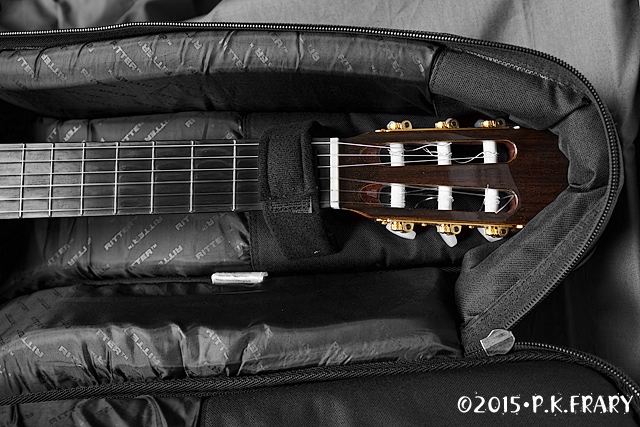 Gotchas

I use Takamine and Hirade classical guitars for teaching and gigs and they're standard 65cm scale (25.6") instruments. The length from lower bout to headstock is 39.5 inches. This bag is slightly small and I had to shoehorn in my guitar endpin (butt) first: push, stretch and press in the headstock. After a couple days the bag stretched and loading was reduced to light shoehorning. Once I realized it can "grow," I stuffed a small towel on top of the headstock and stretched it even more, making it a perfect fit for my Takamine. Ritter should add a half inch to the length. Some players won't realize the bag can stretch and may end up returning an otherwise great bag. If your guitar is longer than 39.5 inches, do not buy this bag. My other classical, a Jose Ramirez A1, is a half inch shorter than the Takamine and fits without stretching, albeit snug.

The straps are well made but a little short on padding. My small Timbuk2 Especial and JanSport 39 daypacks have significantly better padding. Not a deal breaker for short walks but a long trek would be hard on your shoulders, albeit the waist strap allows some shoulder relief.

Final Blurb

I also own the next higher model, the Revolution Chromo-9-C/MTC Classical Gig Bag, and the Revolution RG4000-9-C is basically the same bag minus the extra pockets and decorative panels, hideaway straps and a couple pounds. The RG4000-9-C is a better value with most of the protection, materials and style of the Chromo but at a lower price point and weight. Like the Chromo, it exhibits premium design and materials, excellent workmanship and serious protection. Unfortunately, the RG4000-9-C, like the Chromo, stubs its toe with inadequate strap padding and a slightly undersized interior. However, details like airline hanger strap, multiple grab handles, reinforced stress points and show serious thought went into this design. I liked them so much I bought different models/colors so each guitar has a color coded home and I can grab 'n go without peeking in the bag.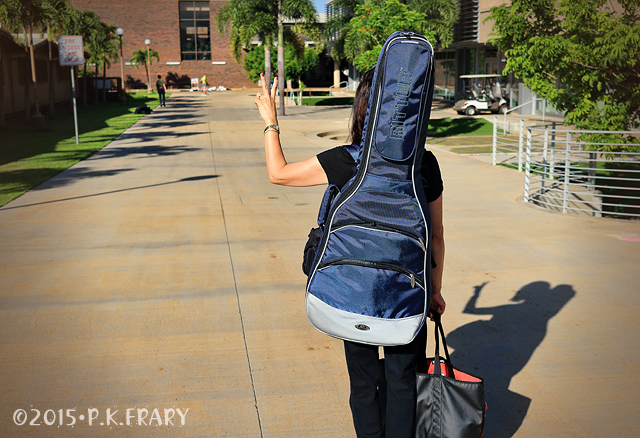 Price: $100

Features

• 30mm foam padding
• Backpack straps with integrated mobile phone/mp3 pouch
• Coat rack hanger strap for airplane closets
• Pocket organizer with key holder, pen, and card pouches
• Reinforced base (lower bout)
• Interior protectors for headstock and bridge
• Water Repellent polyester with heavy duty stitching

And, yep, we did in fact carry our guitars to this video session in Ritter gig bags!
10/20/2015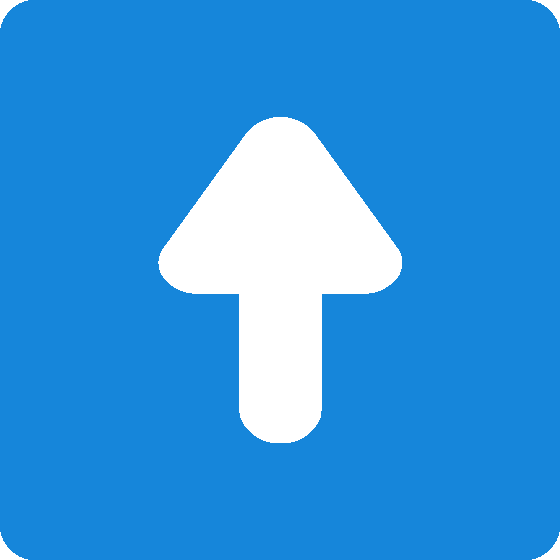 ©Copyright 2015 by Peter Kun Frary | All Rights Reserved