.
Manfrotto 502 Video Head


MVH502AH Review
Stable as the Rock of Gibraltar!
Peter Kun Frary
---
.
The 502 is a midrange fluid head aimed at serious amateur and semi-pro video markets. The flat bottom fits standard photographic tripods (3/8" thread) and has a wide platform for DSLRs, making it ideal for photographers dabbling in video production.

Manfrotto 502 Video Head | Photo courtesy Manfrotto Inc.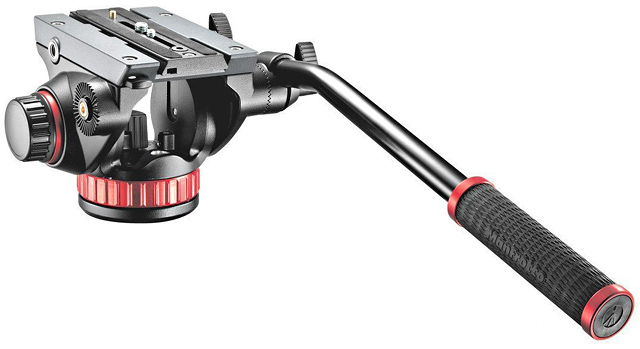 Construction

It's a big bruiser--cast aluminum fittings, long beefy panning handle and a giganormous QR (5.5") plate--so a sturdy tripod is essential. I mated it to a Manfrotto 055 and slid in my 70D. Once balanced and tweaked for tension, it held position perfectly yet delivered smooth pans with a heavy DSLR (e.g., 5D MKII).

The extra long pan handle is comfy and provides plenty of leverage, making it easy to grip and steer. One thing I appreciate is the panning handle is not only adjustable for angle, but can be mounted on the left or right side. I'm right-handed but prefer panning with my left-hand, using my right-hand to work camera controls and pan lock. My last head forced me to pan, lock and operate the camera with the right-hand only. After considerable practice and diddling with drag, I was able to pan the 502 and get smooth pans with 10mm to 85mm lenses on APS-C format:
Grace Seil Frary | Landler Op. 9, No. 4 (Mertz) | Studio videos on my YouTube channel were shot with EOS DSLRs on a Manfrotto 502 head and 055 tripod.
Peter Kun Frary | Sarabande (Poulenc) | Grace tries her hand at panning:
Oddly, my smaller Manfrotto 128LP and MVH500AH fluid heads are easier to pan smoothly than the 502. Although the 502 has a wider range of drag adjustability from loose as a goose to almost locked, the loose setting on the 128/500 heads have the perfect amount of resistance for me. Somehow I can't dial-in the same setting on the 502: it's either too loose or tight.

Unfortunately, I was not able to render smooth pans at 200mm or higher, so the 502 isn't well suited for video pans with longer telephotos. Strangely, I get smoother pans at 200mm with the smaller 128LP and MVH500AH.

Quick Release

The 502 sports an integral Rapid Connect (Q5) quick release and includes a single 500PLONG plate. The 500PLONG is the long (140mm/5.5") version of the 501PL plate. It's massive and ungainly on a DSLR and obviously designed for the long and narrow form factor of pro camcorders. It's also designed to slide in the clamp like a rail, allowing it to be positioned for best balance.

If you own the older 501PL plate, it still fits in the 502 albeit two inches shorter. And the 500PLONG fits in the smaller 577 clamp used on 501 and 701 heads.

Rapid Connect is a misnomer since mounting the 500PLONG takes multiple steps: slide in plate from rear, position for best balance and, finally, tighten the side lever to lock. Tabs prevent the plate from sliding out of the clamp if you forget to lock it. To release, unscrew the lock lever and press the release tab while sliding the rig out. Not quick but secure and easy to rebalance after a lens or camera change. I marked the balance points for my favorite lenses with a Sharpie.

I use the Arca-Swiss (AS) quick release system on my other heads. So I installed an AS clamp on the 502 by mounting it on the 3/8" stud of the 500PLONG, giving me a true quick release and compatibility with my other tripods. Eventually I bought a Hejnar 500PLONG clone (M577-550F63B) with integral riser plate. I mounted my clamp on the Hejnar and it works like a dream: plenty of clearance for the torque knob, slides smoothly in the 502 clamp slot and locks tight. Best of all, I can leave an AS plate on my camera and mount it on any of my heads without swapping plates. And, yes, mounting/removing the camera is faster with the AS clamp but I can still slide the Hejnar 500PLONG for optimal balance.

Hejnar 500PLONG with riser plate | Photo courtesy Hejnar Inc.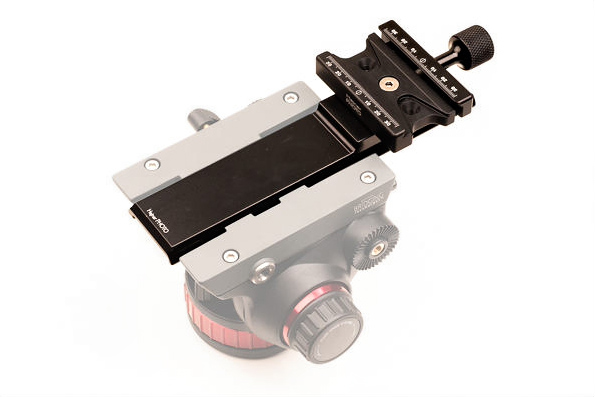 Gotchas

The vertical pan is limited to +90° / -85°, so not a good choice if you need to shoot critters at ground level. Worse, the extremes of the tilt befuddle me: if I release my grip on the panning arm at the lowest or highest point of the vertical pan, the head is deflected in the opposite direction as if spring loaded. Of course I can simply hold the panning arm or lock it down but all other positions in the pan-path hold position. I'm not sure if this is a feature or defect but my other Manfrotto fluid head (128LP) simply sits there instead of recoiling and doesn't need to be locked or held. If this is a feature, maybe it's supposed to keep a heavy rig from suddenly crashing to the extreme of the vertical pan?

Manfrotto 502 on set ( Canon 80D topside for scale).
Peter Kun Frary | Omen (Frary) | Tascam DR-60D MKII | Neumann KM184 (2X) | Shure A27M | EOS 70D | Manfrotto 502 head/055 tripod
Final Blurb

The 502 is a beefy piece of kit and ideal for shooting video with a medium to large DSLR with wide to short telephoto lenses. Plus, it's easy to convert to Arca-Swiss if desired. It's not perfect and, if I were to grade the 502 for outdoor video use, it would earn a B- due to the bounce at the end of the tilt range and the slightly less smooth pans compared to my 128/500 fluid heads. For shooting music videos in my studio it's an A-: smooth enough pans for wide to short telephoto lenses, balances easily and is stable as the Rock of Gibraltar (my smaller heads drift under load).

Finally, please help support this website by purchasing this item at Amazon.
Torija

(Torroba) | Takamine LTD2012C | Manfrotto 502 head/055 tripod.
Peter Kun Frary | Allemande (Losy) | Tascam DR-60D MKII | Neumann KM184 (2X) | Shure A27M | EOS 80D | Manfrotto 502 head/055 tripod
Manfrotto 502 Specs

• Material: aluminum
• Pan fluid drag system
• Easy Link connectors for fast attachment of accessories
• Large sliding plate (5.5") for balance adjustments
• Ball-bearing drag for smooth movements
• Tilt range -80° / +90°
• Payload: 15.43LB
• Height: 5.1"
• Weight: 3.72LB
• Plate type: fixed - with 1/4-20" and 3/8" screws
• Country of origin: Italy
• Price: $200

03/16/2016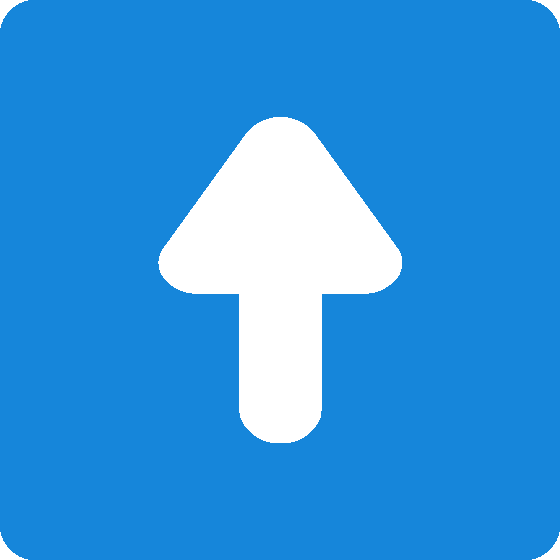 ©Copyright 2016 by Peter Kun Frary | All Rights Reserved