.
Hejnar Photo FM496RC2


Arca Style Clamp for
Manfrotto 496, 498 and 054 Heads
Peter Kun Frary
.
---
.
Own a Manfrotto 494, 496, 498 or 054 series ball head and wish to use an AS (Arca-Swiss) compatible quick release? Research Arca clamps and you'll discover a vast bounty of models. But look closely and there is rare mention of Manfrotto in compatibility specs. That's because many clamps are not designed to fit current Manfrotto heads. However, most Manfrotto heads can be easily converted to AS compatible if you find the right clamp.

Hejnar Photo FM496RC2 Clamp | Manfrotto 496RC2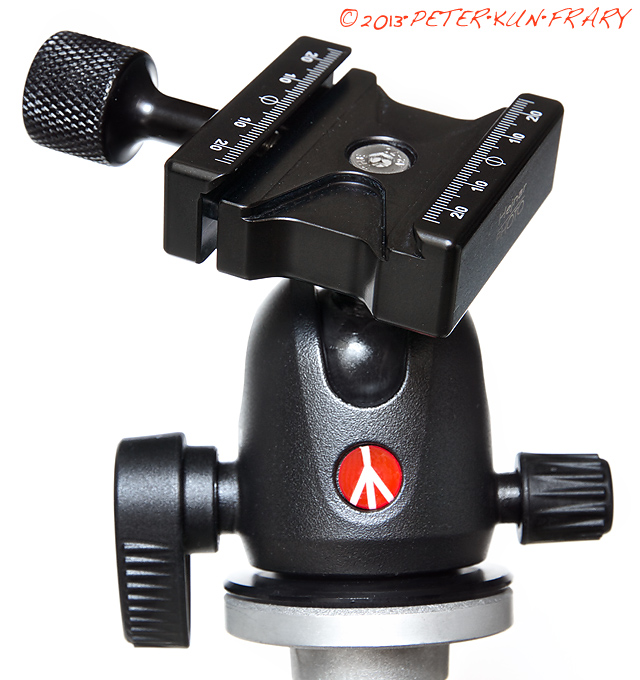 I grew up with the Manfrotto RC quick release system and it doesn't get any easier than this: screw a 200PL-14 plate into the tripod socket, press the plate into the RC platform, the lever snaps shut and you're in business. Why would anyone want to use the AS compatible quick release system instead of Manfrotto RC?

Manfrotto's weakness is RC plates are a one size fits all design: no wee camera plates or jumbo ones for giganormous telephotos. And that's okay if you're a small kit DSLR owner. The RC plates will serve you well. If you need to mount heavy gear, Manfrotto's solution is to sell you another quick release system, e.g., RC4 or Q5. Manfrotto doesn't have a quick release solution for point 'n shoot or M4/3. In contrast, the AS system has a solution for every size of camera and lens, making life a little simpler for photographers.

Arca Compatible Quick Release System

The AS compatible system is a specification supported by many dozens of manufacturers. The competition to create better plates, clamps and accessories has given rise to a multitude of choices and innovations. Essentially this is a single quick release system with endless design tweaks and plate sizes.

There are two basic components in an Arca compatible quick release system: a plate and a clamp. The plate is screwed into the tripod socket of a camera or lens. The clamp is attached to the tripod head. Gear is mounted and removed by dropping or sliding the plate in and out of the clamp. Two parallel sides of the plate are wedged in a dovetail clamp, so it is extremely secure once tightened.

AS Compatible Plates | Quick release plates come in many shapes and sizes but all fit the same type of clamp.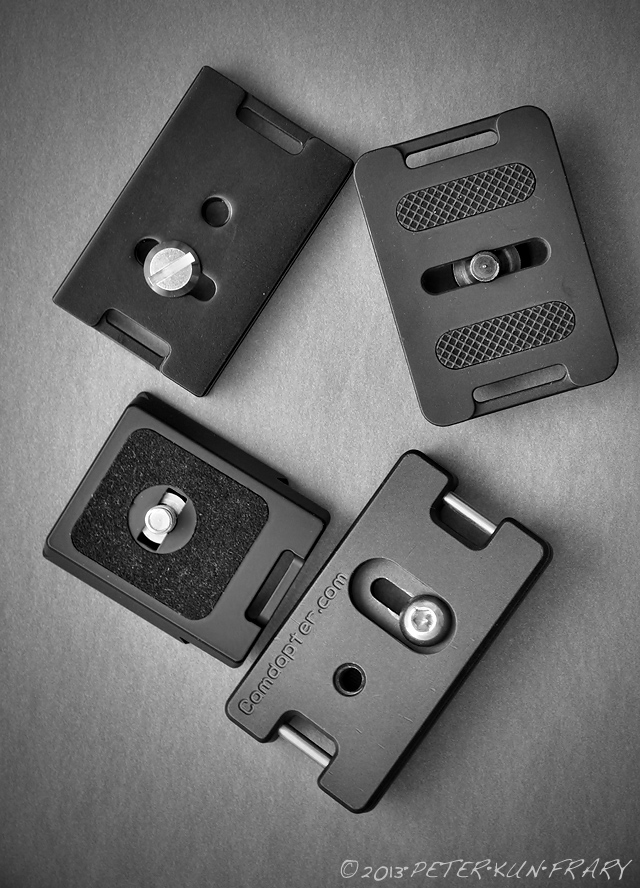 The two parallel sides that lock in the clamp must fall within a design specification of shape (male dovetail) and size (approximately 38-40mm) in order to fit AS compatible clamps. However the remaining two sides are free and loose and can be sized for particular gear, resulting in short plate lengths for tiny cameras and long plates for mammoth telephotos. And, of course, clamps vary in size to match the plates. The smallest commonly available clamp and plate has a 25mm length while the largest tops out around 125mm. The typical clamp has a 50 or 60mm jaw.

25mm Kirk AS Clamp | Small clamps are ideal for point 'n shoot and M4/3 cameras. Although this clamp is tiny, the 70mm plate next to it still fits.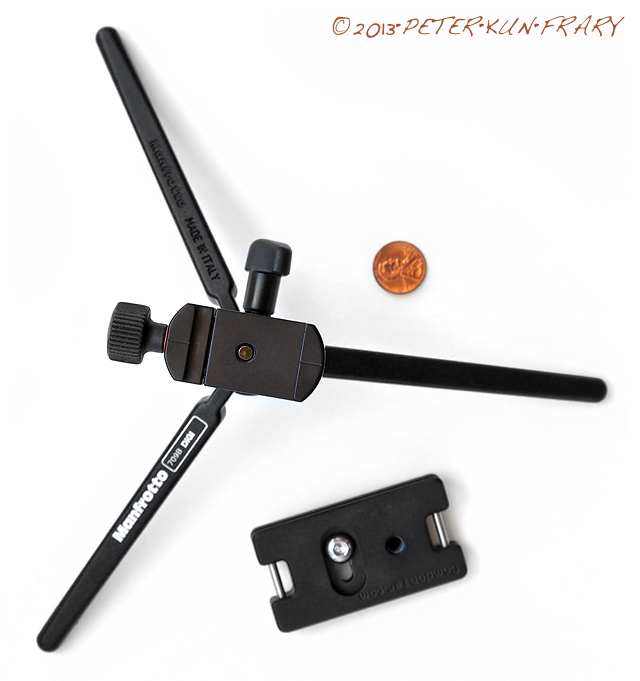 The gotcha with AS compatible gear is it tends to cater to pros with extreme performance standards. In other words, it tends to be expensive. Spending 400 to 800 USD on a Really Right Stuff, Markins or Kirk ball head is beyond my weekend warrior budget. So the burning question was "how can I attach AS compatible clamps on my Manfrotto RC2 heads?"

Plate Mounted on Camera | Acratech 2176 AS plate mounted on an Olympus E-P3 Micro 4/3 camera. This 32mm plate has an anti-twist lip and has been milled to reduce weight.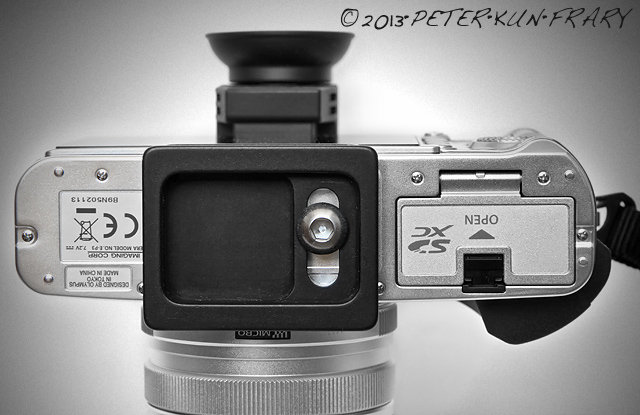 Manfrotto Ball Head Stems

First, I had to figure out which clamps fit my heads. The RC platform must be removed so the clamp can be mounted directly on the ball stem. I soon found out Manfrotto stem designs are a moving target and changed at least three times since the 1990s.

My mid-1990s 352RC (Mini Ball Head) has a single centered boss/key on the stem. Thirty minutes with a file and it fits the single boss clamps from most clamp makers (it's about 1mm too wide). So minor modification needed.

The new millennium 486RC2 (replaced by 496RC2) sports a 3/8 inch stud on a flanged stem. This series is the easiest to upgrade as most clamps can be screwed on the stud.

The Hydrostatic heads (468 series) have a M6 female thread in a flat flanged ball stem so, again, almost any clamp fits. It has an anti-twist pin but most clamps lack this feature (Hejnar Photo sells a clamp for this model with pin).

The 494, 496, 498, 054, 055 and 057 series ball heads are the black sheep of the bunch, using a rare double boss stem key. I checked nearly every clamp model made and no cigar until I stumbled upon Hejnar Photo.

Manfrotto Double Boss Stem Key | Used on the 494, 496, 498, 054 and 055 series ball head stem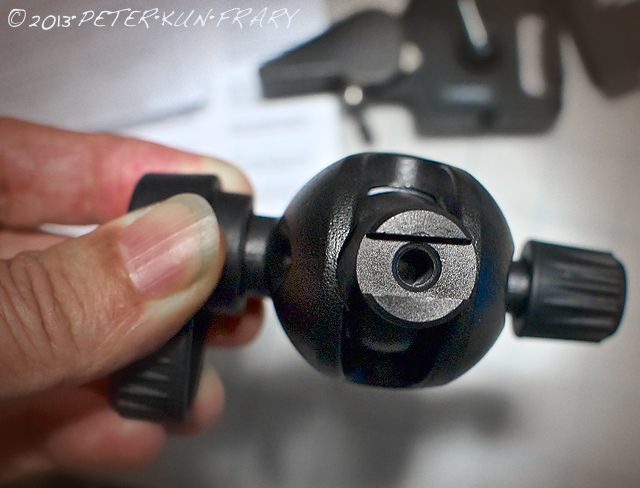 Hejnar Photo to the Rescue

Hejnar Photo, a custom machine shop in Bloomingdale, IL, is one of the few businesses designing and manufacturing AS compatible clamps for Manfrotto heads. Chris Hejnar even designed one for the infamous 222 Action Ball Head! I was pleased to find a model specifically for the 496RC2 (and other double boss Manfrotto ball heads). Basically he modified his 60mm AS clamp to fit the Manfrotto stem and bosses like a glove.

South side of Hejnar FM496RC2 AS Clamp | The ball stem is supported at 5 points and a male protrusion fits into the slot between the two stem bosses. This clamp ain't twistin'!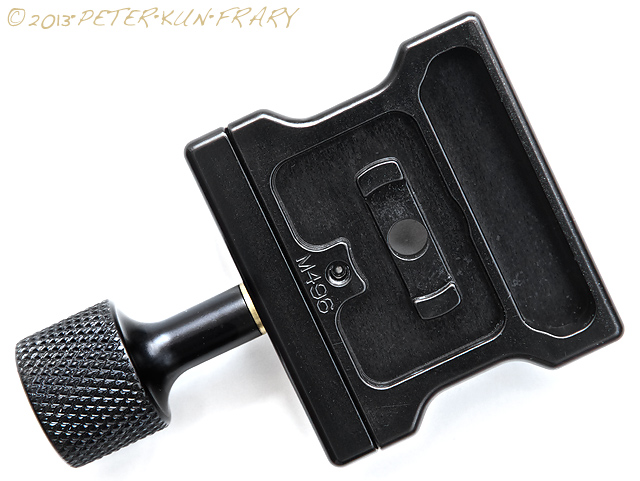 Installing the Hejnar Photo FM496RC2

With the Hejnar Photo FM496RC2 clamp in my hot little hands, I was ready for surgery. First, I removed the RC2 platform from the 496RC2 by unscrewing the single M6 that secures it to the ball stem. I'm guessing Manfrotto used Locktite as I had to muscle the hex wrench to spring that puppy. I used a long handle 4mm hex wrench and added a small piece of pipe for extra leverage. Once the RC2 was off, I aligned the clamp with the bosses, dropped in the M6 screw and tightened it (reuse the original screw). I didn't use Locktite as there is no way this clamp can twist with this fitted design.

Installation on the 494RC2, 498RC2 and MH054M0-Q2 is done in the same manner as the 496RC2.

I also installed the FM496RC2 on a Manfrotto MH054M0 (plain 054 model without QR), a ball head a couple models above the 496RC2. Installation was easier because there is no Locktite screw or tiny hex wrench to deal with. First, I peeled off the neoprene cover on the disk. Using a 10mm socket, I removed the nut and stud holding the disk to the ball stem. Lifted off the disk and set it aside. Aligned the clamp's boss with the groove on the ball stem and set in place. Using a 4mm hex wrench, I tightened a single M6 screw so the clamp was snug and I was in business! A five-minute job if you work slowly.

When installing on a MH054M0, have a one inch (25mm) tapered head M6 screw on hand as you won't be able to use the combo M6/1/4" stud included with the MH054M0. You can buy a tapered head M6 screw at most hardware stores if you forget to order one with the clamp. A Phillips or slotted head M6 if fine if they don't carry the hex head version. I recommend paying a few cents extra for the stainless steel version.

If you own the plain 494, 496 or 498 (no RC2), installation is done in the same way as the MH054M0.

Features and Physical Appearance

I love that big honkin' knob: it drives the clamp jaw, and those movements are smooth and precise, baring witness to Hejnar's rigorous machining standards. The diamond-pattern knurling makes for a sure grip and the large diameter facilitates fast adjustments. I had no problems turning it with gloves on. The black knob looks nice but I prefer an unfinished metal knob for better visibility in dim light. And, yes, the knob is captive so it won't fall off when you reach maximum opening.
Hejnar FM496RC2 AS Clamp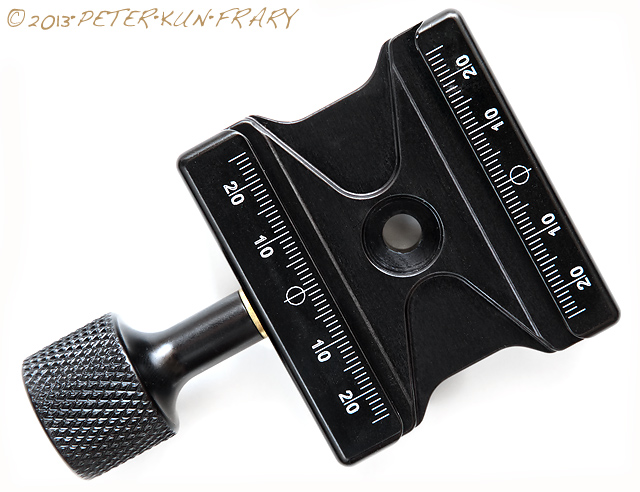 The clamp sports a nice anodized black finish and appears to have been lightly compounded to create a semi-matte appearance. The metric scale is engraved and filled with white enamel. It is easy to read and makes for a precise technical presentation. The top surface features cutouts to accommodate safety stop screws. The milling work is precise and smooth. All exposed corners are rounded and smooth to the touch.

One physical feature that caught my eye was the thickness of the clamp: at 21mm it is 3 or 4mm thicker than my other clamps. The extra thickness is necessary to allow the ball stem to be countersunk into a socket with the two bosses. The stem fits so well it looks like part of the clamp.

Hejnar FM496RC2 AS Clamp | Manfrotto 496RC2 Ball Head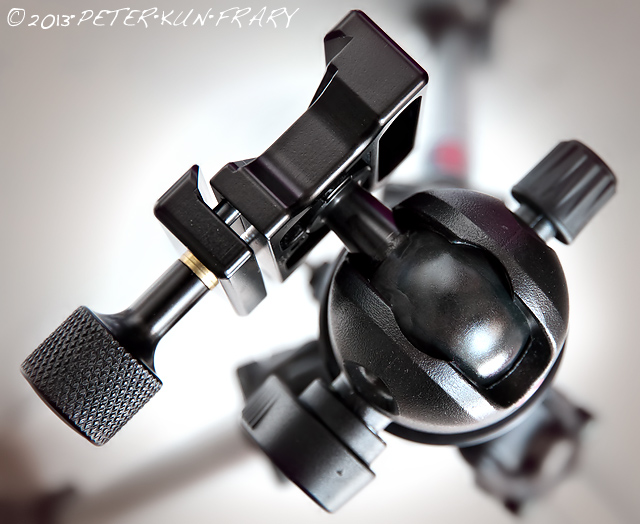 The clamp is fairly light since unneeded sections on the underside were milled out. At 135g it's a little heavier than my B2 Pro II clamp but lighter than my Desmond DBA-1 clamp.

Finally, I tried every AS compatible plate I own: Camadapter Arca, Acratech, DUALplate, Desmond, Sunwayfoto and Herringbone. The plates slid in smoothly and the tightening knob handily locked them in with a couple small twists. If you don't mind the extra knob spinning, you can top load rather than slide. Removal was even easier since I could do it without lining up the camera/plate combo.

Final Musings

I tried the Hejnar Photo FM496RC2 clamp on three Manfrotto ball heads: 494RC2, 496RC2 and MH054M0. It worked perfectly on all three and was a vast improvement over the feeble RC2 implementation on the 494/496. Save for the 492 Micro Ball Head, the FM496RC2 should fit the entire Classic and 054 line of ball heads since they share the same stem design.

It is likely the FM496RC2 also fits the 055 and 057 heads since Manfrotto's parts PDF show the double boss stem design. I was not able to borrow these heads and confirm compatibility. If you have a 055/057, email Hejnar Photo and they will confirm if the FM496RC2 fits or not. Hejnar was prompt and helpful when I emailed questions (shipping was prompt too!).

Ultimately, the quality and size of the Hejnar clamp was best matched to the larger and better made 054 series magnesium ball head. However, if you already own a 496 or 498 series ball head, this clamp is still a great upgrade path to Arca compatible Nirvana. If $70 is too pricey for you, buy a Desmond clamp and boss adapter for about half the cost of the Hejnar. It's not as nice as the Hejnar but works fine.

If you plan to install a FM496RC2 on a Manfrotto ball head from the getgo, consider buying the plain (no quick release) Manfrotto MH054M0 Magnesium Ball Head. You'll save $35 over the version with RC2 and the install is easier. You'll need to spend another $1 for a stainless tapered head M6 screw (1"/25mm). I bought one at Home Depot but I'm sure you can order one with the clamp from Hejnar Photo.

The FM496RC2's thoughtful design, quality materials, precise movements and polished appearance yield a lot of value for $70 and vastly improve quick release performance and flexibility on Manfrotto ball heads. I plan to keep the Hejnar clamp on my Manfrotto MH054M0 for a long time.

Hejnar Photo FM496RC2 Clamp | Manfrotto MH054M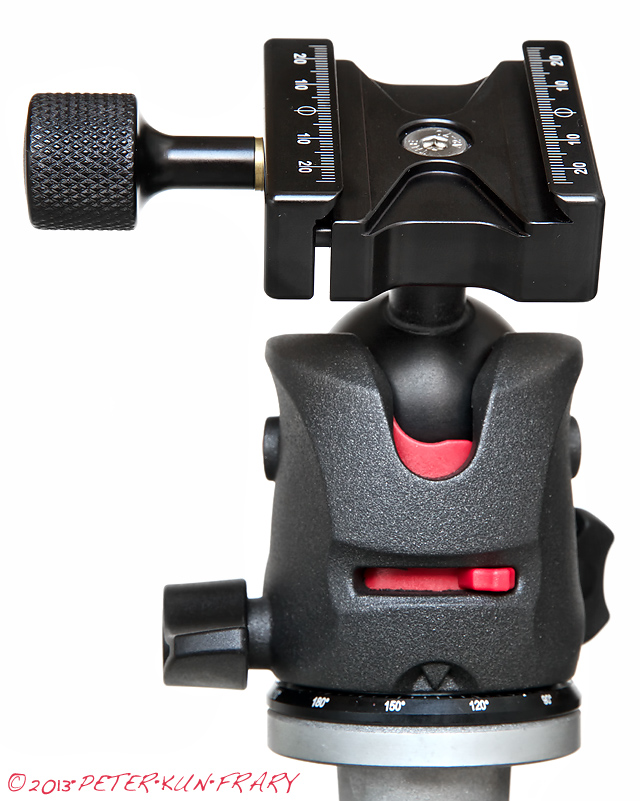 Hejnar Photo FM496RC2 Specs

• Material: 6061-T6 aluminum
• Finish: black hard coat anodized (semi-matte)
• Attachment: unthreaded hole for M6 screw
• Jaw size (L): 60mm
• Width: 94 mm (with jaw closed)
• Height: 21mm
• Weight: 135g
• Price: $70

03/12/2013 | Revised 07/08/2017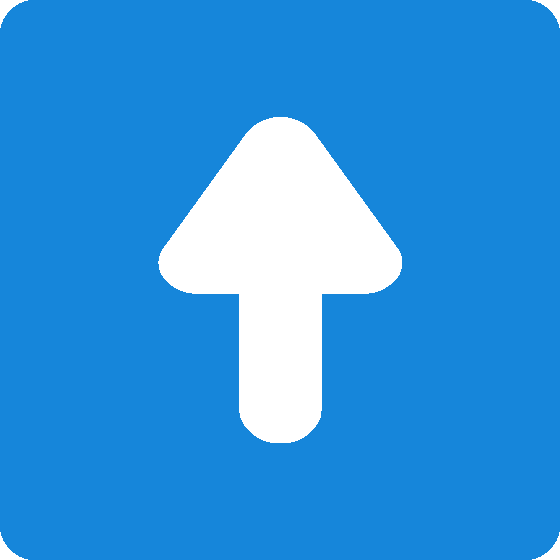 ©Copyright 2013-17 by Peter Kun Frary | All Rights Reserved