.

Music In The 19th Century

Johannes Brahms

Peter Kun Frary
---

.
Like Mendelssohn, Johannes Brahms (1833-1897) was a conservative composer, eschewing program music and drawing inspiration from the Classical era, especially Beethoven. He was also a scholar, conducting research on music history and literature and highly knowledgeable about the styles and masterworks that came before him.
Johannes Brahms 1853 | Brahms' Lullaby (Guten Abend, gute Nacht) is ubiquitous and often mistaken for a folk song:

Your browser does not support the audio tag.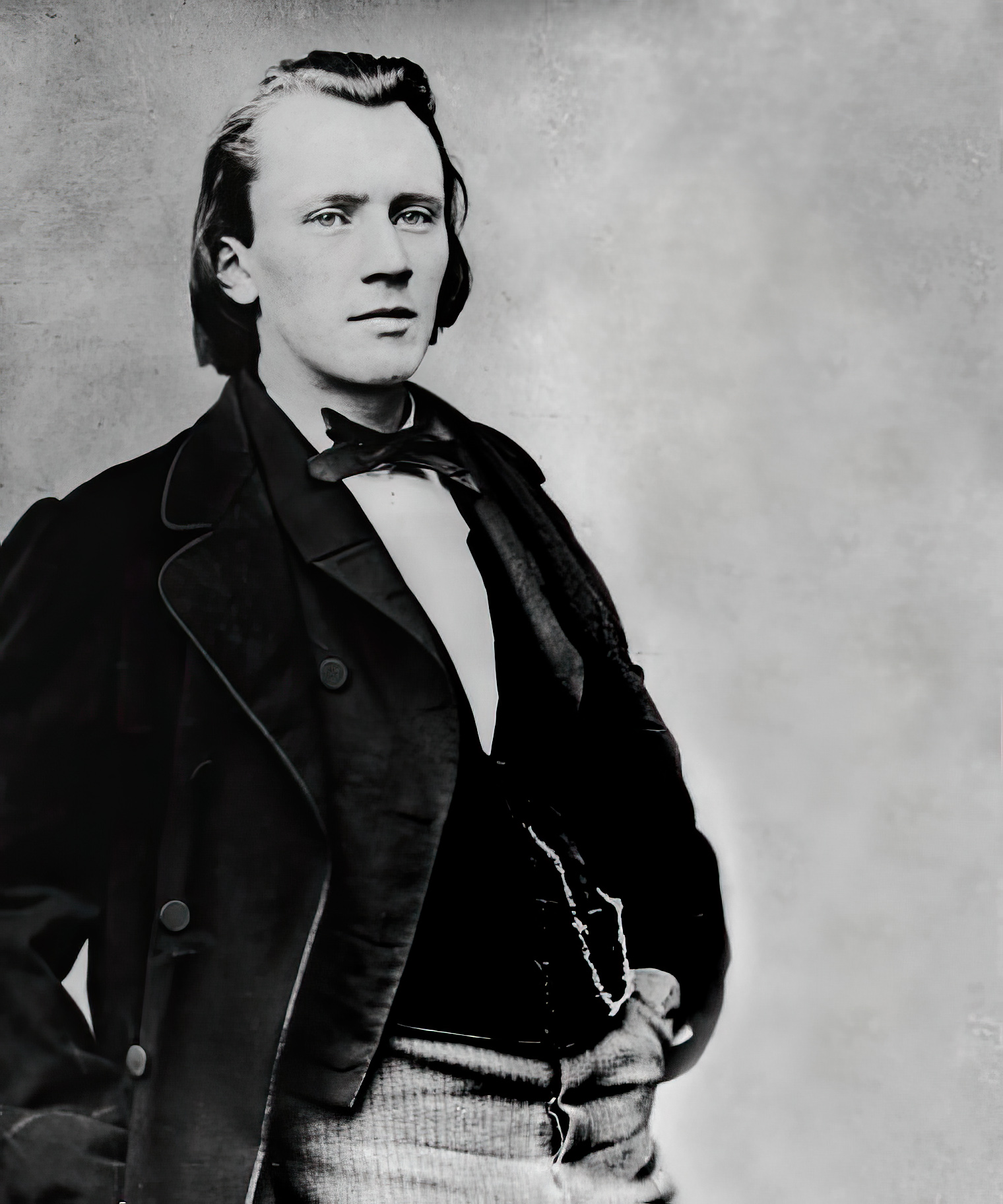 Born to a musical family in Hamburg, Germany, Johannes Brahms, began musical studies at a young age. He received early training from his father, Johann Jakob, a bass violin player. At seven, he studied piano with a local pianist, Otto F.W. Cossel (1813–1865). Cossel complained that "Brahms could be a great player if he would stop his never-ending composing." By his mid-teens, Brahms was a successful local performer and had composed numerous piano solos, choral pieces and chamber music. Some of these works were published under a pen name, G.W. Marks, because Brahms was so self-critical he thought they weren't good enough to use his real name. Many of these manuscripts were destroyed by Brahms later in life as he considered them below his artistic standards.

In 1853, after a couple years of touring, twenty year old Brahms met the renowned composer Robert Schumann. Schumann was impressed by Brahms' work and promoted his music in his magazine, Neue Zeitschrift für Musik. This, in turn, lead to the first publication of Brahms' music under his own name and his career was suddenly mainstream. Years later, after Robert Schumann had a mental breakdown, Brahms moved in with Clara Schumann, a concert pianist and Robert's wife, for two years to help out. He called Clara "the most beautiful experience of my life." However, Brahms remained a bachelor all his life.

God Beams in Redwoods | Grace Seil Frary | Brahms was extremely fond of nature and often hiked the woodlands alone or with friends.

Brahms was extremely self-critical and measured his musical efforts against earlier master composers such as Mozart, Haydn and Beethoven. Thus, it's not surprising Brahms' musical style and structure was heavily influenced by Classical era traditions. Nevertheless, Romantic flavor is still evident in his music: syncopations, irregular phrases, polyphonic textures, intensity of feeling and dense orchestrations.

Brahms wrote in all major genres except opera. Up to age forty, he composed piano solos, art songs and chamber music but hid his symphonic writing. Finally, at age forty-three, after working on it for twenty years, his first symphony appeared. It's sometimes called "Beethoven's Tenth Symphony" due to the obvious inspiration and similarities.
Forest Grove | Peter Kun Frary | Romantics saw nature as a spiritual source of renewal.
Symphony No. 3 in F Major Op. 90
This symphony was written in 1883, nearly six years after completion of his Second Symphony. Symphony No, 3 has four movements:

Allegro con brio (F major), in sonata form
Andante (C major), in modified sonata form.

Poco allegretto (C minor), in ternary form (A B A′)

Allegro – Un poco sostenuto (F minor/F major), in modified sonata form

Brahms used a three note motive, F-A-F, to bind all four movements together. The sharing of a motive or theme between movements is known as cyclic technique. Berlioz used a similar technique, the idée fixe, in Symphonie Fantastique.

The F-A-F motive is said to symbolize "frei aber froh," free but happy. Moreover, the first movement's first theme is quoted near the end of the last movement.

We'll focus our listening on the third movement, the Poco allegretto. Normally the third movement of a Classical symphony is a minuet and trio or scherzo. While not indicated as a dance, the Poco allegretto has a ternary structure (A B A') similar to a minuet and trio and uses triple meter, albeit more free flowing metrically. Brahms trims down the instrumentation, omitting some of the brass, low double reeds and timpani heard in the first and third movements.

The main A section theme is cast in the minor mode and is lyrical and stunningly beautiful:

Your browser does not support the audio tag.

The middle or B section shifts to the major mode and introduces a graceful dance-like theme in the winds:

Your browser does not support the audio tag.

As if that wasn't enough, Brahms gives the strings another distinctive melody before returning to the A' section and the original theme:

Your browser does not support the audio tag.

Symphony No. 3 in F Major Op. 90, III. Poco allegretto (1883) | Johannes Brahms (6:47)
Olympic Mountains | Peter Kun Frary | Interaction with nature was a cornerstone of Romantic music and art. Brahms' love of nature seemed to intensify the demands he made on himself as a composer.
A German Requiem
A German Requiem, to Words of the Holy Scriptures, Op. 45 (Ein deutsches Requiem, nach Worten der heiligen Schrift) by Johannes Brahms, is a work for chorus, orchestra, soprano and baritone soloists, composed between 1865 and 1868. The seven movements last well over an hour, making it the maestro's longest work. Requiem is a masterful example of Romantic choral writing and helped establish Brahms as a major composer while in his mid-30s. It's entitled German Requiem because the text is set in German rather than the traditional Latin. The text consists of scriptures relating to death and resurrection, translated by Martin Luther.

Although often assumed Brahms wrote the Requiem in memory of his mother's death in 1865, he steadfastly denied the connection. Instead, he intended the Requiem to be a consolation for the living than a memorial for the dead, as demonstrated in the first lines of the text, "Blessed are they that mourn, for they shall be comforted . . ."

We'll listen to the fourth movement, How Lovely Is Thy Dwelling Place, a setting of Psalm 84 for chorus and orchestra. Brahms drew on his extensive knowledge of Bach's choral repertoire and, thus, exhibits masterful interplay between the orchestra and chorus as well as smooth transitions between monophonic, homophonic and polyphonic passages.
How lovely is Thy dwelling place,
O Lord of Hosts!
Wie lieblich sind Deine Wohnungen, Herr Zebaoth!
For my soul, it longeth, yet fainteth for the courts of the Lord;
Meine Seele verlanget und sehnet sich nach den Vorhöfen des Herrn;
my soul and body crieth out,
Mein Leib und Seele freuen sich
yea, for the living God.
in dem lebendigen Gott.
O blest are they that dwell within Thy house;
Wohl denen, die in Deinem Hause wohnen,
they praise Thy name evermore!
die loben Dich immerdar.
(Psalm 84, 2f )
A German Requiem, IV. How Lovely Is Thy Dwelling Place | Johannes Brahms (5:27)
Farewell to an Era

Brahms was a wealthy and dominating figure in the music world during the second half of his career. Despite his wealth, he lived simply in a modest apartment, adorned himself with funky clothing and grew a beard large enough for birds to nest in. Although gruff in appearance and manners, he had a generous heart and gave away large sums of money to help music students and friends. In 1897, at the age of sixty-four, Brahms passed away after leading a long and full musical life. The Romantic era was near its end and Impressionism and other new styles were washing away the last vestiges of the nineteenth century.

Vocabulary
cyclic technique
©Copyright 2018 by Peter Kun Frary | All Rights Reserved