.

Music In The 19th Century

Idealists and Absolute Music

Peter Kun Frary
---

.
Idealists believe that music is complete in itself: images, stories or suggestions of atmosphere are unnecessary. Thus, this type of music is called absolute music.

Some composers regarded instrumental music as innately spiritual and therefore linked to a higher realm, i.e., a more evolved form of discourse than visual art and language. Beethoven commented on this matter:

"I must despise a world which does not know that music is a higher revelation than all wisdom and philosophy."

Other Idealists saw instrumental works simply as music to be appreciated for their creative technique and design. Most Idealists embraced an international style, i.e., German Romanticism, and used generic titles—e.g., Sonata Op. 10 No. 9—and traditional forms of the Classical era.

The Orchestra Seat 1856 | Honore Daumier (1808-79) | PBS Learning Media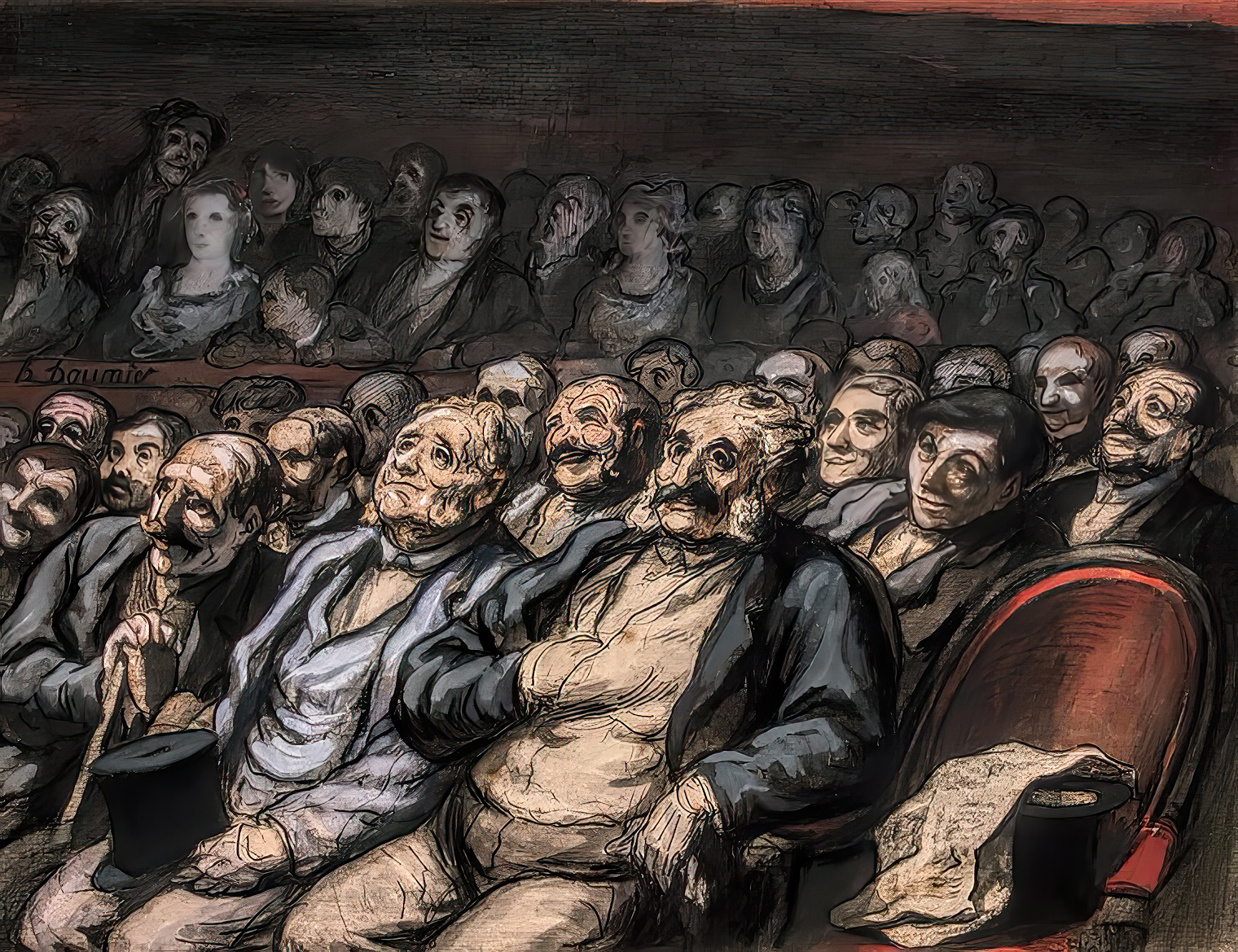 Felix Mendelssohn
Felix Mendelssohn (1809-1847) was a German composer, pianist and conductor. He was born in Hamburg, Germany, to a wealthy and prominent Jewish family, his father, Abraham Mendelssohn, a banker and his grandfather, Moses Mendelssohn, a respected Jewish philosopher. Nevertheless, Felix and his brother and two sisters were raised as Reformed (Calvinist) Christians.

Felix Mendelssohn | Metropolitan Art Museum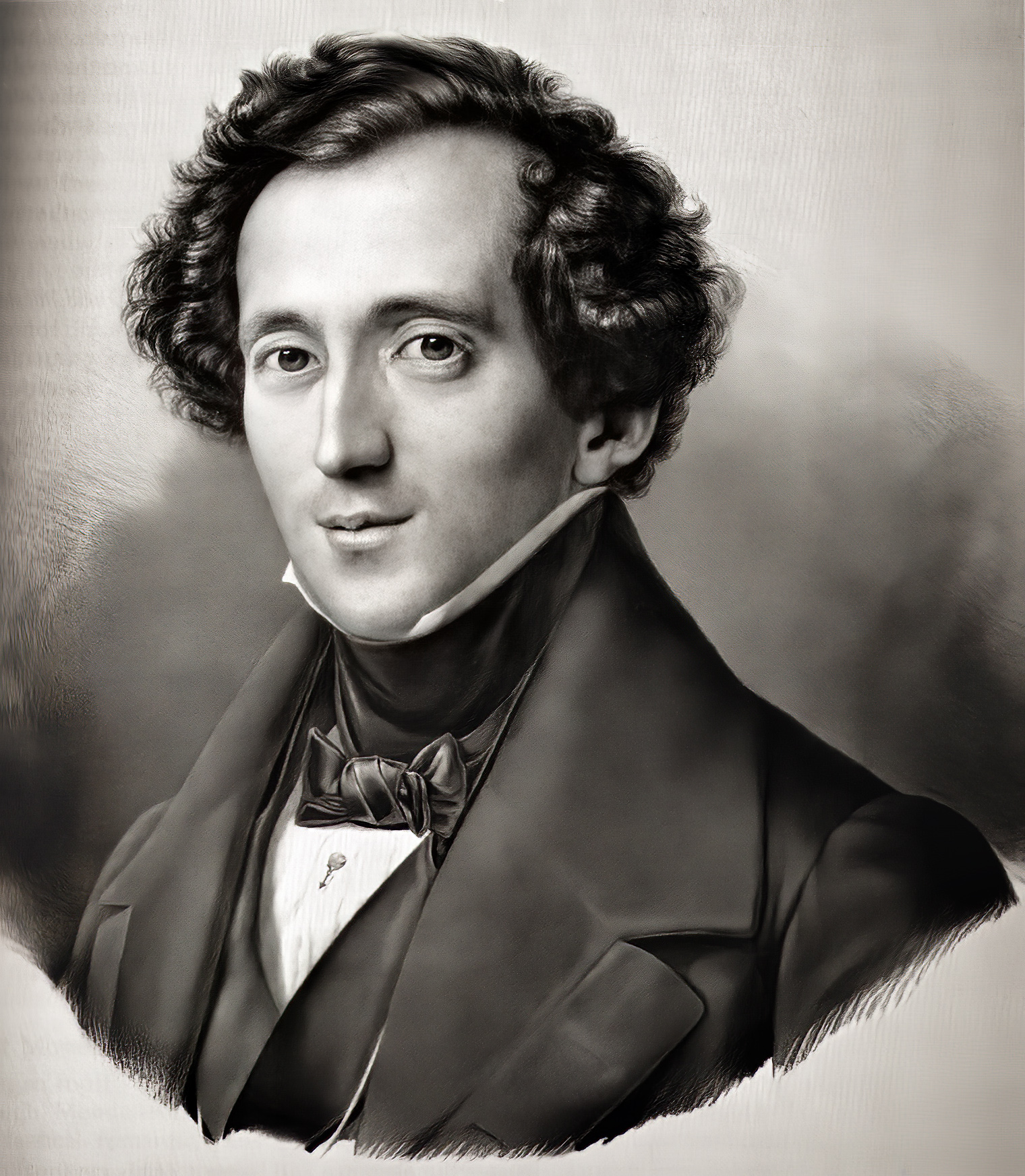 Felix was recognized as a child musical prodigy as precocious as Mozart and was supported and encouraged by his parents. However, his parents were wealthy and did not seek to profit on his talent. He was a brilliant pianist and by thirteen had written symphonies, concertos, sonatas and assorted vocal pieces of quality and originally. His family was rich enough to hire and fit an orchestra in their dinning room to perform his works. Felix was also a talented painter and writer and was fluent in four languages. At twenty-three, he founded the Leipzig Conservatory, still existing today as the University of Music and Theatre Leipzig.

Mendelssohn's music was successful in Germany, where he also managed to spark interest in the music of Johann Sebastian Bach by arranging and conducting the St. Matthew Passion. Mendelssohn was also popular in Britain as a composer, conductor and soloist, and his many visits there were an important inspiration for his works.

Elijah: Introduction and overture (arranged for piano duet) | Wikimedia Commons | Manuscript score in Mendelssohn's handwriting.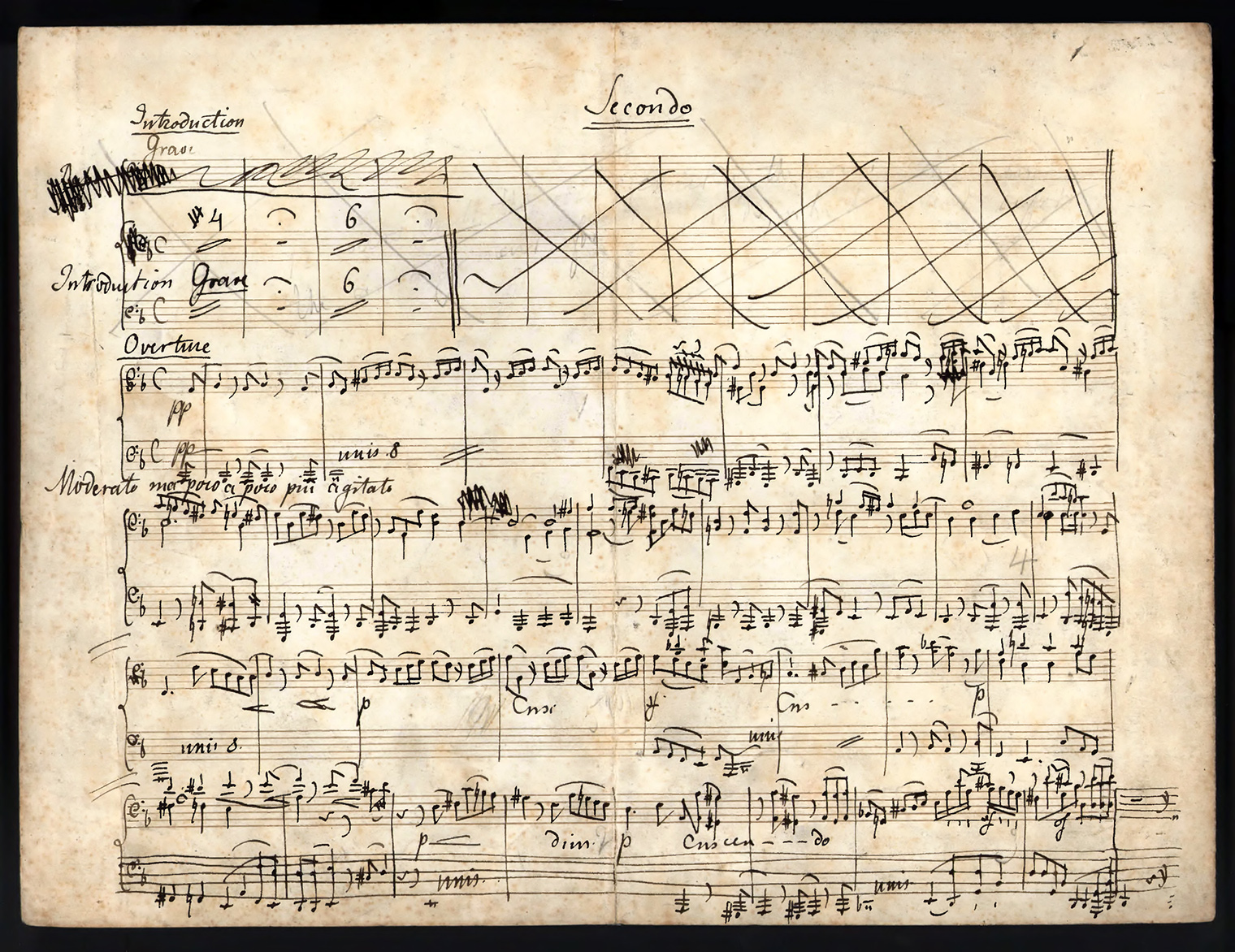 Unlike many Romantic composers, he had a stable and conventional personal life, being happily married with children. Sadly, Mendelssohn was not well in the latter years of his life. His last tour of England left him exhausted and shortly after, his sister Fanny died, leaving him in great distress. Less than six months later, Mendelssohn passed at the age of 38.

Mendelssohn's music is steeped in the Classical influences of the eighteen century, setting him apart from his more progressive musical contemporaries such as Franz Liszt, Robert Schumann and Hector Berlioz. Mendelssohn was prolific (750 works) and wrote in all the major genres of the time save for opera. His most famous works include his Incidental Music for A Midsummer Night's Dream, Italian Symphony, Scottish Symphony, The Hebrides overture, Violin Concerto in E Minor Op. 64, and String Octet. Mendelssohn's Songs Without Words are his best known solo piano works.
Fingal's Cave, Island of Staffa, Scotland, 1884 | Thomas Moran | High Museum of Art | The landscapes of Scotland inspired Mendelssohn to compose The Hebrides Overture.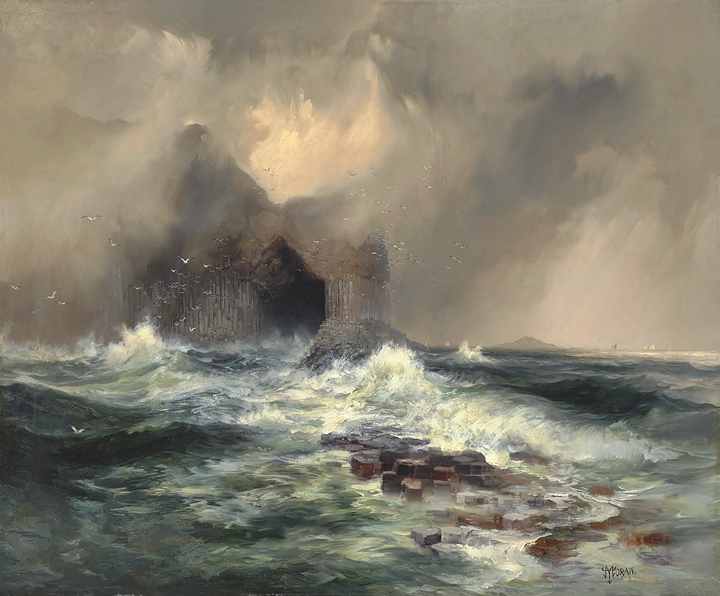 Violin Concerto in E Minor Op. 64

Mendelssohn's violin concerto uses a three movement formal and fast-slow-fast tempo scheme:

Allegro molto appassionato (E minor)

Andante (C major)

Allegretto non troppo – Allegro molto vivace (E major)

The entire work takes twenty-five to thirty minutes to perform. For this assignment, we'll focus on the first movement only. The second and third movements are on the video if you wish to listen to the entire concerto.

The Allegro molto appassionato is in sonata form. The soloist presents the first theme at downbeat, forgoing the double exposition used in many concertos. Here's the first theme:

Your browser does not support the audio tag.
After a flashy volley of ascending scales by the soloist, the first theme is taken up by the orchestra. A frenzied transition passage by the soloist follows and, finally, the music relaxes and modulates into a tranquil second theme in G major played by the woodwinds:

Your browser does not support the audio tag.

The exposition closes with a codetta and the two main themes are worked over in the development section, building up to a virtuosic cadenza by the soloist before the return of the recapitulation. Mendelssohn wrote out the cadenza rather than leaving it to the soloist to improvise.

Violin Concerto in E Minor Op. 64 | Felix Mendelssohn (27:22) | Watch the first movement, 0:00-13:20.
Vocabulary

absolute music
©Copyright 2018 by Peter Kun Frary | All Rights Reserved