.

Music In The 19th Century

Music for Piano Solo | Franz Liszt

Peter Kun Frary
---

.
Franz Liszt (1811-86) was a prolific nineteenth century Hungarian composer, virtuoso pianist, conductor and cleric. After he heard Paganini play the violin, Liszt withdrew from the stage for years and practiced eight to twelve hours daily, planning to become the "Paganini of the piano." Like Romanticism, Liszt was a man of contradictions: irresistible to women, dazzling on stage and yet he took minor holy orders and became a Franciscan tertiary. Liszt made so much money by his mid-forties that he gave his performing fees to charity and taught for free.
Franz Liszt in 1858 | Photograph | Wikimedia Commons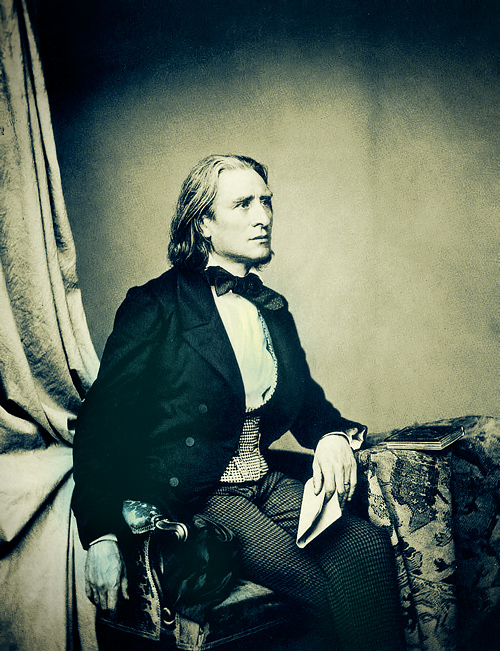 Up to age thirty-six, Liszt mainly worked as a touring virtuoso pianist and teacher. He played his piano works, the music of friends and transcriptions of orchestra pieces such as Berlioz' Symphonie fantastique. During this time Liszt gained renown across Europe and befriended many composers during his travels, including Chopin, Wagner, Berlioz, Schumann, Saint-Saëns, Glinka, and Borodin. Liszt graciously championed their music, often performing their pieces in his concerts.

A Polish princess, Carolyne Sayn-Wittgenstein, entered Liszt's life and convinced him to settle down. Thus, at the age of thirty-six, Liszt stopped touring and took a job as music director for the Duke of Weimar. With stability and an orchestra at his whim, Liszt had time to hone his orchestra writing. Initially, his orchestral works were written as piano duets and orchestrated by a local musician. Liszt was a fast study and was soon a skilled orchestrator. During this time he invented a new category of music, the symphonic poem, a single movement programmatic work for orchestra. He was also active as a music scholar, publishing essays on Hungarian folk music and composers such as Chopin and Berlioz.

Franz Liszt Fantasizing at the Piano 1840 | Josef Danhauser (1805–1845) | Alte Nationalgalerie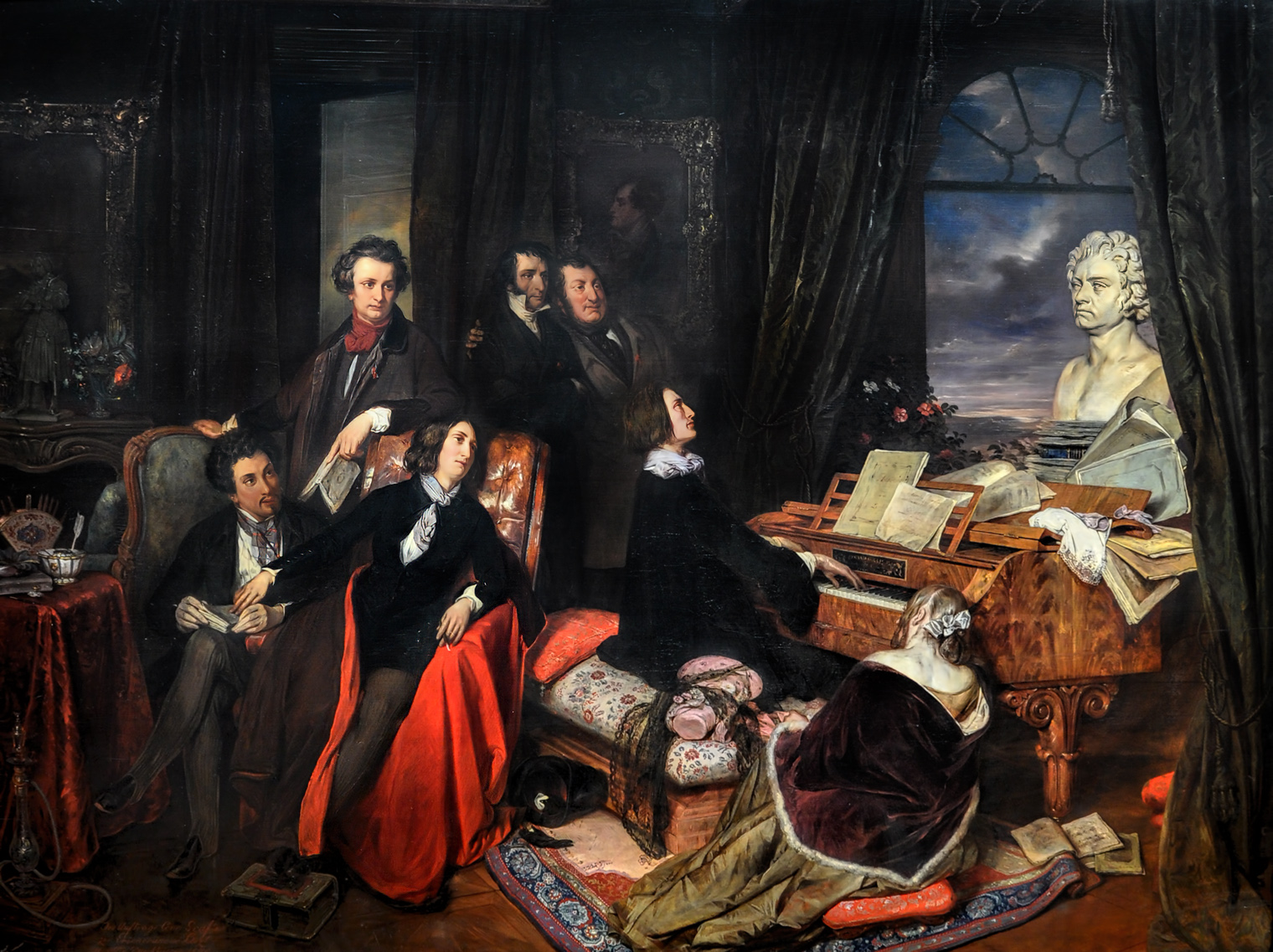 Liszt had a generous heart and was involved in promoting and financing promising composers such as Berlioz and Wagner. He also gave gave free piano lessons to hundreds of gifted students. Some of the best pianist-composers of the next generation studied with Liszt, including Isaac Albeniz and Hans von Bülow.

Princess Sayn-Wittgenstein and Liszt wanted to marry so she went through a lengthy process to invalidate her prior marriage. They travelled to Rome in 1861 for the wedding but, on the wedding day, it was called off. Her former husband and the Tsar of Russia pressured the Vatican to rescind the marriage license. The Russian government impounded her estates in the Polish Ukraine, leaving her without assets.

Liszt's life was in shambles: the love of his life was gone and two of his adult children had died. Liszt decided to leave Weimar in 1861 to pursue religious studies at Rome and subsequently took minor holy orders, earning the titles of porter, lector, exorcist and acolyte. I wonder if Liszt made use of his exorcist skills? However, as Abbé Liszt, he composed oratorios and masses for the Catholic Church. He also wrote innovative piano solos foreshadowing twentieth century techniques. Until the end of his life he kept busy, traveling regularly between Rome, Weimar and Budapest and teaching, conducting and performing.

Portrait de Franz Liszt | Henri Lehmann (1814-1882) | Musée Carnavalet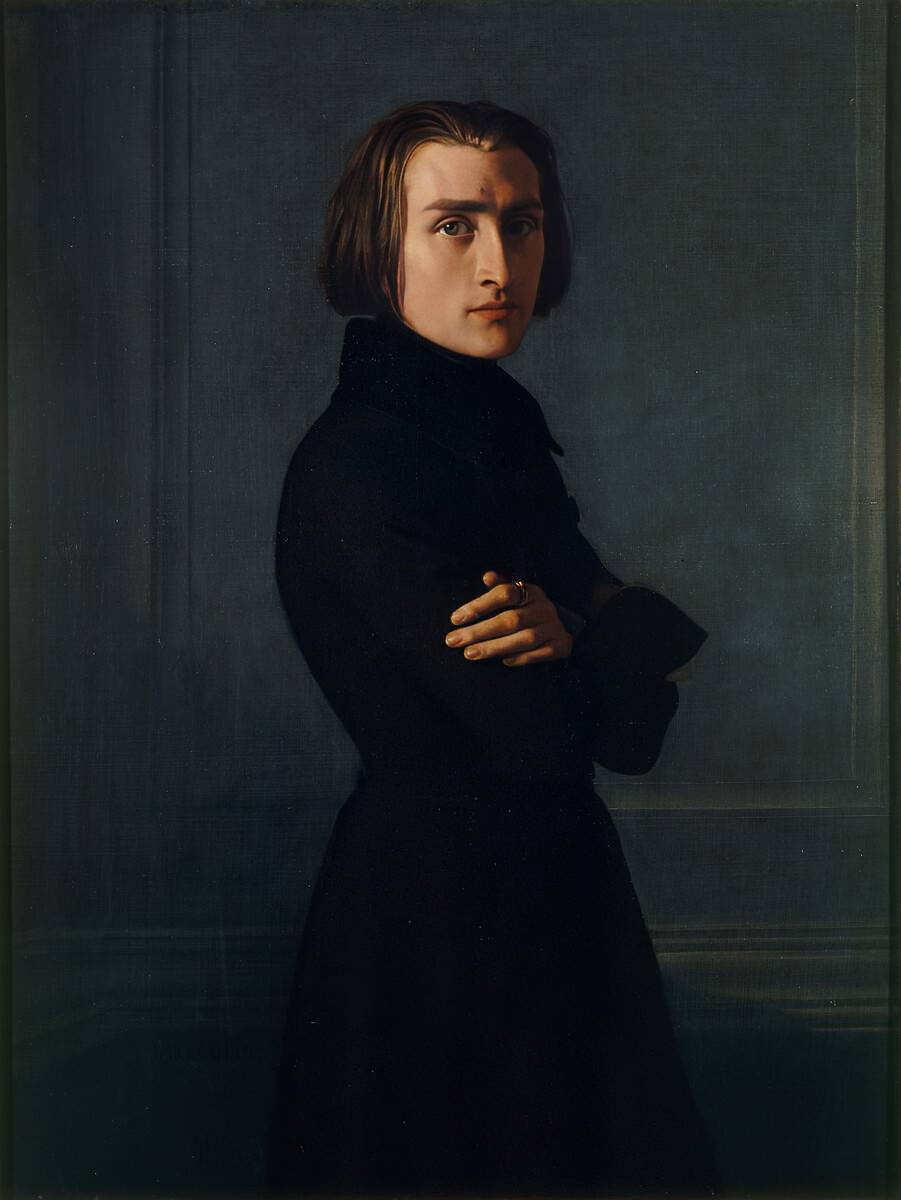 Liszt's Transcendental Étude No.10 in F Minor is one of the most played études in piano competitions and graduate recitals. It's a piece Liszt was particularly fond of as he created three versions: a light 1824 version when thirteen years old, a 1838 version with an Appassionata inspired coda and a reworked 1851 edition.

The Étude is in A B A' coda form and passage work for the left hand is extremely demanding with fast skips and position changes while the right hand hammers the melody in octaves. It ends with a fast and furious coda filled with syncopated octaves raining down to massive final chords.

Listen to Natalia Kartashova play the final 1851 version of Liszt's Transcendental Étude No.10 in F Minor, dedicated to his piano teacher, Carl Czerny.

Transcendental Étude No. 10 in F Minor (4:55) | Franz Liszt
Franz Liszt, 1886 | Gaspard-Félix Tournachon (1820-1910) | Liszt at age 74, four months before his death. He's wearing a traditional Catholic collarino.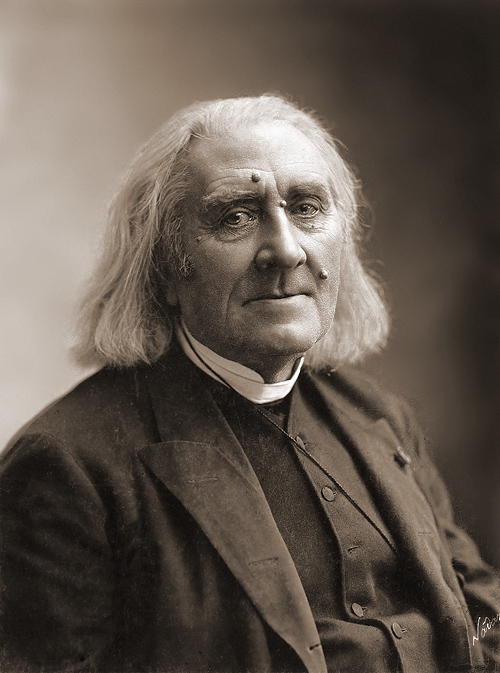 Vocabulary

Franz Liszt

©Copyright 2018 by Peter Kun Frary | All Rights Reserved