.

Music In The 19th Century

Music for Piano Solo | Fréderic Chopin

Peter Kun Frary
---

.
The nineteenth century saw the piano assume the role of jack of all trades and master of all: household instrument, default accompaniment for songs, salon soloist, soloist with orchestras and composer's tool. Most leading composers were pianists, reinforcing its perception as instrument of choice for professional musicians.

Steinway & Sons Grand Piano, 1868 | Metropolitan Art Museum | Steinway's first 88-key model with cast iron frame and aliquot (L-ah-quit] stringing. The Brazilian rosewood case is a rare luxury appointment.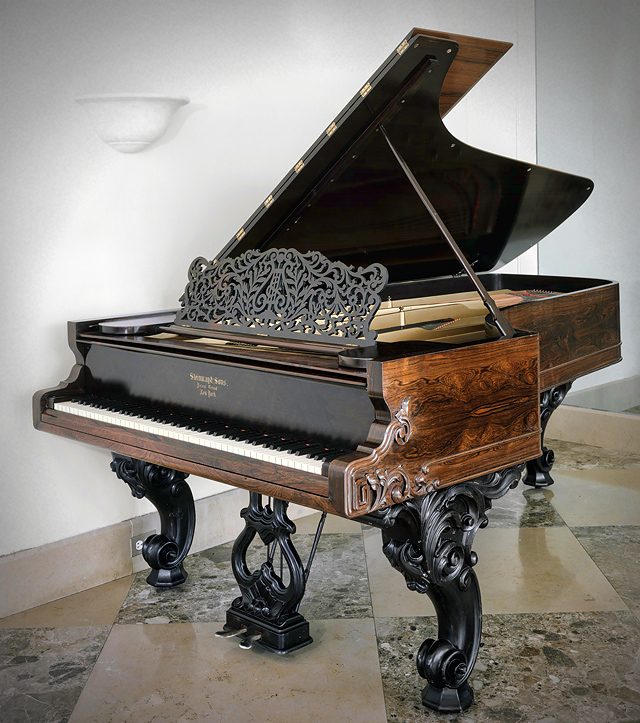 Innovations such as the cast iron frame, aliquot stringing (sympathetic strings) and increased range (seven octaves) gave nineteenth century pianos greater dynamic range, longer sustain and richer tone, making them more attractive to Romantic composers.

Steinway Grand Piano | Aliquot stringing and iron frame | Wikimedia Commons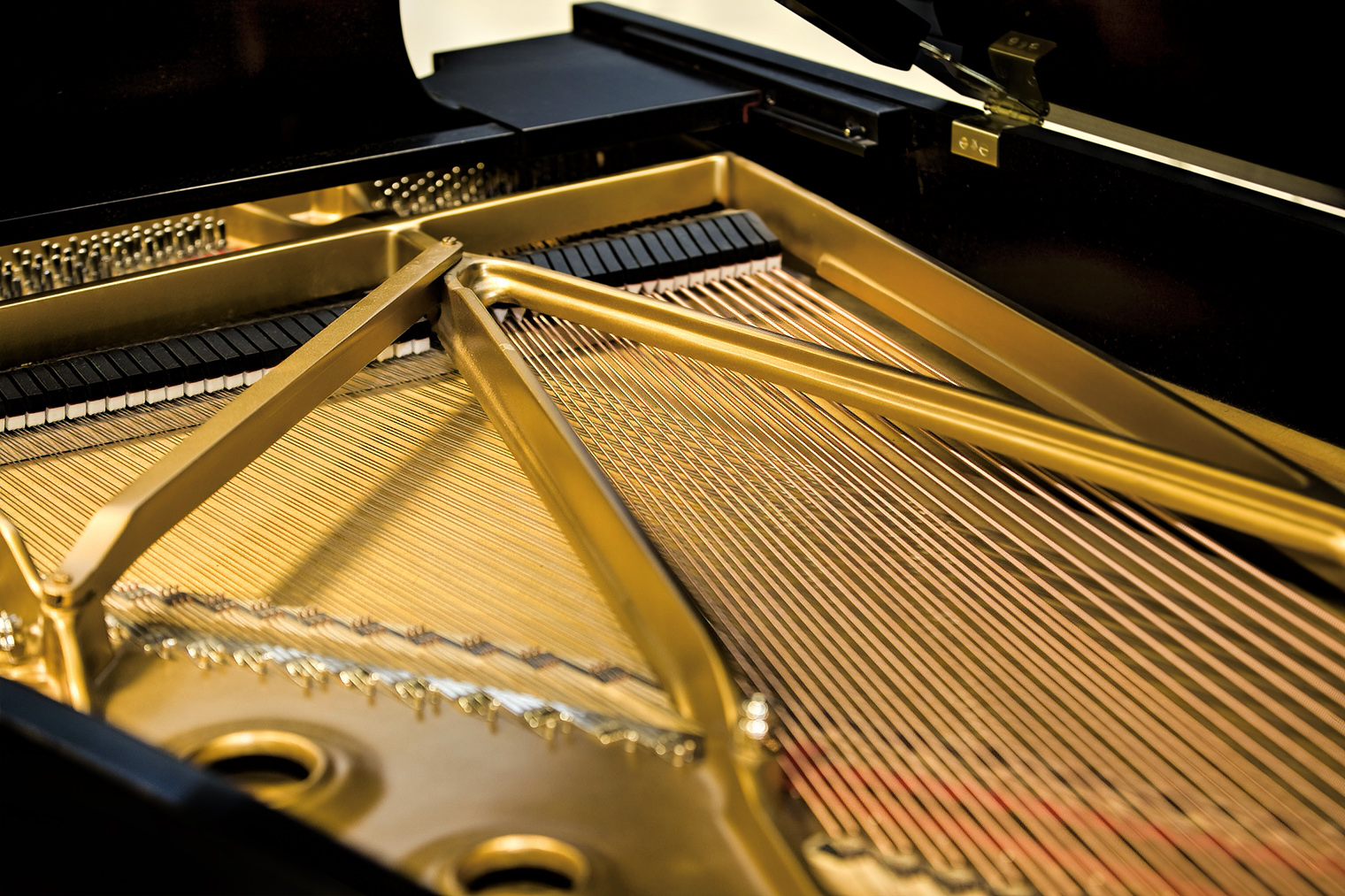 In the home, pianos played a similar role to iTunes, YouTube and music streaming today. When a nineteenth century family wanted to hear a new piece, they played it on the piano. The music publishing business was booming, cranking out "easy and brilliant" piano sheet music arrangements of the latest hits. With so much interest in the piano, it's no wonder pianist-composers like Fréderic Chopin and Franz Liszt were superstars of the time.

The Music Room 1878 | Mihály Munkácsy (1844–1900) | Metropolitan Art Museum | Nineteenth century home with family and friends gathered around the piano.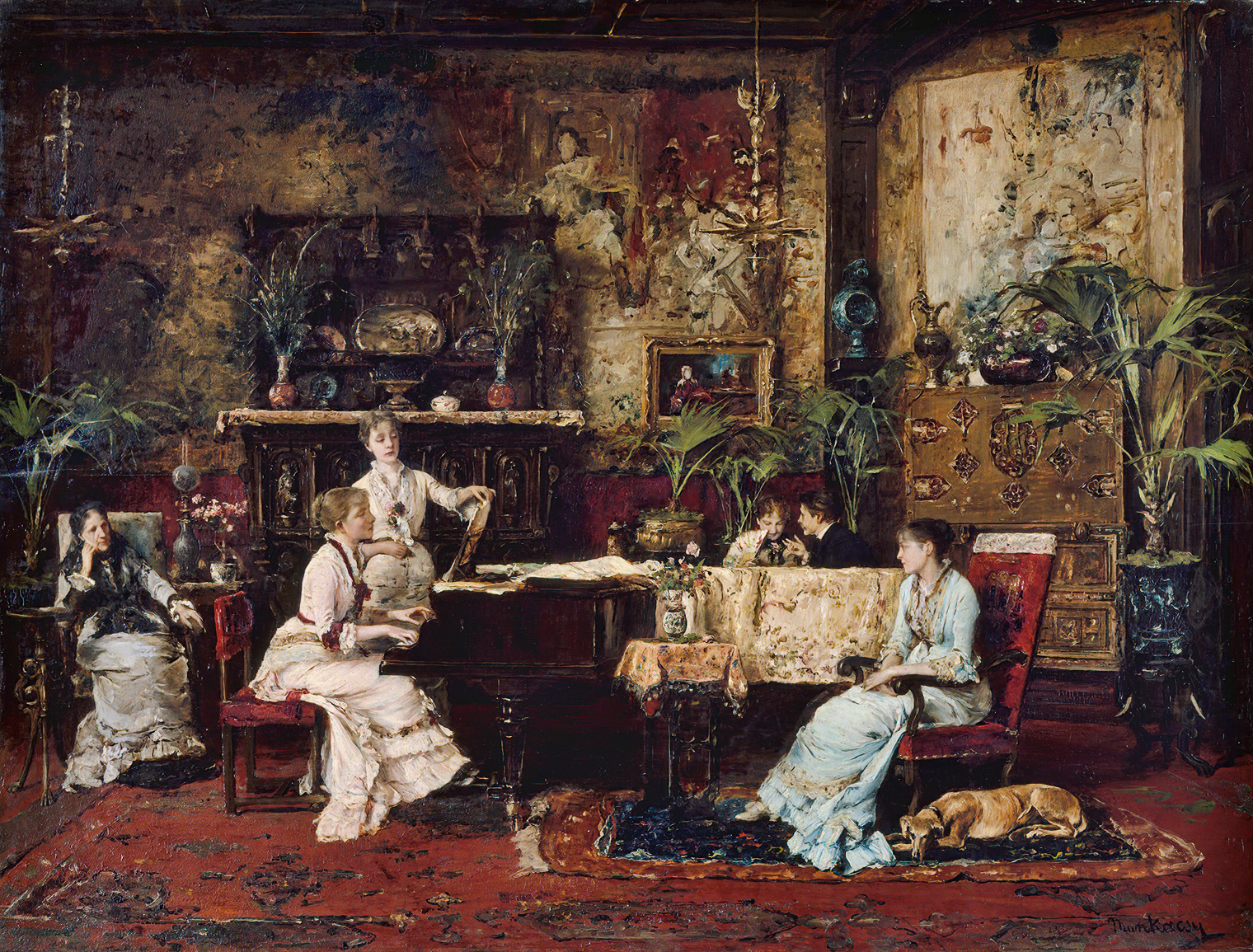 Fréderic Chopin

Fréderic Chopin (1810-49) was born near Warsaw to a French father and Polish mother. A child virtuoso, he was performing and composing from the age of seven. At sixteen he entered the Warsaw Conservatory to study composition. After a number of years of successful composing and performing, Chopin moved to Paris in 1831 where he mingled with Berlioz, Liszt, Mendelssohn and other composers of the Romantic school. Chopin and Liszt were friends: occasionally playing together and performing each others compositions.

Fréderic Chopin 1835 | Maria Wodzińska (1819-96) | Wikimedia Commons | Watercolor by Chopin's girlfriend, Maria Wodzińska.
Chopin knew his intimate keyboard style was not ideal for large concert halls and preferred smaller venues. He managed to develop a following among the aristocracy and artistic elite of Paris, performing in salons for small gatherings of connoisseurs. By 1832 he was earning a good income from publishing piano pieces and teaching wealthy students. This income released him from the stress of giving regular public concerts. Instead, he focused on writing, practicing and performing in private salons or for friends at home.

The renowned novelist George Sand was Chopin's lover from 1838 to 1847. She was six years older than him and looked after him like a devoted mother, nurturing his talent and wounds. This was not his most productive period and perhaps domestic life coupled with his deteriorating health were to blame. After quarrels over his lover's children, the relationship gradually fizzled and Chopin and Sand parted ways. His health and finances faded steadily over the next two years until he died of tuberculosis in 1849.

Chopin wrote almost exclusively for the piano. His works show influences of Polish folk music, Italian bell canto, Bach and Hummel. However, his style owes little to the composers of his own time: he created an original style of piano writing. He was especially fond of the mazurka and ballade. Chopin was at his best in his short and perfectly proportioned piano solos.

Chopin Autograph of Quotation from Polonaise Op.53 (1845) | Wikimedia Commons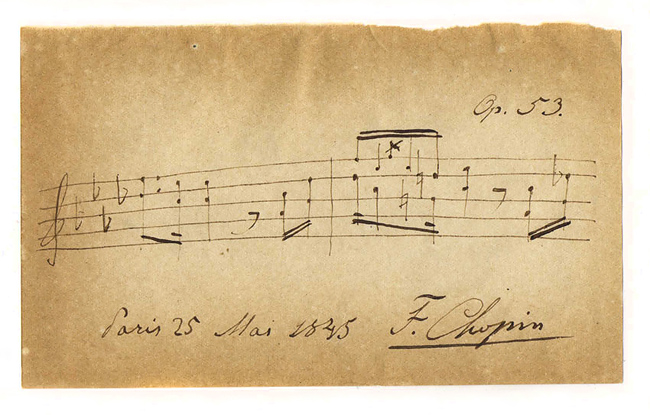 Nocturne

Nocturne (notturno, Italian) literally means night music. The nocturne was popular as a single-movement character piece for solo piano during the nineteenth century.

Chopin composed his Nocturne in E-flat Major Op. 9 No. 2 when he was in his early twenties. It's structured in a rounded binary form (A A B A B A) with coda. Rounded binary form differs from simple binary form insomuch as the B section ends with a return of the opening material from the A section.

The A section begins with a beautiful a legato melody filled with graceful upward leaps, jumping higher as the line unfolds:

Your browser does not support the audio tag.

Each time A repeats, the melody is varied by increasingly elaborate embellishments. The waltz feel accompaniment gently spanks the 12/8 meter into four groups of three pulses.

The emotion of the nocturne is reflective and melancholy until the end where it takes a passionate turn. After the excitement subsides, the nocturne ends peacefully and all is well.
Nocturne in E Flat Major, Op. 9 No. 2 (4:02) | Fréderic Chopin
Étude

Étude is the French word for study. Pieces designated as such are normally written for students to practice and develop particular techniques, e.g., rapid scales, balance running bass against lyrical melody, etc. However, the études of Chopin and Liszt are also extremely demanding concert pieces but focused on advanced techniques.

The Étude in C Minor, Op. 10 No.12 "Revolutionary" was inspired by the 1831 Russian attack on Warsaw. Since this Étude is short, the simple A A' Coda form is effective. The technique featured initially is playing of fast descending runs in the left hand to build up to the main theme, a trumpet call like melody played in octaves by the right hand. Although the greatest challenge lies with the near endless left-hand sixteenth notes, the right hand is challenged by increasingly difficult cross-rhythms (layering of differing rhythms) and embellishment of the octave melody in A'. The coda ensues by recalling the opening in a final two-hand descending sweep and landing hard on a fat C major chord.

Étude in C Minor, Op. 10 No.12 "Revolutionary" (2:34) | Fréderic Chopin
Vocabulary

aliquot stringing, nocturne, rounded binary form, étude, Fréderic Chopin

©Copyright 2018 by Peter Kun Frary | All Rights Reserved