.

Music In The Age of Enlightenment

Wolfgang Amadeus Mozart

Peter Kun Frary
---

.
Wolfgang Amadeus Mozart (1756-1791) was born in Salzburg, Austria to a musical family. His father, Leopold, was a court musician and composer. Realizing his son's talent, Leopold put his career on hold and devoted himself to educating his son and managing his career. Between the ages of six and fifteen Wolfgang, his older sister Maria Anna and their father spent much of the time on tour. They performed for kings, queens and innumerable aristocrats. Leopold spend many years, unsuccessfully, seeking a worthy patron for his son.

The Boy Mozart 1763 | Pietro Antonio Lorenzoni (1721-1782) | Mozarteum, Salzburg | Painting of Wolfgang at six years old.
Early Life

Young Mozart was trained systematically from infancy by his father. Thus, unlike most other composers, Mozart did not struggle or experiment much while composing: worked out the details in his mind and transferred the fully conceived work to paper. Mozart was known to joke, converse, play billiards, etc., while writing out his pieces as with the ease most people write a letter.

At four years of age Wolfgang could play the harpsichord. By five he was composing. At six he was a keyboard virtuoso, accomplished violinist and adept improviser. He wrote a symphony when only eight years old. At eleven he wrote piano concertos and an oratorio. His first Italian opera appeared at the age of twelve. Finally, as a fourteen year old, his operas were produced at Milan and he received a knighthood from the Pope.

Although Leopold had given his son composition lessons, he mainly learned by listening to other composer's music while on tour. His early music shows the influence of J.C. Bach, Haydn and others. He often slanted his music to fit the tastes of particular audiences. Here's a short example of Mozart's music:
Les petits riens K. 299b: Gavotte (1778) | Wolfgang Amadeus Mozart
Adult Life

Mozart was not good at social networking and business relationships—his parents managed his career too long—and as an adult often alienated patrons. Thus, the adult Mozart had successes laced with suffering and disappointment. Beginning in 1773, he worked for Prince-Archbishop Hieronymus Colloredo at Salzburg. It was a musically productive time for Mozart—producing symphonies, sonatas, string quartets, masses, serenades, concerti and opera—but he was unhappy with his treatment and wages. When Mozart tried to leave in 1778, the archbishop refused Mozart's resignation, banned him from performing for nobles and had him physically removed from court with a literal swift kick to the arse.

In 1781, Mozart settled in Vienna, enjoying popularity as a concert pianist, opera composer and teacher. During this time he married Constanze Weber (1762-1842), an accomplished vocalist, a union his father was not happy with. They lived extravagantly and spent every penny of his free lance income while managing to go heavily into debt. He survived through a mesh-mash of commissions, private teaching, private performances and minor court appointments.

Although Mozart was a living legend—Haydn called Mozart the "greatest composer of their day"—he never acquired a lasting or worthy patron or maintained a steady income. Moreover, his superiority in all major music genres caused bitter opposition from some of the lesser but better established composers of the day. His innovative music was often ahead of its time making it difficult for all but the most sophisticated audiences to accept.

Mozart Clan 1780 | Maria Anna (sister), Wolfgang and Leopold (father). The painting on the wall is Anna Maria, Wolfgang's mother | Johann Nepomuk della Croce (1736-1819) | Wikimedia Commons
Mozart lived his greatest moments in the inner world of his music. His music was not autobiographical: no trace of the tragedies of his life may be heard. Living in poverty and in debt, Mozart died at age thirty-five as his opera The Magic Flute was gaining public acclaim. Mozart died in his home on December 5, 1791 at the age of 35. He was buried in a common grave without a song.

During the period immediately following his death, Mozart's reputation and popularity rose sharply. His widow, Constanze, possessed substantial networking and business skills: she got a pension from the emperor, organized profitable memorial concerts, and published the works of her husband. These efforts made Constanze a wealthy and financially secure woman for the remaining five decades of her life.

Constanze Mozart 1782 | Joseph Lange (1751–1831) | Wikimedia Commons
Don Giovanni
Mozart was a prolific composer and excelled in every musical genre he tried, including opera. Opera was all the rage during the eighteenth century, so a hit production meant wealth, opportunity and fame. Mozart's Don Giovanni is one of his successes, although most of that success was posthumous.

Don Giovanni Autograph Score (Overture) | Mozart used the Spanish name, Don Juan, on the score instead of Don Giovanni.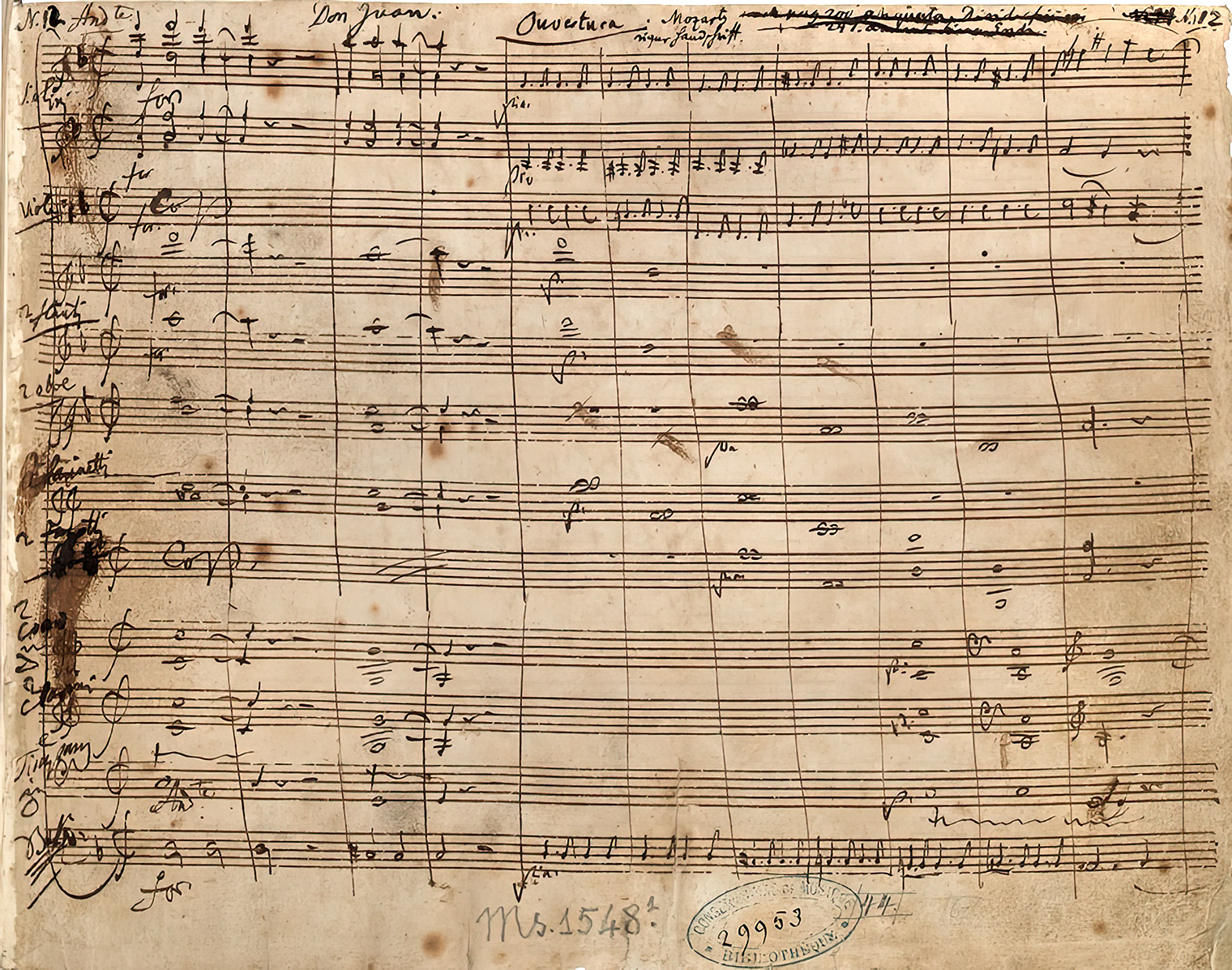 Don Giovanni has two acts and uses a libretto by Lorenzo Da Ponte. The story is based on the legend of Don Juan, a dashing character, arrogant fool and notorious womanizer. It was premiered by the Prague Italian opera at the Teatro di Praga on October 29, 1787. Da Ponte's libretto was billed as dramma giocoso, a mixing of serious and comic action. Mozart entered the work into his catalog as an opera buffa. Although sometimes classified as comic, it blends comedy, melodrama and supernatural elements.
Don Giovanni is scored for double woodwinds, two horns, two trumpets, three trombones (alto, tenor, bass), timpani, basso continuo for recitativo, and a full string section. The main character and singers are:

Don Giovanni, baritone, young and licentious noble

Leporello, bass, Don Giovanni's servant and wing man

Commandant, bass, Donna Anna's father

Donna Anna, soprano, Commandant's daughter, engaged to Don Ottavio

Don Ottavio, tenor, Donna Anna's fiancée

Donna Elvira, soprano, a lover abandoned by Don Giovanni

Masetto, bass, a peasant

Zerlina, soprano, Masetto's fiancée

Chorus: peasants, servants, young women, musicians, demons

We'll listen to selected sections of the first act. The video has subtitles, so listing a translation of the lyrics here is redundant. However, you can study a transcription of the lyrics here.

As the curtain opens, the orchestra plays a dramatic overture to set the mood of the opening scene. It's late evening outside the Commandant's palace in Seville. Don Giovanni, in disguise, has snuck into Donna Anna's room for a midnight rendezvous. His wing man, Leporello, paces back and forth, standing guard. The situation escalates and Donna Anna screams. Her father, the Commandant, comes to her assistance. He and Don Giovanni shuffle and the Commandant is mortally wounded from Don Giovanni's dagger. Don Giovanni bolts with Leporello.

Don Giovanni is unrepentant and makes a move on a woman passing on the street. To his surprise, the woman turns out to be his jilted lover, Donna Elvira. She's enraged at his behavior and, after a little fancy dancing, Don Giovanni escapes yet again.

Zerlina, a village girl, is engaged to marry a farmer, Masetto. Don Giovanni tries to seduce Zerlina on her wedding day and they sing a beautiful duet, La ci darem la mano. After the duet, Donna Anna, Don Ottavio (Donna Anna's fiancée) and Donna Elvira arrive. The three expose Don Giovanni as an evil doer. Again, he somehow survives and runs away.

Listening Selections

Listen to the Overture and Act 1 introduction scene: Leporello standing guard, Don Giovanni struggling with Donna Anna, the Commandant dueling with Don Giovanni and the Commandant's death (0:00 to 11:55). Next, forward the video to 44:35 and listen to the duet between Don Giovanni and Zerlina, Là ci darem la mano (There you will give me your hand). Of course, you can listen to the whole opera if you have the time.
Don Giovanni 1787 | Wolfgang Amadeus Mozart
Vocabulary

Wolfgang Amadeus Mozart
©Copyright 2018 by Peter Kun Frary | All Rights Reserved