.

Music In The Age of Enlightenment

Joseph Haydn

Peter Kun Frary
---

.
Joseph Haydn (1732-1809), the elder member of the First Viennese School, helped perfect the instrumental language of the Classic era and was the last eminent composer to mainly work under the patronage system.

Portrait of Joseph Haydn | Thomas Hardy (c. 1757-1805) | Royal College of Music Museum of Instruments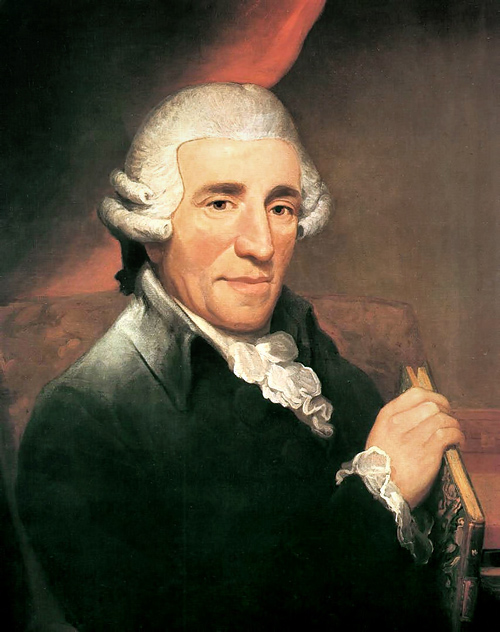 Early Life

Haydn was born in Austria to poor parents, his father a cart maker and his mother a cook. They noticed their son had musical talent and, when Joseph was six years old, sent him to live with a relative in the next town to study music. Two years later, Haydn was recruited as a choirboy at Saint Stephen's Cathedral in Vienna. Choirboys were given room and board and instruction in Latin and other subjects as well as voice, violin, and keyboard. Eventually, Haydn was turned out into the street penniless when his voice changed after puberty. He survived his teen years by staying with friends, playing on the street, doing odd jobs and teaching music lessons to children.

Determined to succeed as a musician, Haydn studied music theory and composition on his own by working through harmony textbooks and studying the scores of other composers. By the age of twenty-nine, after achieving local fame in Vienna as a composer, Haydn was taken into the service of Prince Paul Anton Esterházy, head of the richest and most powerful family in Hungary. He was employed by the Esterházy family for thirty years. As Kapellmeister, his duties included composing, conducting, performing, teaching and instrument repair. He was a servant but, after the hardships of youth, was content to be so.

Esterházy Palace | Wikimedia Commons
Esterházy

The Esterházy estate rivaled Versailles of Louis XIV: 126 guest rooms, two theaters (opera and marionette) and two concert halls. Musicians were recruited from best European talent: twenty-five instrumentalists and twelve vocalists. Haydn presented two operas and two long concerts per week in addition to ceremonial music and playing daily chamber music in the Prince's apartment.
The Gore Family 1775 | Johan Joseph Zoffany (1733–1810) | Yale Center for British Art | Music making was an important part of 18th century home life.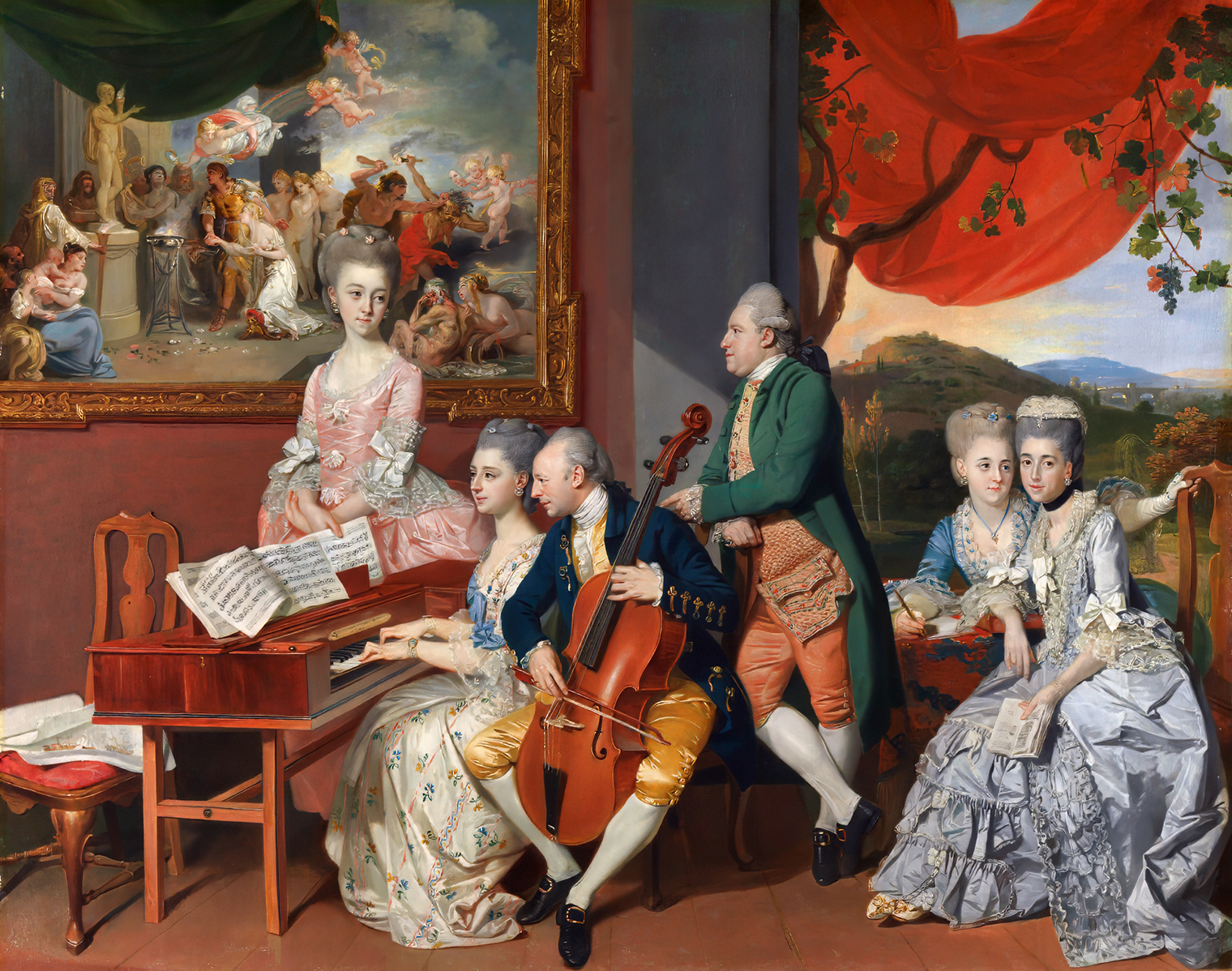 Chamber Music

Music composed for a small group of instruments—a group that could fit in a palace chamber or large living room—is called chamber music. Chamber music uses one performer to a part with no part doubling as is common in orchestras. The title—trio, quartet, etc.—refers to the number of players.

By nature chamber music is personable and intimate as it was originally conceived for performance at home rather than on concert stages. Chamber music tends to be lighter in character than orchestral music, with an emphasis on enjoyment of the performers.

Haydn's employer, Prince Nikolaus, played a rare bowed instrument called the baryton. It's similar to the viola da gamba and cello but with a set of plucked harp-like sympathetic strings:

Baryton | Adolph Gutche | Museum of Fine Arts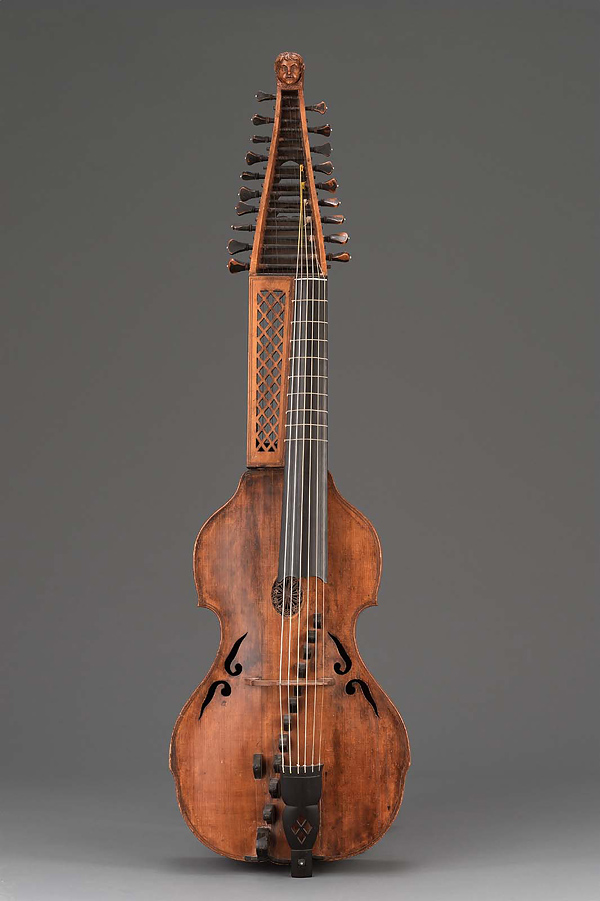 Haydn's duties included composing music for the Prince to play and produced nearly 200 works for the baryton in various ensemble combinations. Here's a taste of the chamber music Haydn wrote for the Prince:
Presto in D Major | Joseph Haydn (1732-1809)
By all accounts, Haydn was a kind and benevolent director. Musicians working under him called him Papa Haydn, a term of endearment. He often interceded with Prince Esterházy on behalf of musicians who had personal problems or gotten in trouble. The name Papa Haydn became increasingly fitting as three decades of service at Esterházy made him increasingly older than the average musician serving under him.

After Prince Nicholas' death in 1790, Haydn, at age fifty-eight, went on to achieve superstar status as a freelance composer. Once a uniformed servant, he was now rich and wined and dined by the aristocracy.

Works

Haydn was a prolific composer. However, nobody knows exactly how many works he wrote. Eighteenth century publishers falsely attributed hundreds of counterfeits to Haydn because his name sold music. Authenticated works include 106 symphonies, 25 operas, 68 string quartets, numerous other chamber works, overtures and concertos, 60 piano sonatas, 4 oratorios, solo song, Masses, cantatas and ceremonial music.

Kaiserlied (Imperial hymn), Hob XXVIa:43 | Autograph Manuscript | Joseph Haydn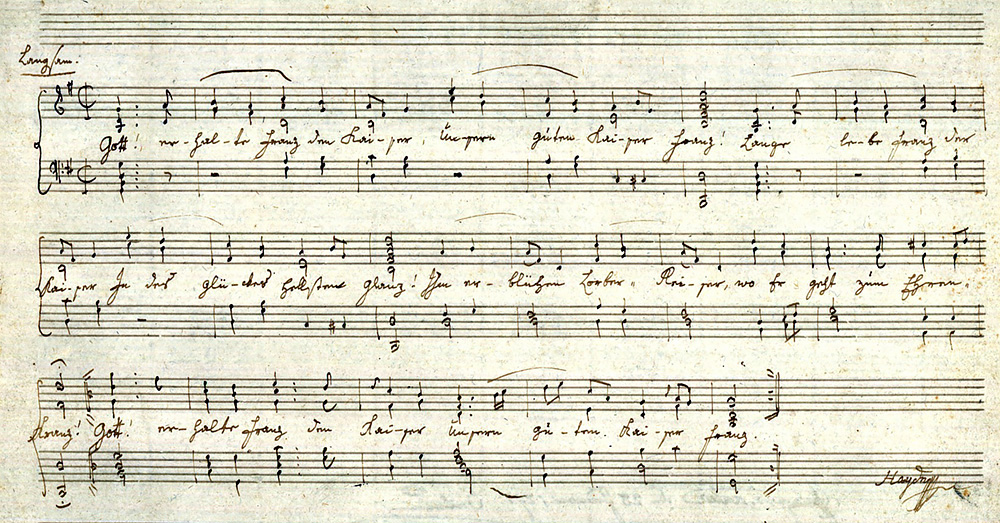 Musical Style

Haydn's music featured humor, folk elements and a generally optimistic mood. He was a pioneer in the development of the symphony and chamber music, especially the string quartet. The decades at Esterházy gave him nearly unlimited musical resources to test out ideas and techniques.
Arches in Ruins | Hubert Robert (1733–1808) | Metropolitan Museum of Art

Trumpet Concerto

Haydn's Concerto for Trumpet and Orchestra in E-Flat Major was written in 1796 and forgotten for nearly 130 years. Today it is among his most popular pieces. Haydn wrote it for a friend, Anton Weidinger, the inventor of the keyed trumpet, and the first trumpet able to play a chromatic scale. Prior to this, trumpets lacked valves and could only play a limited range of harmonic notes by controlling the vibration of the lips.

Like most concertos of the day, this one has three movements in a fast-slow-fast tempo scheme. We'll focus our listening on the third movement, the finale. It's in Sonata-rondo form:
| A | B | A | B' | A | Development | A | B" | Coda |
Before listening to the concerto, take the time to familiarize yourself with the main themes. The A theme is especially important as it is the recurring rondo theme that defines the form.
(A) Rondo Theme | Trumpet and Orchestra in E flat Major, III. Finale:

Your browser does not support the audio tag.
(B) Theme | Trumpet and Orchestra in E flat Major, III. Finale:

Your browser does not support the audio tag.

Concerto for Trumpet & Orchestra in E flat Major, III. Finale | Joseph Haydn (1732-1809) | Start video from 10:30 for the Finale (third movement).
String Quartets
The string quartet is a chamber music ensemble consisting of first and second violins, viola, and cello. Originally string quartets were light chamber works for home entertainment but were elevated to concert status by the efforts of Haydn, Mozart and Beethoven in the late eighteen century.

Haydn wrote the Opus 20 String Quartets in 1772 at the age of 40 while employed by the Esterházy family. These quartets are a milestone for the string quartet, using compositional techniques that defined the medium well into the 19th century. The great Mozart said, "it was from Haydn that I first learned the true way to write string quartets" ("Joseph Haydn" by Raymond L. Knapp, Encyclopedia Britannica).
We'll be listening to the Presto Scherzando, the fourth movement. This movement uses flashy gypsy style melodic materials: gypsy scale (minor scale with raised fourth and seventh) chromatic melodies, octave jumps and virtuosic embellishments. It's loaded with contrapuntal textures (polyphonic sections). Unlike earlier string quartets, the four instruments are have their own unique voice and are on near equal footing musically (versus a solo with accompaniment relationship).
Quartet in D Major Opus 20 No. 4, IV. Presto Scherzando (7:39) | Joseph Haydn
Roman Ruins | Hubert Robert (1733-1808) | Alte Pinakothek | Neoclassical artists loved to paint semi-fictitious depictions of ancient ruins in Italy and France.
Vocabulary

Joseph Haydn, chamber music, baryton, string quartet
©Copyright 2018 by Peter Kun Frary | All Rights Reserved