.

Music In The Baroque Era

George Frideric Handel

Peter Kun Frary
---

.
George Frideric Handel (1685-1759) achieved great fame during his life, traveled extensively and reaped sizeable financial rewards. As a composer, Handel was prolific and excelled in every genre, especially opera and oratorio.

George Frideric Handel | Balthasar Denner (c. 1726–1728) | National Portrait Gallery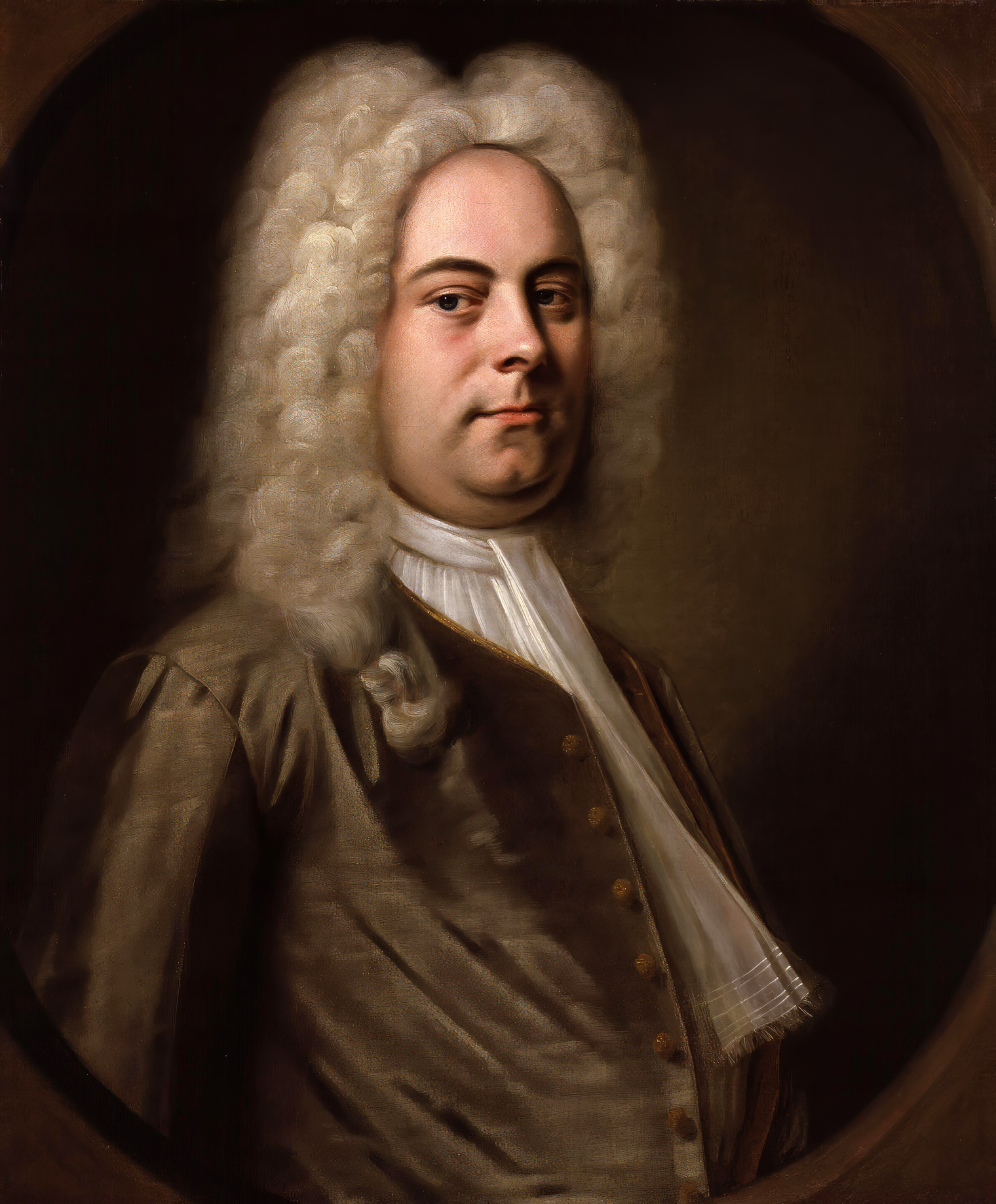 Here's a little taste of Handel's music:
Minuet in G Major | George Frideric Handel
Early Life

Handel was born in Halle, Germany to a middle class, non-musical family. He showed musical talent at a child but studied music in secret due to his father's objections. He is reputed to have snuck a clavichord into the attic to practice.

A duke at the court where Handel's father worked as a surgeon heard the child play harpsichord and suggested he study formally. Thus, his father unwillingly allowed Handel to study with a local church organist. Young Handel soon excelled on the organ, harpsichord and oboe.

At the age of 12 Handel composed impressive choral and instrumental works. His early success attracted attention and offers of patronage from the Court of Berlin, offers his father turned down in hopes of arranging a law career for his son. Perhaps to honor his father's wishes, Handel entered Halle University at 17, but despaired of his studies and, when his father passed, dropped out.

Determined to become an opera composer, Handel moved to the bustling merchant city of Hamburg and got a job as a violinist and, later, as a harpsichordist in the Hamburg Opera House. After three years of mild success—his first opera, Almira and Nero was a success while another failed—he left for Italy in 1706, hoping to further his operatic career.
Handel's opera Agrippina was performed 27 times while he lived in Venice.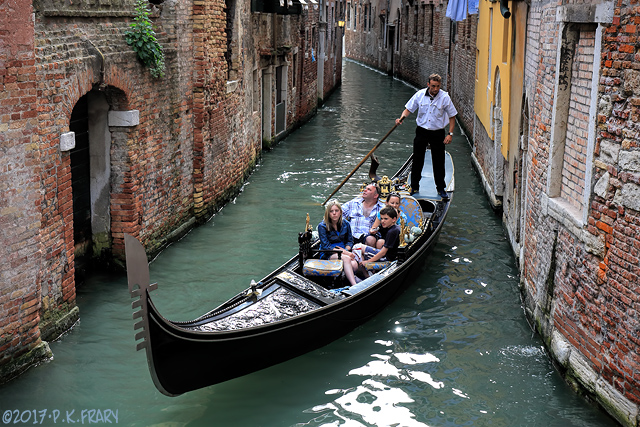 Italy

Handel was invited to Italy by a Medici prince but soon had cardinals and princes as patrons. He had a keen sense of business and politics and quickly moved into the inner circle of Italian aristocrats and composers. Here he absorbed the essence of Italian music, a trait destine to be one of the most important aspects of his style. He composed oratorios, cantatas, and Latin works for the Catholic Church and penned able chamber music. His opera Agrippina was performed twenty-seven times while he lived in Venice.
London

Returning to Germany in 1710 with fame and success, Handel assumed the prestigious position of music director at the Electoral Court of Hanover. In the same year he accepted a commission to write an opera in London and gained wide acclaim there with Rinaldo in 1711.

Handel returned to Germany but, scheming further productions, asked Elector Georg Ludwig for another leave of absence. It was granted on the condition he return to Germany within a reasonable amount of time.

During 1712, he staged four more successful operas in London and enjoyed the status of England's most popular composer. Queen Anne liked Handel and gave him a lifelong royal subsidy. In 1714, Queen Anne died without an English heir and her distant cousin, Elector Georg Ludwig, became King George I of England. King George wasn't offended at Handel's long absence and doubled his royal subsidy soon after his arrival.
Stage Set Design | Jacques de Lajoüe (1686–1761) | Metropolitan Museum of Art
Personal Life

Little is known of Handel's personal life as he was a private individual outside of his very public musical life. There were no scandals or marriage. There is hearsay he carried on with female musicians, but nothing is documented.

Although loyal to friends and colleagues, Handel had a frightful temper. During a dispute over seating in an orchestra pit, he drew sword and fought a near-fatal duel with another composer, Johann Mattheson. Handel survived mainly because Mattheson's final sword thrust was hindered by a metal button on Handel's coat. Oddly, the two remained close friends afterwards.
The Chandos Portrait of George Frideric Handel (c.1720) | James Thornhill (1675–1734) | The Fitzwilliam Museum | Handel sans wig.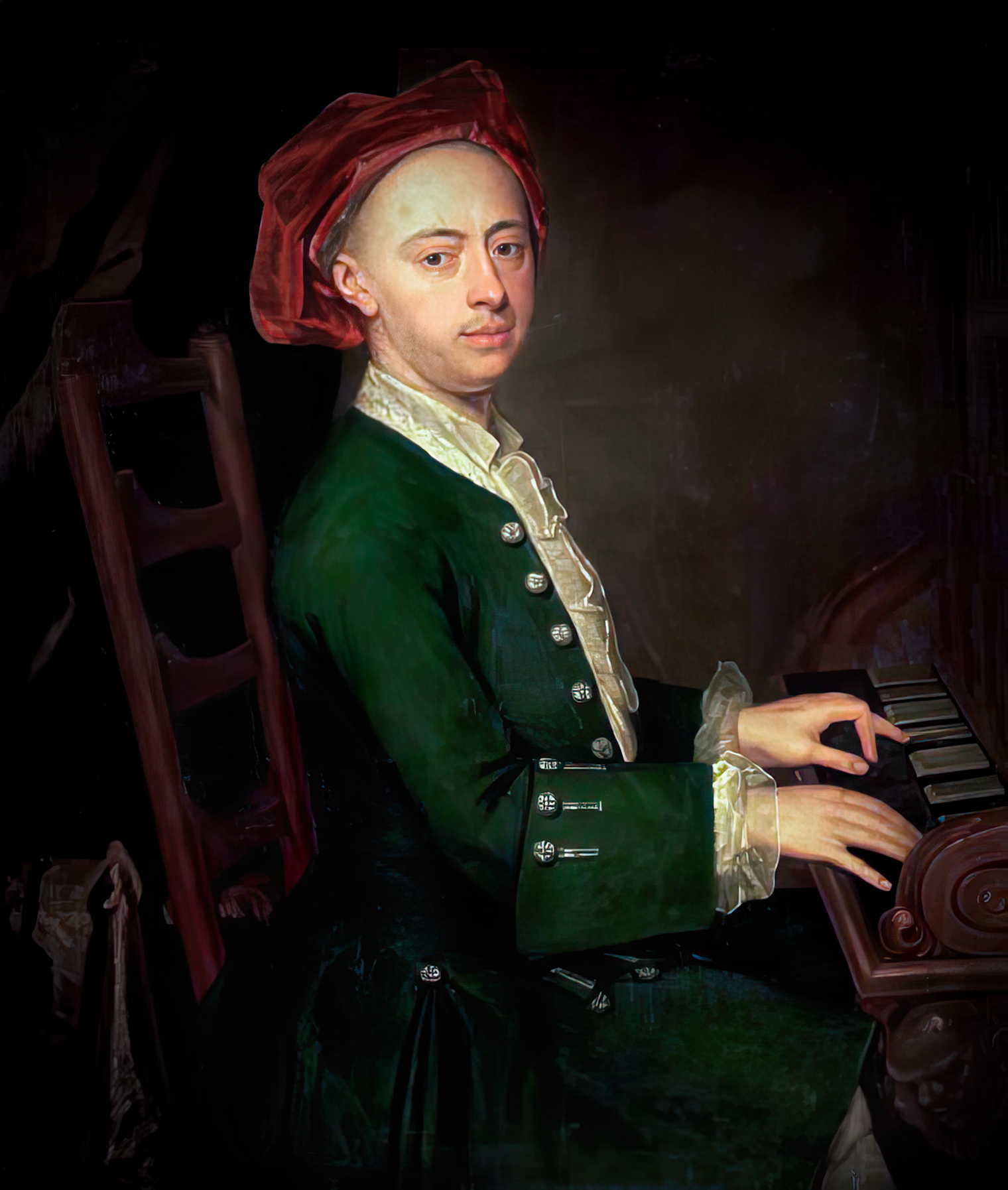 As a young man Handel often performed in the homes of patrons. As he aged, he lead a more private life, practicing harpsichord, composing and attending church. He died in 1759 at the age of 74. Three thousand people attended his funeral and burial at Westminster Abbey.
Opera
Handel wrote forty-two operas between 1705 and 1741. His early operas were staged in Germany and later in Italy with modest success. After his move to London his opera, Rinaldo (1711), was met with great enthusiasm, and many more Italian operas ensued.

Giulio Cesare in Egitto (Julius Caesar in Egypt), 1724 | George Frideric Handel | Title page from the first edition score published by Cluer.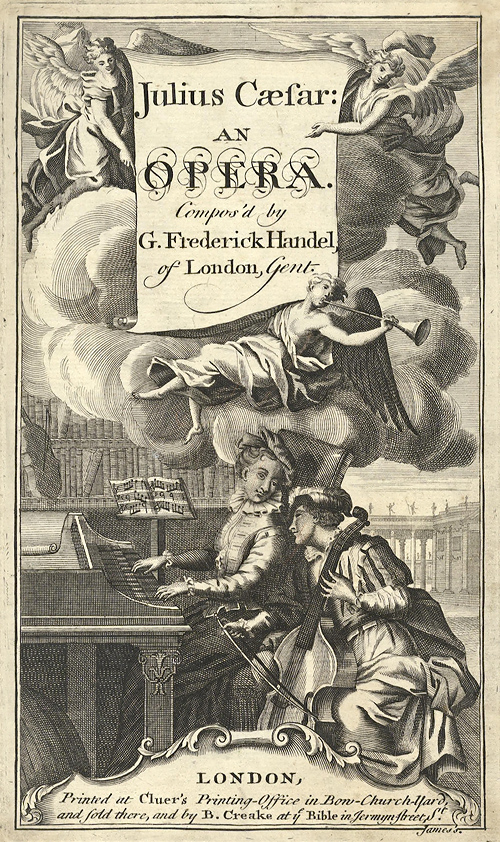 Because the main opera organization, the Royal Academy of Music, was haphazard in operation, Handel organized his own company in 1729. Handel was a powerful and dominating musical figure in England. Subsequently, a certain amount of jealousy among native musicians was evident. After all, he was a foreigner who quickly moved into the forefront of the opera—a market he had virtually created—and the inner circle of the royal court. Hatred rose to the point that hoodlums were hired to rob and assault Handel's audiences. Eventually the three rival companies, Handel's company, the Royal Academy and the Opera of the Nobility, all closed by 1737.

Autograph score of Lascia ch'io pianga from Rinaldo | George Frideric Handel | Wikimedia Commons | Bare bones basso continuo accompaniment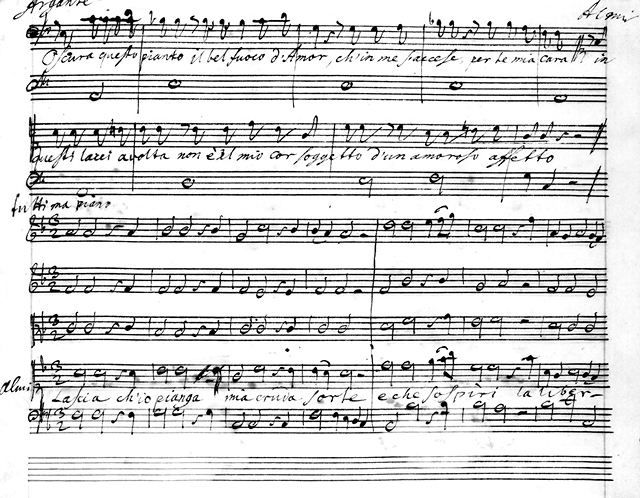 After the 18th century, Handel's operas were rarely performed until the recent revival of this wonderful repertoire. Part of the challenge is some leading roles were written for castrati (male singers castrated before puberty in order to retain a soprano or alto voice) and have proved technically difficult for modern vocalists.

Rinaldo and Armida, 1734 | François Boucher (1703–1770) | Louvre Museum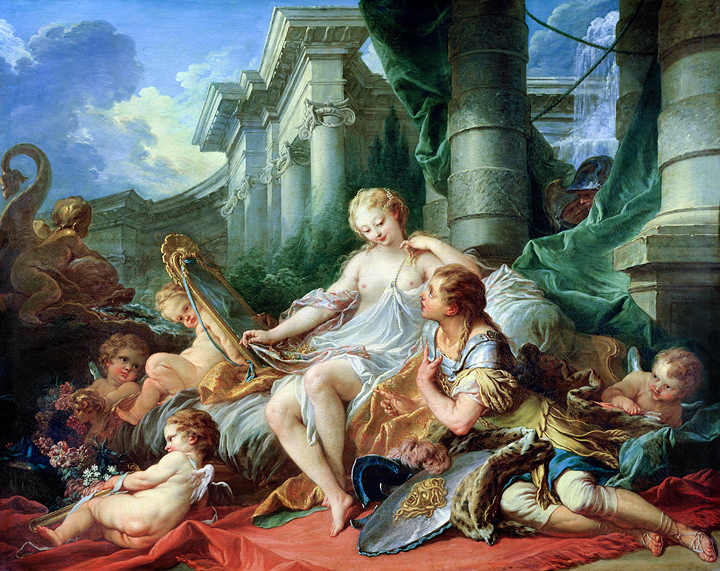 Handel's opera Rinaldo, first staged in London in 1711, is a story of love, war and redemption during the First Holy Crusade. Rinaldo, an army captain, and Armida, a sorceress, were on opposite sides of the battle lines but found their hate transformed into love, only to be lost to the wages of war. The staging of Rinaldo involved unique and bold effects for the time and was a great success in England. Here is a beautiful aria from this opera, Lascia ch'io pianga:

Lascia ch'io pianga
mia cruda sorte,
e che sospiri
la libertà.

Il duolo infranga
queste ritorte
de' miei martiri
sol per pietà.

Let me weep over
my cruel fate,
and that I may sigh for
freedom

Let my sadness shatter
these chains
of my suffering,
if only out of pity.

Lascia ch'io pianga from Rinaldo | George Frideric Handel
Vocabulary

George Frideric Handel, castrati
©Copyright 2018 by Peter Kun Frary | All Rights Reserved