.

Music In The Baroque Era

Antonio Vivaldi

Peter Kun Frary
---

.
Antonio Vivaldi (1678-1741), a virtuoso violinist and foremost composer of the late Italian Baroque, is known for spontaneity and simplicity of melody, rhythmic vitality, clarity of form and skillful orchestration.

Antonio Vivaldi | Anonymous, c. 1723 | International Museum and Library of Bologna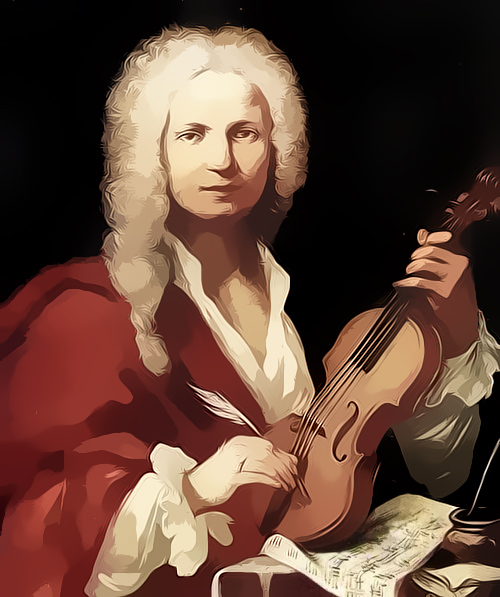 Born in Venice and trained as a musician and priest, Vivaldi took holy orders at 25 but fell ill and was excused from active service within a year. Mysteriously, he soon took a position at the Conservatory of Pietà, a school for orphaned and illegitimate girls in Venice, and spent his life as a violin teacher, composer, conductor and superintendent of music. His all-female orchestra was one of the finest in Europe, and he composed much of his music for them. He frequently took leaves of absence to compose and conduct operas and concerts across Europe.
Conservatory of Pietà (Ospedale della Pietà) in Venice where Vivaldi worked and wrote many of his concerti. During Vivaldi's time, Pietà was a convent, orphanage and music school. Today it's a hotel-restaurant complex called the Metropole although the church is still functional.
As a violinist and composer Vivaldi was both famous and influential throughout Europe for decades, touring and receiving commissions from royalty. He was a friend and favorite musician of Emperor Charles VI. Charles awarded Vivaldi the title of knight and invited him to Vienna. Years later, while in his sixties, the Red-Haired Priest's music fell from fashion in Venice and he sold everything to restart his career in Vienna under the patronage of Charles. Unfortunately, Charles passed away shortly after Vivaldi's arrival in Vienna and the great maestro died penniless and alone. Although many Baroque composers were influenced by Vivaldi, including Bach, Vivaldi was soon forgotten and his music virtually unheard until its revival in the 20th century.
Saint Mark's Basilica | Venice, Italy
Vivaldi's 20th century revival was partly fueled by the fact so many of his works survived the centuries. After Vivaldi died, handwritten manuscripts of nearly 300 concertos and 20 operas were found in his room! And these very same manuscripts are safely kept at Turin's Biblioteca Nazionale, the oldest national library in Italy.

Vivaldi excelled in most of the genres of the time—opera, orchestral suites, chamber music, church music, etc.—but is remembered today mainly for his solo concertos and concerti grosso, forms he helped develop. He wrote over 450 concerti for diverse instruments.
Santa Maria della Salute in Venice | Canaletto (1697–1768) | Metropolitan Museum of Art
Concerto

The concerto is an instrumental work that pits a soloist or small group of soloists against a larger group of players. The larger group is called the ripieno or tutti and consists mainly of strings and basso continuo but may contain woodwinds and brass in larger ensembles. A small group of soloists is known as the concertino. The concertino or soloist are set apart from the ripieno by their smaller numbers and virtuosic style of playing. Terraced dynamics, i.e., sudden changes from forte to piano, result as musical materials are passed between the solos and tutti.

The concerto and concerto grosso typically has multiple movements that contrast in tempo and character, usually three movements in a fast-slow-fast tempo format. A movement is a self-contained section of a larger musical composition. It usually sounds complete enough to stand alone but is normally performed in a sequence of three or four movements.

Ritornello Form

The outer two movements of the concerto and concerto grosso are normally in ritornello form. The ritornello is the principle theme and is played by the tutti after each solo episode, often in abbreviated form and contrasting keys. In other words, the ritnornello behaves like a chorus or refrain, returning with the same theme each time. Here's a typical organization of the ritnornello form:

ripieno | solo | ripieno | solo | ripieno | solo | ripieno

The form of the concerto grosso's second movement varies but is usually slow and lyrical, often in ternary or binary form.

Here's a taste of Antonio Vivaldi's concerto style performed in his home town of Venice:
Mandolin Concerto In C Major RV 425: 1. Allegro 2. Largo 3. Allegro | Antonio Vivaldi
Caricature of Antonio Vivaldi | Pier Leone Ghezzi in 1723 | Bibliothèque nationale de France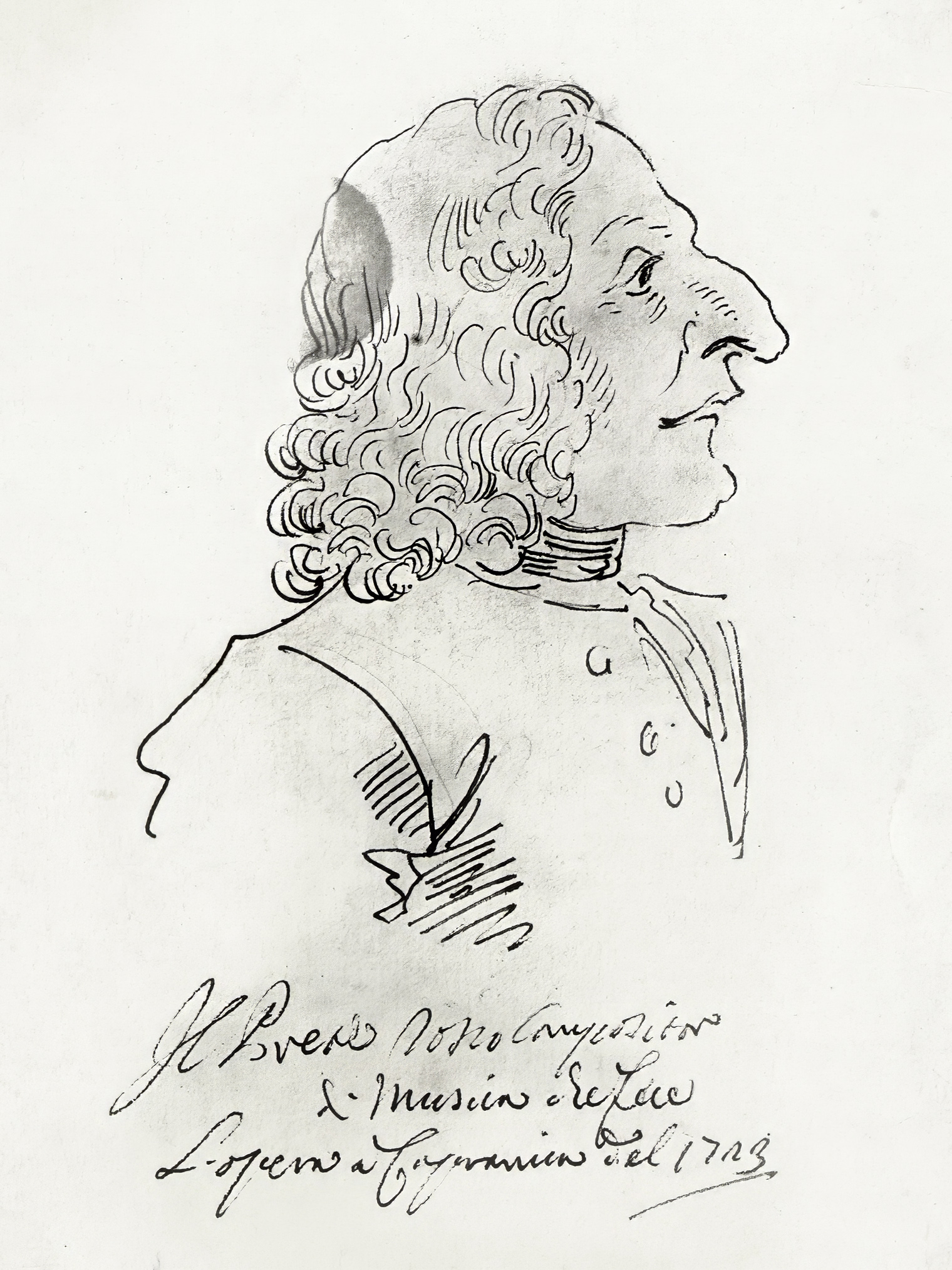 The Four Seasons
The Four Seasons (Le quattro stagioni) are a set of four violin concerti written by Vivaldi to evoke the seasons. Each concerto has an accompanying poem (sonnet) as well as vivid descriptions in the music. Vivaldi took care to relate his music to the poem texts, writing the poetic lines directly onto the score. For example, the phrase "the birds celebrate her return with festive song" is placed next to violin solos filled with trills and repeated notes meant to imitate bird song. As such, The Four Seasons are an early example of program music, instrumental music intended to evoke feelings, images and scents beyond the music.
Why should you listen to Vivaldi's "Four Seasons" | Ted Ed about the Vivaldi's most famous concerti (4:19).
The Four Seasons were written in 1721 and published in Amsterdam in 1725 with eight more violin concerti, under the title Il cimento dell'armonia e dell'inventione (The Contest Between Harmony and Invention). The Four Seasons are Vivaldi's best known works and have been used in countless sound tracks for movies and advertisements.

L'Inverno (Winter) | Tutti opening and start of the violin solo.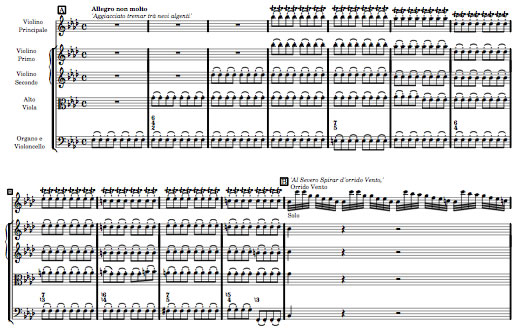 L'Inverno (Winter), the last concerto of the set, has three movements: Allegro con molto, Largo and Allegro. Here's a translation of the accompanying poem for each movement:

Allegro con molto
Shivering, frozen mid the frosty snow in biting, stinging winds;
running to and fro to stamp one's icy feet, teeth chattering in the bitter chill.

Largo
To rest contentedly beside the hearth, while those outside are drenched by pouring rain.

Allegro
We tread the icy path slowly and cautiously, for fear of tripping and falling.
Then turn abruptly, slip, crash on the ground and, rising, hasten on across the ice lest it cracks up.
We feel the chill north winds coarse through the home despite the locked and bolted doors
this is winter, which nonetheless brings its own delights.

Four Seasons: L'Inverno (Winter) | Antonio Vivaldi (9:26)
La Primavera | Violin I score | Amsterdam in 1725 | Bibliothèque nationale de France | The beginning to letter B is the ritnornello.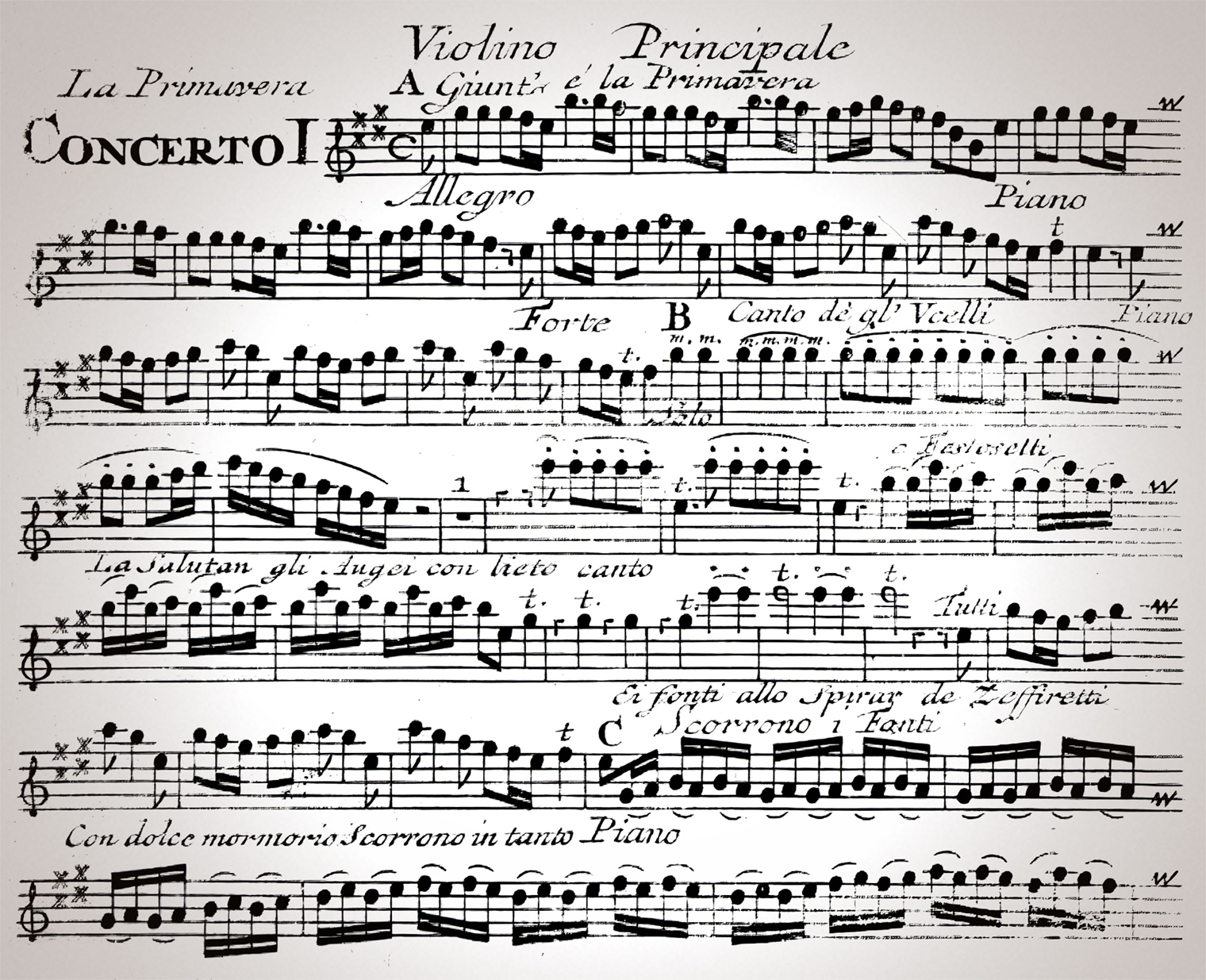 Spring or La Primavera, is the first concerto of the Four Seasons. La Primavera has three movements—Allegro, Largo and Danza—with the outer two being in ritornello form. The video below features the first movement only.

Here's a translation of the poem for the first movement:

Allegro
Springtime is upon us.
The birds celebrate her return with festive song,
and murmuring streams are softly caressed by the breezes.
Thunderstorms, those heralds of Spring, roar, casting their dark mantle over heaven,
Then they die away to silence, and the birds take up their charming songs once more.

Here's the opening phrase of the ritnornello from La Primavera. This ritornello theme appears throughout the movement, alternating with the violin solo episodes.

Your browser does not support the audio tag.

Four Seasons: La Primavera | Concerto for Violin and String Orchestra, Allegro | Antonio Vivaldi (3:17)
Water Taxi in front the Chiesa degli Scalzi (built 1680). Venice hasn't changed much since Vivaldi's time save for motors replacing poles on water taxi.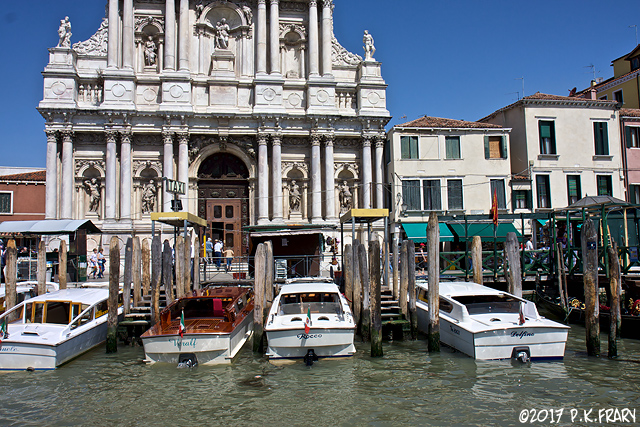 Inside the Chiesa degli Scalzi | Most churches in Venice don't allow photography so the Chiesa degli Scalzi was one of the few from Vivaldi's era I was able to photograph inside. Although not a famous church, it was still beautiful and a nice quiet place to sit and be still. I noticed the confessional was doing good business that day.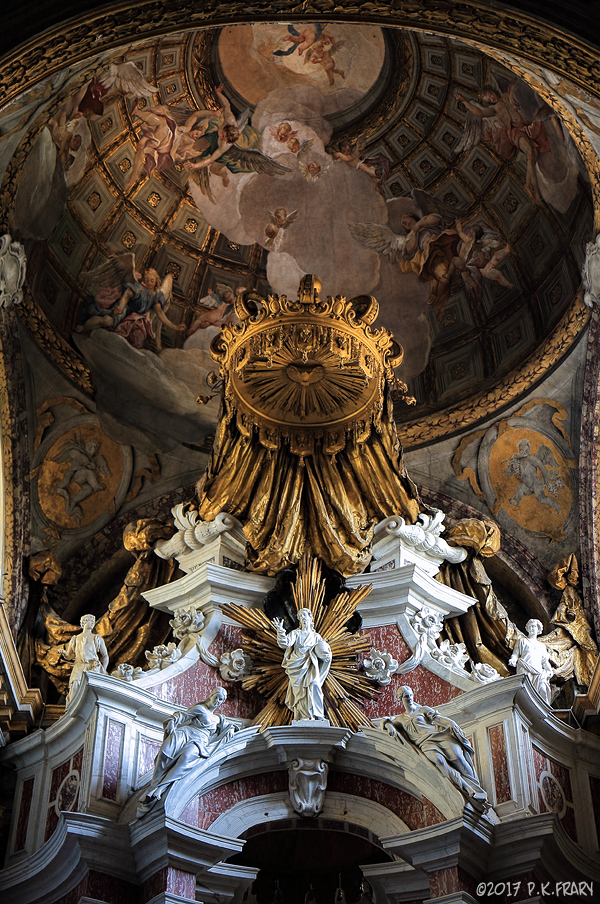 Grand Canal | Venice's main street
Vocabulary

Antonio Vivaldi, concerto, concerto grosso, tutti, concertino, ripieno, movement, ritornello, ritornello form, cadenza
©Copyright 2018 by Peter Kun Frary | All Rights Reserved