.

Music In The Classical Era

Fernando Sor | Theme and Variation

Peter Kun Frary
---

.
Variation is a technique where musical material is repeated in altered form. Changes may involve harmony, melody, counterpoint, rhythm, timbre, dynamics or any combination of the before mentioned. Forms based on variation such as ground bass and theme and variation evolved from improvisation and can be traced back to the Renaissance.
A Musician and his Family, possibly Fernando Sor | France, 19th century (anonymous) | Bibliothèque Paul-Marmottan
The defining trait of variation technique is the essence of the theme must be recognizable in the variation. Listen to the theme from Fernando Sor's L'Encouragement and compare it to the variation. The variation is embellished with ornamentation and scales but still retains the basic melodic character of the theme:

Theme from Sor's L'Encouragement (Frary Guitar Duo):

Your browser does not support the audio tag.

Variation from Sor's L'Encouragement (Frary Guitar Duo):

Your browser does not support the audio tag.
Lacôte Guitar 1835 | Pierre-René Lacôte (1785–1855) | Metropolitan Museum of Art | The label inside this Lacôte guitar bears Sor's signature, suggesting the Spanish maestro endorsed this model.
Theme and Variation Form

The technique you heard above is featured in the theme and variation form. This form may exist as a stand alone piece or as a movement within a larger work such as a sonata or symphony.

The theme and variation form works thus: the theme is played and then repeated in altered form. The theme may be an existing popular song or an original melody. Each altered repeat of the theme is called a variation. Theme and variation pieces typically have three to six variations and a coda (ending section). Larger pieces may use an introduction and finale to frame the theme and variations. A basic theme and variation form may be expressed thus (A = theme; A', A'', etc. = variations):

A | A' | A'' | A''' | A'''' | coda

Each variation is about the same length as the theme but varies in mood by changing harmony, melody, counterpoint, rhythm, timbre or dynamics.
Fernando Sor
The Spanish composer, Fernando Sor (1778-1839), enjoyed a productive musical life, composing in the major genres of the day: ballet, opera, chamber music, symphony and solo song. His broad experiences gave his guitar music a sophistication unmatched by his guitarist-composer contemporaries. Sor had a special affection for the theme and variation form, composing dozens of them for guitar solo and duet.
Fernando Sor | Lithograph of Sor by M.N. Bate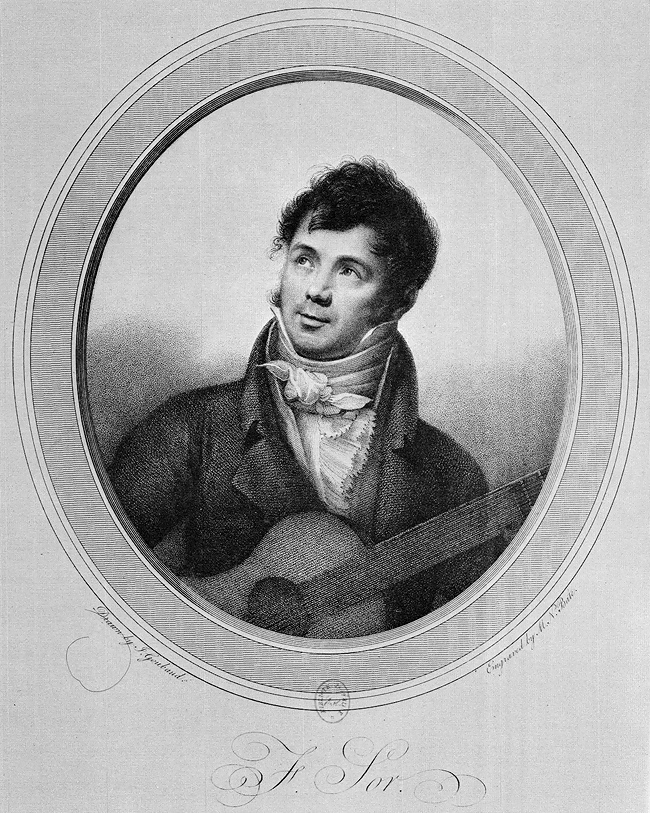 Duo Op. 55 No. 3

Sor's guitar output includes a treatise on guitar playing (Methode pour la Guitare, Paris: 1830), volumes of concert and pedagogical pieces, and twelve guitar duets. The duets were composed during the last decade of his life and are among his most endearing musical offerings: entertaining, beautiful and fun to play. Sor's famous contemporary, pianist-composer Frederic Chopin, made this telling observation about the guitar duet: "...nothing is more beautiful than a guitar, save perhaps two!" Although outside the musical mainstream in early 19th century Paris, the charm of the guitar duet was evident to those in the know.
Like most chamber music of this era, Sor's guitar duets were probably performed at informal gatherings and social events. His Duo Op. 55 No. 3 is a wonderful example of the theme and variation form. It's organized into six sections:
intro | theme | variation 1 | variation 2 | variation 3 | finale (waltz)
The introduction is a mere four measures in length but the trumpet-like figures in guitar 1 herald the arrival of the theme. Sor composed an original theme in C major and delivers it in a straightforward manner:

Your browser does not support the audio tag.
The running sixteenth notes of Variation 1 pose a dramatic contrast to the theme. Next, Variation 2 darkens the mood with a minor mode switch and slower tempo but integrated with a highly lyrical and embellished melodic line. The final variation increases the energy with running triplets and motivic echoes between the guitars. After a transition and half cadence, the finale—a spirited waltz—concludes the work.
Watch the video below of Sor's Duo Op. 55 No. 3. Each major section has a cross-fade and is labeled as theme, variation 1, etc.

Duo Op. 55 No. 3 (9:21) | Fernando Sor
Vocabulary

variation, theme and variation form, coda, Fernando Sor
©Copyright 2017 by Peter Kun Frary | All Rights Reserved