.

Music In The Baroque Era

Johann Sebastian Bach

Peter Kun Frary
---

.
Johann Sebastian Bach (1685-1750) is considered one of the greatest composers of all time. His music represents a culmination of the Baroque style, bringing perfection to every major genre of the time except opera.

Johann Sebastian Bach | Elias Gottlob Haussmann (1695–1774) | Bach-Archiv Leipzig
Here's a little taste of Bach's music:
Double in B Minor BWV 1002 (1720) | Johann Sebastian Bach
Bach was born in Eisenach, Germany to a family of six generations of musicians from the sixteenth to nineteenth centuries. Johann Ambosius, his father, and elder brother Johann Christoph, provided his primary musical training. Although Bach never left Germany, he studied the music of the foremost composers of Europe by borrowing their scores from libraries and copying them.

When Bach was nine, his parents passed away. He managed to work through secondary school with the help of his older brother and his talents as a choir boy. Johann rose to the level of a virtuoso on the harpsichord and organ while a teenager. Unable to afford a university education, he left his brother's home at age eighteen to strike out on his own as musician.

Bach was a devout Lutheran and his Christian faith permeates his music. He considered himself to be a craftsman doing his best for the pleasure and edification of his superiors, fellowman and glory of God. He made no distinction between secular and sacred music: all were alike in being "to the glory of God." Even his harpsichord instruction books were inscribed with "in the name of Jesus" as if prayers.

Bach was a practical musician and thus his employment requirements dictated much of his composition. His musical life may be divided into four periods of employment:
Weimar, Arnstadt & Mühlhausen
In 1703, after graduating from high school, Bach held a series of entry level music positions in chapels of nobles and municipal churches in Weimar, Arnstadt and Mühlhausen. His duties primarily revolved around organ playing and built a great reputation as a performer. Bach also managed to burn a few bridges and was AWOL from his post in Arnstadt for several months, reportedly to visit the great organist-composer Dieterich Buxtehude in Lübeck. Apparently Bach walked there, about 560 miles round trip (900km). During his period he married his cousin, Maria Barbara Bach, and between her and his second wife, Anna Magdalena, he sired 20 offspring, half of whom survived. Bach's well known Little Fugue in G Minor BWV 578 dates from this time.
Weimar
From 1708 to 1717 Bach worked as court organist for the Duke of Weimar. The duke admired Bach's playing and encouraged him to compose for the organ. Thus, many of Bach's organ works—prelude and fugues, chorale preludes, toccatas, etc.—date from this time. When the court music director died Bach was not promoted to director and, feeling cheated, he accepted a job as court music director for Prince Leopold of Köthen. When Bach asked the duke to release him from employment, he was put in prison for a month and fired!
Köthen
In 1717 Bach became music director for Prince Leopold, a music lover and skilled viola da gamba player, kind employer and friend to Bach. Since Leopold was a Calvinist (Reformed Church), music played little part in church services and Bach spent most of his time composing for the prince's entertainment and personal performances. Thus, many of his chamber and orchestral suites date from this period, including the Brandenburg Concertos.

Bach wrote numerous suites, i.e., sets of mostly dance inspired movements. Suites typically begin with a non-dance movement—prelude or overture—and are followed by dances in contrasting meters and tempos. There isn't a set number of dances, but four to six are typical. Bach's Orchestral Suite No. 3 in D Major BWV 1068 was probably written at Köthen just before he moved to Leipzig. This suite has five movements: Overture, Air, Gavotte, Bourrée and Gigue. The Air has gained great popularity apart from the suite and is nicknamed "Air on the G String."

Orchestral Suite No. 3 in D Major BWV 1068 | Autograph manuscript of Air (violin 1) | Leipzig Bach Archive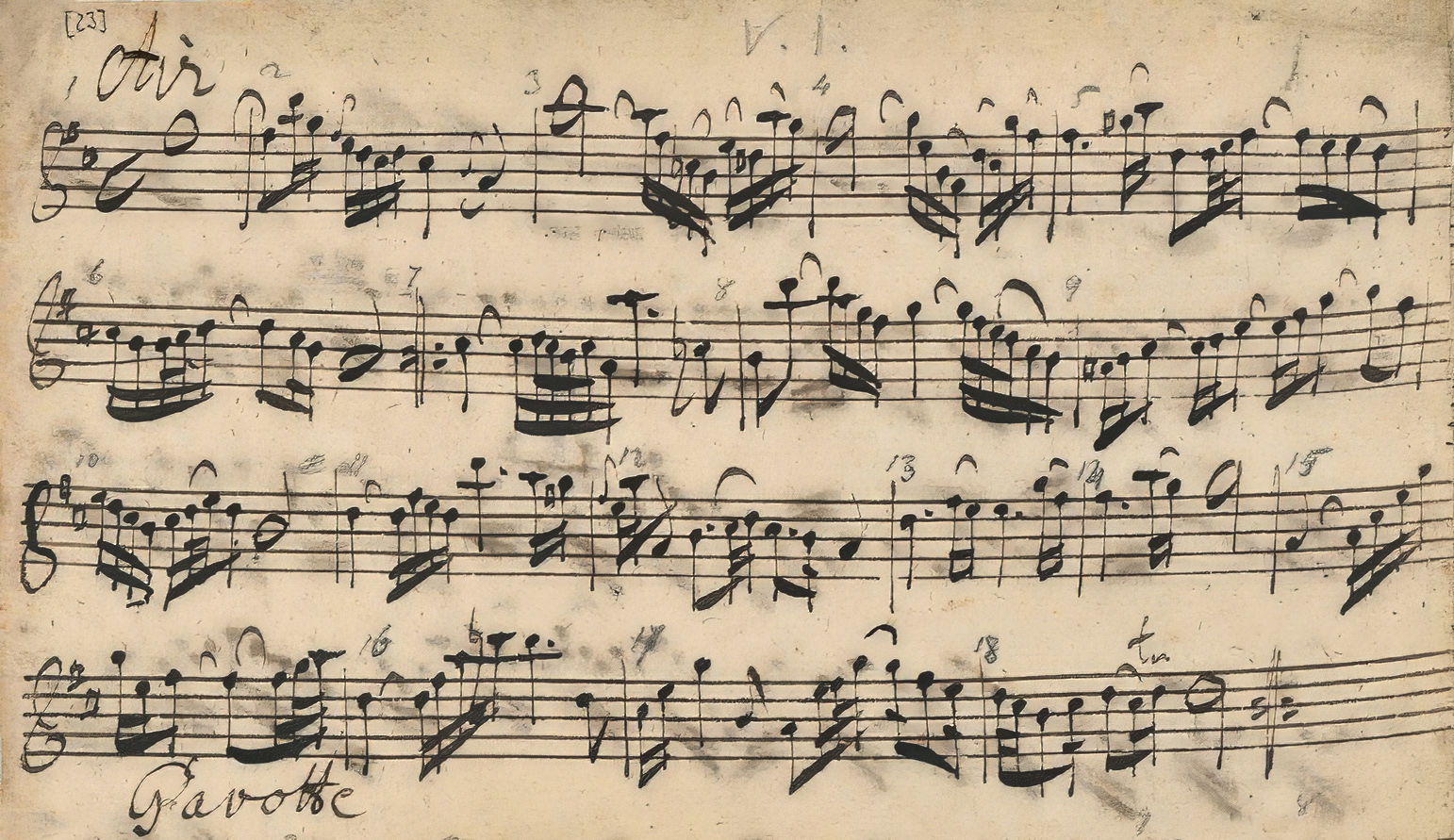 Orchestral Suite No. 3 in D Major BWV 1068: Air | Johann Sebastian Bach
Leipzig
Prince Leopold married a woman with no love for music and Bach's services were rarely needed at court. Thus, he took a job as music director of the St. Thomas School and City of Leipzig in 1723. As Kantor he was responsible for music at four churches, civic ceremonies and teaching music at the school. A demanding but prestigious job. The bulk of Bach's sacred works date from this period: Masses, Cantatas, Passions, Magnificats and Oratorios. Nevertheless, he still managed to write an impressive about of instrumental works in his spare time. However, the cantata is most representative of his years at Leipzig since, as kantor, Bach was required to perform a cantata each Sunday and feast day that corresponded to the lectionary readings of the week.
Nymphenburg Palace Detail | Munich, Germany | Peter Kun Frary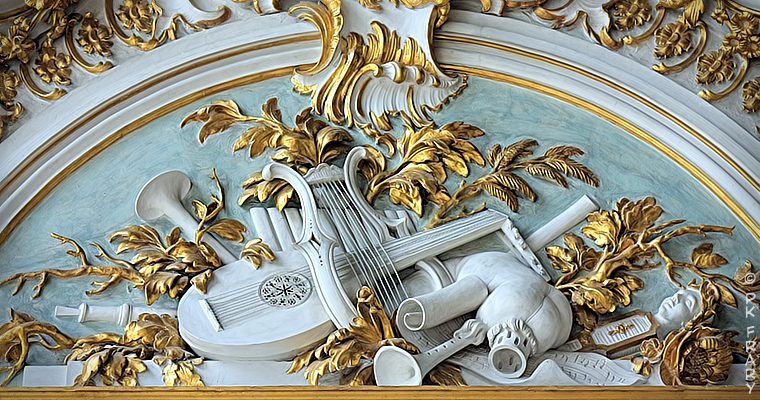 Cantata
Bach composed about 300 scared cantatas with 200 surviving intact. In the Baroque Lutheran Church, the cantata was typically a multiple movement vocal work with soloists, choir and orchestra. There were normally a half dozen movements consisting of choruses, duets, solos and sometimes instrumental numbers. The lyrics are a mini sermon and usually aligned with the topics or lessons of the church calendar.

Sleepers Wake

Bach's cantata, Sleepers Wake (Wachet auf, ruft uns die Stimme), BWV 140 (c. 1731), was written for the 27th Sunday after Trinity. It uses an old chorale hymn melody and text, Wachet auf, ruft uns die Stimme (1599) by Philipp Nicolai, to present the prescribed reading for the Sunday, the parable of the Ten Virgins from Matthew 25:1-13.

The chorale hymn used in this cantata has three verses and each verse is presented in a different cantata movement. Here's a translation of the chorale verse used in Chorale 2 (4th movement):

Zion hears the watchmen singing,
And all her heart with joy is springing,
She wakes, she rises from her gloom;
For her Lord comes down all-glorious,
The strong in grace, in truth victorious,
Her Star is ris'n, her Light is come.
"Now come, Thou worthy Crown,
Lord Jesus, God's own Son,
Hail! Hosanna!
The joyful call
We answer all
And follow to the nuptial hall.

Bach used his compositional genius to interweave a simple hymn into a sophisticated orchestral work with counterpoint. Plus, most significantly, he managed to make the fourth movement stunningly beautiful and memorable. The formal organization is similar to the first movement of a concerto grosso: orchestra plays an alluring ritnornello and the chorale hymn melody is presented like a solo episode with unison tenor soloists. The effect is like that of playful duet between the orchestra and singers.

"Wachet auf" (Sleepers Awake) Chorale 2 (4th movement) BWV 140 | Johann Sebastian Bach | Start video at 13:33
Exult in God in Every Land

Jauchzet Gott in allen Landen or Exult in God in every land is Bach's only church cantata scored for solo soprano and trumpet. He composed it for general church use, i.e., not for a particular date in the Lutheran calendar.

The author of the lyrics is unknown but the words are inspired by the psalms. There are five movements, with the solo voice accompanied by a chamber orchestra consisting of trumpet, strings and basso continuo. The opening aria is both jubilant and beautiful, featuring virtuoso displays by both vocalist and trumpet. Similar to Chorale 2 in Sleepers Awake, this aria is organized like a concerto grosso with ritornello played by the orchestra. The soprano and trumpet are on equal footing, echoing one another's lines and playing together in duet style. Here's a translation of the text used in the aria, Exult in God in every land (1st movement):

Shout for joy to God in every land!
All the creatures contained in heaven and earth
must exalt his glory,
and to our God we would
now likewise bring an offering
since in affliction and distress
at all times he has stood by us.

Jauchzet Gott in allen Landen Aria BWV 51 (Exult in God in every land) | Johann Sebastian Bach
Bach, Allemande BWV 995 | Yo' Prof picks on Bach...
Vocabulary

Johann Sebastian Bach, suite, cantata
©Copyright 2017 by Peter Kun Frary | All Rights Reserved