Fernando Sor's guitar duets were written in Paris during the last twelve years of his life. He travelled extensively and enjoyed a productive musical life, composing in the major genres of the day: ballet, opera, chamber music, symphony, solo song, etc. His broad experiences and expertise gave his guitar music a sophistication unmatched by few of his guitarist-composer contemporaries.
Fernando Sor | Lithograph of Sor by M.N. Bate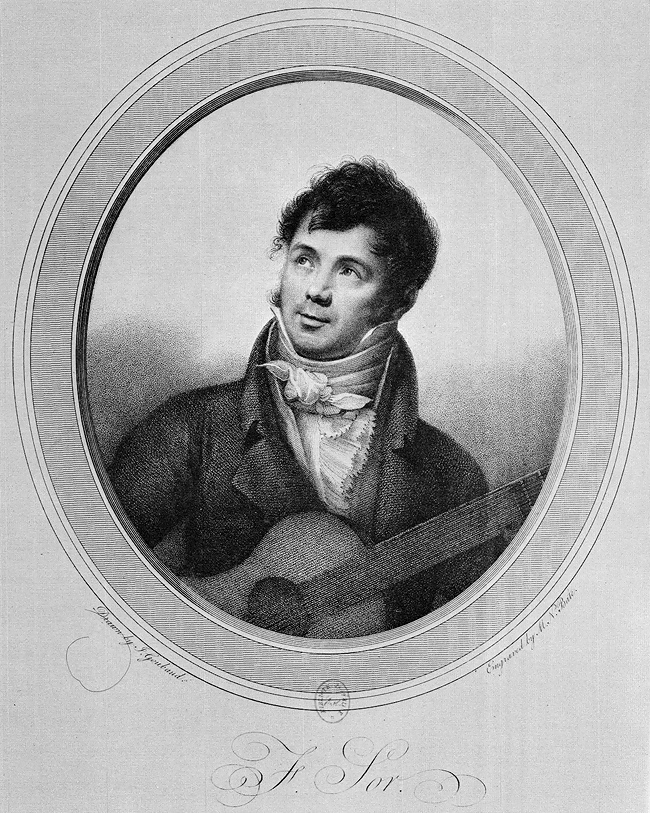 His twelve sets of guitar duets, all published between 1828 and 1839, include: L'Encouragement Op. 34, Divertissement Op. 38, Six Valses Op. 39, Les Deux Amis Op. 41, Six Valses Op. 44, Divertissement Militaire Op. 49, Le Premier Pas vers moi Op. 53, Fantaisie Op. 54, Trois Duos Op. 55, Trois Petits Divertissements Op. 61, Divertissement Op. 6, and Souvenir de Russie Op. 63. Ten of the twelve duos--op. 34, 38, 39, 44, 49, 53, 54, 55, 61 and 62--were written for amateur guitarists. This intention is evidenced by dedications to favorite pupils, technical instructions, plentiful fingerings and pedagogical titles. Like most chamber music of this era, these pieces were probably performed at informal gatherings and social events.

Many of these duets espouse lighter musical content and technical demands than Sor's earlier solo masterworks, e.g., Introduction and Allegro, Op. 14. Sor, like many musicians, survived by teaching and writing for amateur players. He was well aware of the detrimental effects of economic necessity on good art. Sor's own attitude towards writing "art" and making a living seems to echo a universal woe among musicians:

A very celebrated guitarist told me that he had been obliged to give up writing in my manner, because the editors had openly declared to him, it is one thing to appreciate compositions as a connoisseur, and another as a music seller; it is necessary to write silly trifles for the public. I like your work but it would not return me the expenses of printing.' What was to be done? An author must live!

Even though Sor wrote his share of "silly trifles," his harmonic and melodic inventiveness reigned above most of his peers. A friend and fellow guitarist, Napoleon Coste, made a revealing statement about Sor's music by stating that they would "remain as models of science and good taste."2 "The "science and good taste" of his music dwelled within the safe confines of the Classic period--a style that reached its apex a generation earlier--and, thus, contributed to his downfall as a composer. Already at hand in Paris were many of the leading proponents of the Romantic style: Hector Berlioz, Giacomo Meyerbeer, Frederic Chopin, Franz Liszt, and Niccolo Paganini. As Sor's popularity in larger forms waned, his involvement with the guitar as a means of subsistence increased. The fruits of this increased involvement with the guitar include a treatise on guitar playing (Methode pour la Guitare, Paris: 1830), much pedagogical solo literature, and twelve guitar duos.
Lacote Guitar 1835 | Pierre-Rene Lacote (1785-1855) | Metropolitan Museum of Art | The label inside this Lacote guitar bears Sor's signature, suggesting the Spanish maestro endorsed this model.
Musical Style

Sor was not an innovator or a trend follower. Instead, he was steadfast in his adherence to Classic period traditions. His music teams with every element of the Classic style as if a textbook example. Melody dominates and is lyrical and smooth. Melodic configurations are often based on chord structures. Ornaments such as the turn, trill and appoggiatura are used extensively, often being written out and forming a lyric part of the melody.

L'Encouragement, Op. 34, guitar 1, beginning

Fernando Sor | L'Encouragement Op. 34 theme (Frary Guitar Duo)

Your browser does not support the audio tag.

Divertissement, Op. 62, guitar 1, measure 30

Sor's musical form is predicated on the idea of contrasting one melody homophonically with a second melody. Usually he groups two or four contrasting or complementary phrases in a period, ending with a clearly marked cadence. Forms are precise and clear, with sections marked off by cadences. His formal structures are those common to the classical divertimento: binary form, ternary form, and the theme and variation. These forms are expressed mainly in short dances like the mazurka, polonaise, waltz, gallop, and so forth.

Rhythm is simple and organized into short patterns punctuated by rhythmic cadences. The breaking up of a chord in a repeated rhythmic pattern, Alberti bass, is often used as a formal rhythmic device: (See Example 4) Sor's harmony is simple, consisting of primary, seventh and secondary dominant chords and an occasional modulation to a nearby key. Harmonic rhythm is slow and subordinate to the melody. His textures are predominantly homophonic.

Le Premier Par vers moi, Op. 53, guitar 1, measure 19

Sor's Best Duets

Four of Sor's duos are deserving of special mention: L'Encouragement, Les Deux Amis, Fantaisie, and Souvenir de Russie. L'Encouragement is a favorite among performers because of its beauty of melodic invention and the fact that Julian Bream and John Williams recorded it. Sor carefully fingered the first guitar part. The format is typical of Sor's duets: an introduction, a lyric theme, a number of variations (3), coda, and a dance, in this case a waltz.

Fernando Sor | L'Encouragement Op. 34, Variation 4 (Frary Guitar Duo)
The Fantaisie is noteworthy as one of the few works of Sor, along with his seguidillas, to incorporate Spanish nationalism. The work is bright, vigorous, often syncopated, and is full of rhythmic variety. Sor specified the use of rasgueado in the second guitar part, a percussive strumming technique associated with Southern Spain. Again, he begins with a slow introduction, a theme and variations, and ends with a flashy Dans le genre Espagnol.

Les Deux Amis and Souvenir de Russie were dedicated to the professional guitarists Dionisio Aguado and Napoleon Coste. Sor's duets are usually arranged in a solo and accompaniment relationship: the second guitar provides a harmonic/ rhythmic backdrop against which the first guitar shines in a solo line. In Les Deux Amis and Souvenir de Russie this format is largely abandoned in favor of a fuller, more equal relationship: emphasis lies on the ensemble rather than a soloistic first guitar part.

Les Deux Amis is Sor's greatest duo. The formal structure is again designed around a slow and lyric introduction, a theme and variations, and a dance, this time a mazurka. The texture is nearly orchestral at times, demanding the full sonority of both guitars:

Les Deux Amis, Op. 41, beginning

The title Souvenir de Russie is misleading in its suggestion of romantic exoticness. In reality, the work is pleasantly classical and Western European in conception. Supposedly, the work is based on a theme by M. T. Vyssotski, the Russian guitarist-composer. The mood, texture and technical demands are light in comparison to Fantaisie or Les Deux Amis. Sor's favorite form is again used: a dramatic slow introduction, theme and variations with a coda, and a peppy Allegretto in 2/4 as a finale.

Sor's Lighter Duets

Trois Duos Op. 55, Trois Petits Divertissements Op. 61 and Divertissement Op. 62 are somewhat lighter in nature than L'Encouragement, Les Deux Amis, Fantaisie, and Souvenir de Russie. Not that they're easy but movements are shorter and a little less demanding technically. Also, easy on audience ears! My favorites are the three duets from Op. 55. These are multiple movement works in a solo and accompaniment relationship. When the Frary Guitar Duo plays these pieces--and we often do--we switch between guitar one and two at repeats and/or between movements. If a phrase repeats, we swap roles for an antiphonal effect. Here's an example of role switching in the second variation and finale from Duo Op. 55 No. 3:
Final Blurb

If you're a solid intermediate level classical guitarist, you'll find most of these works within your grasp with practice. You can enhance your duet enjoyment by switching parts at repeats or between movements (otherwise Guitar II will be stuck on endless accompaniment). Grab your duet partner and try a Sor duet tonight!

Fernando Sor | Duo Opus 55, No. 1: Andante (Frary Guitar Duo)
Fernando Sor | Duo Opus 55, No. 1: Allegretto (Frary Guitar Duo)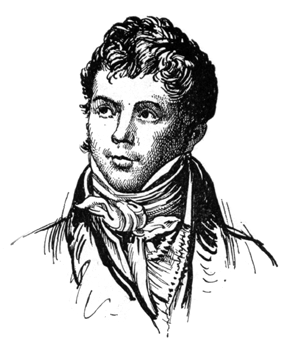 End Notes

1Ferdinand (Fernando) Sor, Method For The Spanish Guitar, trans., A. Merrick (London: R. Cocks & Co., c. 1832; reprint, New York: Da Capo Press, 1971), p. 43.

2Méthode complete pour la Guitare para Ferdinando Sor, ed., N. Coste (Paris: Schonenberger), p. 45.

©Copyright 2000-2018 by Peter Kun Frary | All Rights Reserved