.
Gitzo G1077M Ball Head &
Kirk QRC-1 Clamp
Building a Table Top Tripod on Steroids
Peter Kun Frary
.
---
.
Table top tripods tend to be cheaply made, flimsy and are readily available on the side of the road at tourist attractions. So they don't get a lot of respect. And yet a well made table top tripod can be extremely useful for travelers, ground level macro or to mount flash units and audio gear. So after struggling with a couple terrible stock models, I decided to assemble my own table top tripod using light but quality components.

The Ball Head

The G1077M is part of the Gitzo Classic Center Ball Head series, originally marketed as a petite head for travelers and matched to their carbon fiber Mountaineer tripods. I bought one with a G1028 Mountaineer in 2004. My EOS kit was too close to the 2kg/4.4LB load limit and I was fighting drifting in portrait orientation. So rather than struggle with every angle, I bought the next size up, the Gitzo G1177M, rated to 4kg/8.8 LB. The G1177M became my favorite head and traveled with me for nearly a decade.

Table Top Deluxe | Gitzo G1077M | Kirk QRC-1 | Manfrotto 209B | Please support this site by purchasing the Manfrotto 209B at Amazon.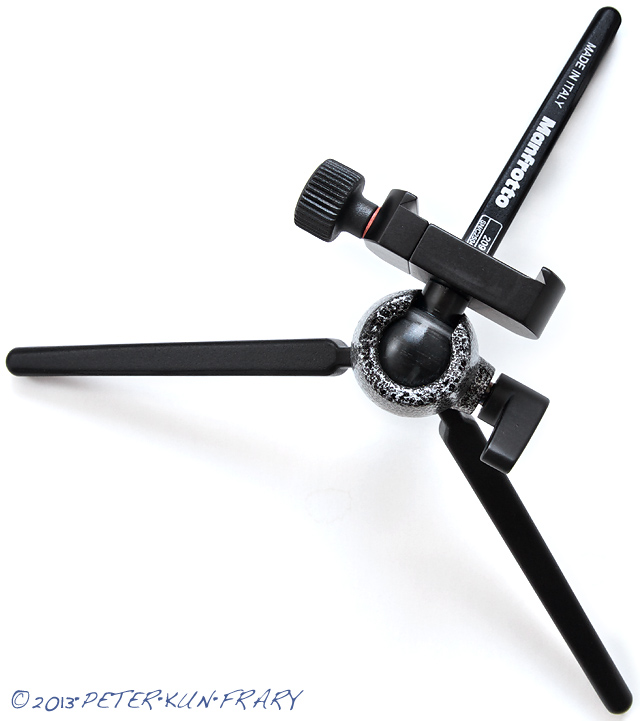 The wee G1077M languished for years in a desk drawer, unused and forgotten. Recently I started shooting with an Olympus E-P3 micro 4/3 system and wanted a small tripod to complement it. So I screwed the G1077M into my Manfrotto 209B table top tripod and the combo was magic: balanced, light and smooth as silk. And no drift whatsoever. The E-P3 felt like it belonged on that head. Although the E-P3 is metal and armed with an EVF and fast prime, it's still lightweight compared to most DSLRs.

So while the G1077M is not well suited for large DSLRs and lenses it's ideal for compact cameras like M4/3 and point 'n shoot. In a pinch, a medium or small DSLR works okay on the G1077M as long as you stick to horizontal orientation and smaller lenses.

However, if I didn't already own the G1077M, I might have considered a less expensive model. The Manfrotto 492 ball head—smallest in their Classic line—is almost as good as the G1077B but half the price. The main takeaway is it uses a plastic ball rather than magnesium. If I was feeling well-heeled, the Really Right Stuff BH-25 is amazing for a Benjamin or more (depending on clamp options).

Gitzo G1177M Ball Head | Manfrotto 209B legs | Kirk QRC-1 Clamp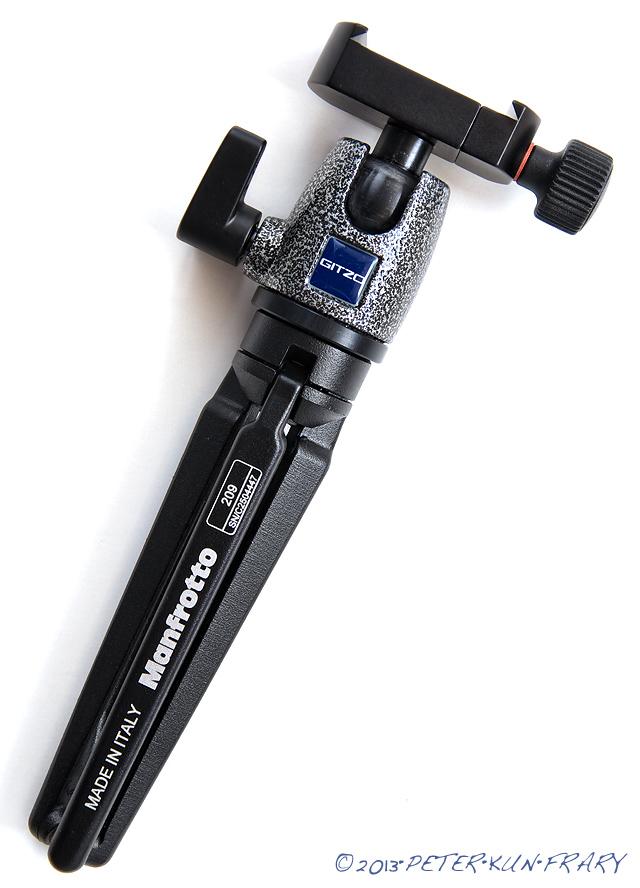 Construction

Most of the metal parts of the G1077M are magnesium for strength and minimal weight. The ball housing sports an attractive sliver and black speckle enamel and, after years of use, has proved to be surprisingly chip and scratch resistant. The bottom is tapped for a standard 3/8 inch tripod mount thread. The top platform has a 1/4 inch bolt for mounting a camera.

A single large knob is used for locking the ball. There is no separate tension knob. To mount a camera you loosen it and turn the top platform until the screw is snug. The platform is large and knurled for a sure grip even in wet weather. Not elegant compared to a quick release system but simple to use and hard to break.

This is only a 120g head and designed for light duty loads of 4.4 pounds. As detailed above, it will drift if you hoist a heavy DSLR onboard. With that said, my Rebel SL1 and pancake lens is nearly as light as M4/3 and works fine on the G1077M.

Installing the Kirk QRC-1 Quick Release Clamp

This wee little head is great once the camera is onboard. However mounting and dismounting is a PITA. All that screwing@#! The only thing missing from the G1077M is a quick release (QR) system. I recently switched from Manfrotto RC2 to AS (Arca-Swiss) compatible QR. One benefit is AS compatible clamps come in a range of sizes, including tiny ones just right for this head. So I ordered a Kirk QRC-1 and prepared my G1077M for surgery by removing the disk from the ball stem: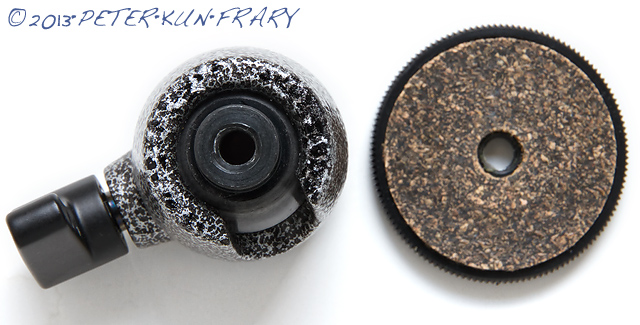 The ball is hollow and I could look down the stem and see out the bottom. The hollow ball is a weight saving measure.

Gitzo G1077M & Kirk QRC-1 | Removed the 1/4 inch stud from the ball stem and screwed it in the clamp, flush with the top surface.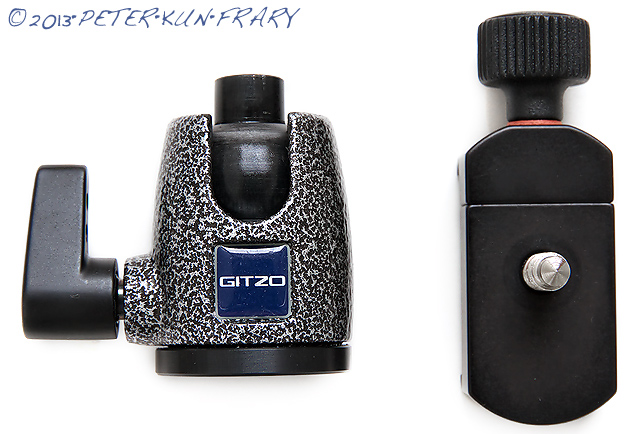 The installation of the Kirk clamp on the stem was more difficult than I expected due to a large amount of Locktite on the threads. It was basically coated its entire length. I had to hold the stem still with a small set of pliers (with cloth to keep from scratching it) and unscrew the disk with rubber gloves for extra grip. I needed to use pliers to remove the 1/4 inch stud from the stem as well. I cleaned off the Locktite. I applied a wee bit of Locktite 242 to the stud (to keep it from turning under load) and screwed in the stud flush with the top of the clamp. I let the Locktite set and finished the job, screwing the stud and clamp into the ball stem. So 30 minutes of toil but what a great lightweight combo!

Gitzo G1077M & Kirk QRC-1 | Completed Arca Compatible QR conversion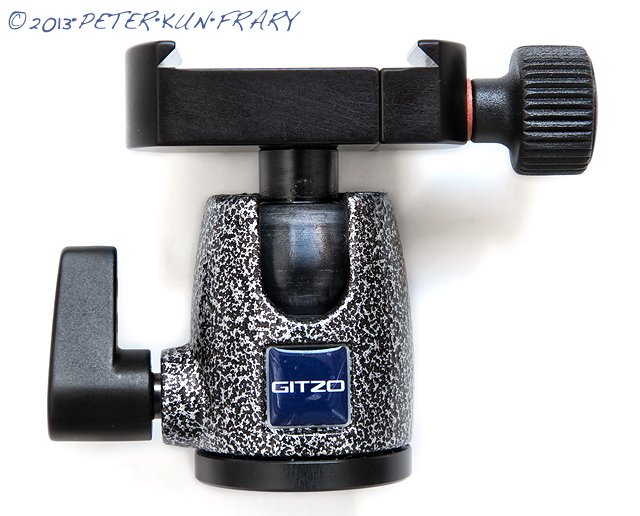 Kirk QRC-1 Quick Release Clamp

Kirk products were the first really good USA designed and built Arca-Swiss compatible heads, plates and clamps available. Although they have been somewhat overshadowed by rival Really Right Stuff, they still got it going on. And the $40 QRC-1, albeit plain in appearance, is all business with no extra fluff.

Kirk QRC-1 Quick Release Clamp | Manfrotto 709B Tripod | Notice the red rubber seal between the knob and clamp? The jaw train is fully enclosed inside the clamp.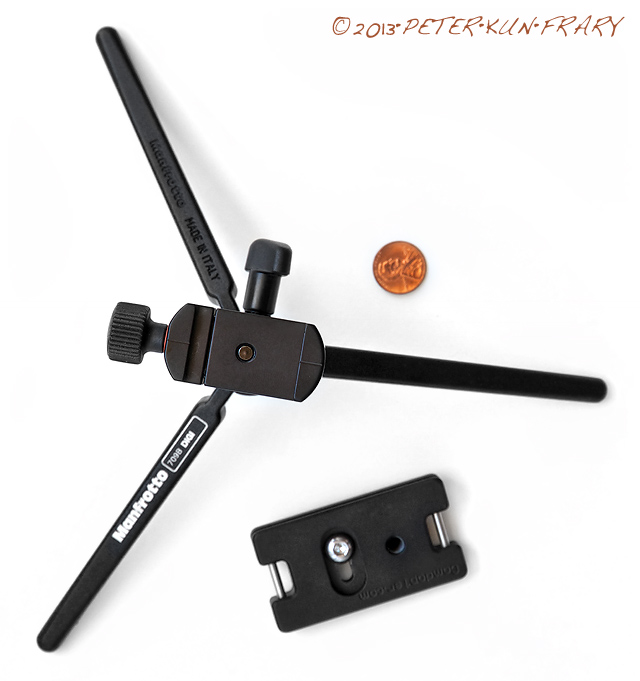 I compared the QRC-1 to another 1-inch clamp, the Sunwayfoto DDC-26 ($30), and the attention to performance details is very telling of Kirk's knowledge of photographer needs. The Kirk has a silky smooth sealed drive train, no visible graphics and a tough flat black anodized finish. In contrast, the DDC-26 is beautiful and adorn with a metric scale, logos and a delicate semi-matte black anodized finish. Eye candy compared to the Kirk. However, the DDC-26 drive train is open to the elements and a little stiff. The Kirk knob is more grippy and easy to turn even with wet fingers. And somehow the Kirk is noticeably lighter. All these things add up to me liking the Kirk more than the Sunwayfoto.

However, the main reason I choose the Kirk for the Gitzo head is it has a simple flat bottom without a groove for a stem key/boss. And, since the Gitzo has a flat stem top and no boss, I figured a flat bottom clamp would be more secure than one with a deep groove.

Manfrotto 209B Table Top Tripod

The final piece of my little kit is the Manfrotto 209 Table Top Tripod ($25). This is a legs only model so you supply an appropriate head, and obviously my choice is the Gitzo G1077M.

Gitzo G1177M Ball Head | Manfrotto 209B legs | Kirk QRC-1 Clamp | Please support this site by purchasing the Manfrotto 209B at Amazon.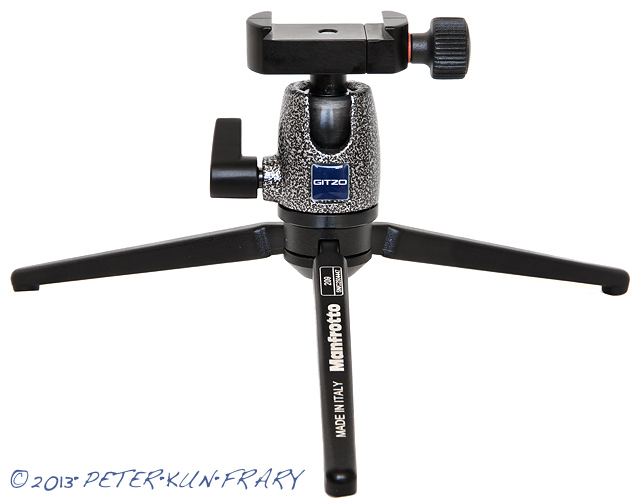 The petite Manfrotto 209B and G1077M are a wonderful combo for low level shots or carrying in my jeans pocket for tourist snaps. Sure the 209B isn't as beefy as the Kirk or RRS table top tripods but it is sturdy aluminum and sports excellent fit and finish. Plus it comes with a 3/8 inch stud allowing you to mount most ball heads without using a 1/4 to 3/8 bushing (Kirk and RRS require adapters).

Like most pocket tripods, the legs are not adjustable for length and are designed to be used with the legs fully open and extended. You can partially open the legs and they are stiff enough to stay with a tiny point 'n shoot camera, but anything heavier will quickly drift to open position.

Final Blurb

The G1077M is perfect for the weight and space conscious traveler desiring a high quality head for point 'n shoot and M4/3 cameras. It is even better with the Kirk QRC-1 mounted topside, making for fast and secure connections. Likewise, the Kirk is ideal for small cameras and its simplicity and sturdy build are becoming. The pairing appears OEM and the combined operation is smooth and natural.

Both Gitzo and Manfrotto exaggerate the weight capacity of their heads. Yes, the G1077M can handle 2kg (4.4LB) if the camera is centered and horizontal. At a steep angle or flipped vertical, it's a different story. My experience is a drift free load capacity is about 50% of the rated load. So 1kg or 1.2LB. And, yep, my Olympus Pen E-P3 and pancake lens weigh in well under 1kg and lock up nicely when flipped vertical. My EOS 7D and 17-55 2.8 IS USM are only 1.5kg but drift like crazy.

The G1077M is at its best mounted on a table top tripod like a Manfrotto 209B or Giottos QU500. If you're well heeled, consider a deluxe table top tripod like the Really Right Stuff TFA-01 or Kirk TT1.

I'm an avid audio recordist and often use my Gitzo G1077M head and Manfrotto 209B tripod to mount a Tascam DR100 MKII digital audio recorder while on stage. I leave an Arca plate on the recorder, ready for fast action.

Finally, many will question why anybody would spend upwards of $160 for a table top tripod. I certainly wouldn't if I didn't already own an unused G1077M. Nevertheless, this rig is light, fits in my jeans pocket and provides solid support for a small camera, mic or audio recorder.

Gitzo G1077M Specs

• Material: magnesium
• Plate Type: fixed - with 1/4-20" screw
• Tripod attachment: 3/8" female thread
• Panoramic Rotation: 360 degrees
• Lateral Tilt: -90° / +20° tilt range
• Working Height: 2.4"/6 cm
• Weight: .26 lb./120 g
• Load Capacity: 4.41 lb./2 kg
• Price: $95

Kirk QRC-1 Specs

• Material: aluminum
• Jaw size: 26mm (1")
• Attachment: 1/4" female thread
• Weight: not specified
• Price: $40

Manfrotto 209B Specs

• Material: aluminum
• Working Height: 13 cm (5")
• Load Capacity: 2 kg (4.4 lb)
• Attachment: 3/8" male stud
• Weight: 94g (.21 lb)
• Price: $25

03/14/2013 | Updated 02/14/2016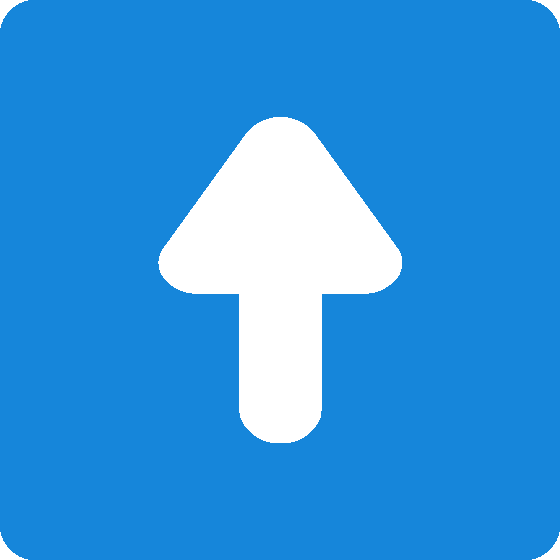 ©Copyright 2013-2017 by Peter Kun Frary | All Rights Reserved