| Peter Kun Frary | Photographer |
---
Giant Mall Fern With Backlight • Honolulu, Hawaii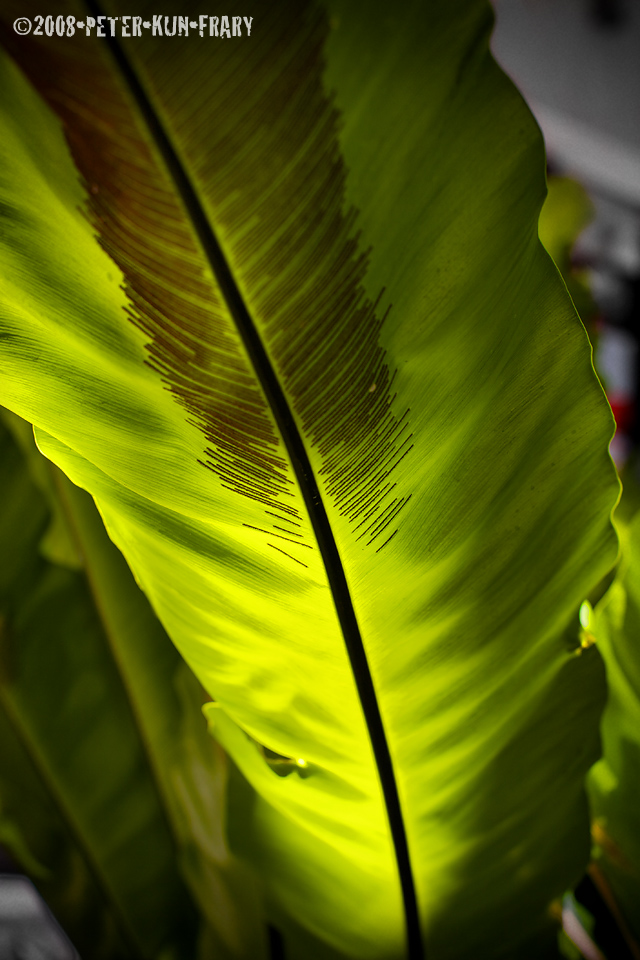 I went to Ala Moana Shopping Center today to beat the heat. Honolulu was a sweltering steam bath and AC flows out of malls like water. With caffè latte in hand and iPod in ear, I bathed in AC and sheepishly gazed at women marching by with shopping bags. Amazingly, Japanese tourist women walk all day in 5 inch heels: they're cute but tough as nails! Anywho, it was briefly entertaining but I soon lost interest. Short of an impromptu lap dance from a shopper, nothing here was holding my interest. *Smack forehead* Maybe take a few pictures? Malls are not photogenic and I cringed at the thought of touching my camera. But out it came and I snapped gleefully away among a herd of sale-crazed iPhone-stroking shoppers.
Midday sun is the worse possible light but works here due to the backlight and subsequently translucent leaves. So there you have it. Mall leaves with backlight. Not a good title for a song but the picture plays well.
I must say my EOS 5D and EF 50 1.2L USM are a match made in heaven: creamy smooth bokeh, razor sharp focus and a F1.2 aperture! Hard not to take a good picture.
EOS 5D & EF 50 1.2L USM
| | |
| --- | --- |
| | |
---

©Copyright 2008 by Peter Kun Frary • All Rights Reserved