.
Domke F-5XC Large Shoulder Bag
Stealthy Camera Bag for Street Shooters?
Peter Kun Frary
.
---
•
The Domke F-5XC Large Shoulder Bag continues my quest for the perfect bag to protect my gear while looking inconspicuous and feeling comfy. "Large Shoulder Bag" is a misnomer as, while it is a shoulder bag, it's not large. In fact, it's relatively small and best suited for a compact system like a Olympus M4/3 or DSLR without battery grip.

Domke F-5XC | Homebrew handle and Billingham shoulder pad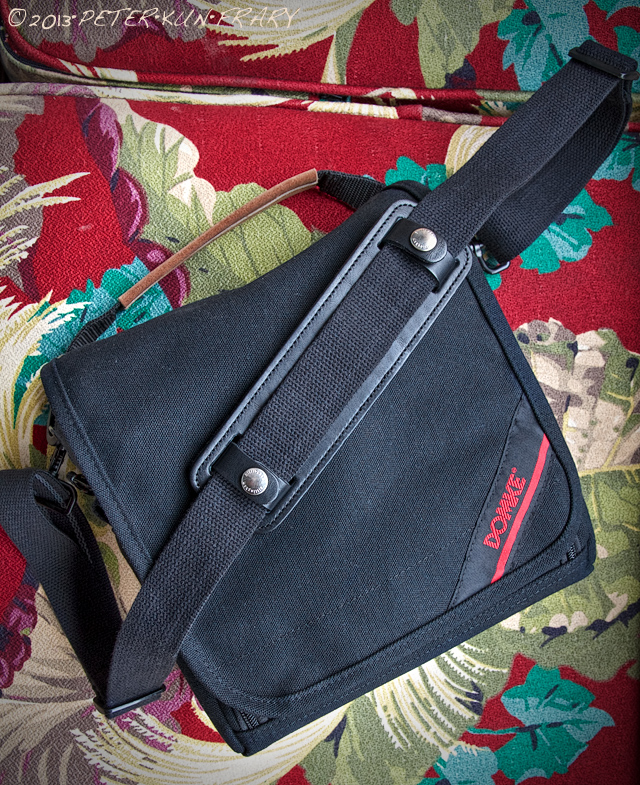 Appearance & Construction

The F-5XC is part of Domke's "Classic" series of bags espousing traditional materials and no nonsense design. The cotton canvas, plain woven strap, black metal fasteners and classic design pulse with an army medic bag vibe. Fit and finish are excellent with no loose threads or skewed seams to be found. And proudly made in the USA!

I choose black over olive green and khaki, so I'd feel like a black ops shooter and blend in with the night. The F-5XC will not win fashion awards but is inconspicuous. Wear with a destructed leather or denim jacket and you won't get a second look on the street. If being inconspicuous is important, remove the bright red Domke logo from the front flap.

Unlike an army medic bag, the outer canvas is flexible, the inside lining is soft and the bottom reinforced with a rigid platform for support and shock absorption. The sides of the bag have thin foam padding between lining and outer canvas. The top flap has no padding whatsoever. This thin padding yields surprising capacity within a slim profile. The downside is there is minimal protection from impact.

Velcro is used to secure the main flap. Not my favorite fastener and this one is giganormous, making it difficult to open and noisy. Immediately above the Velcro are two tiny pockets.

Domke F-5XC | Tiny weeny pockets, strange trapdoor and my Velcro patches to reduce the grip of the main Velcro strip.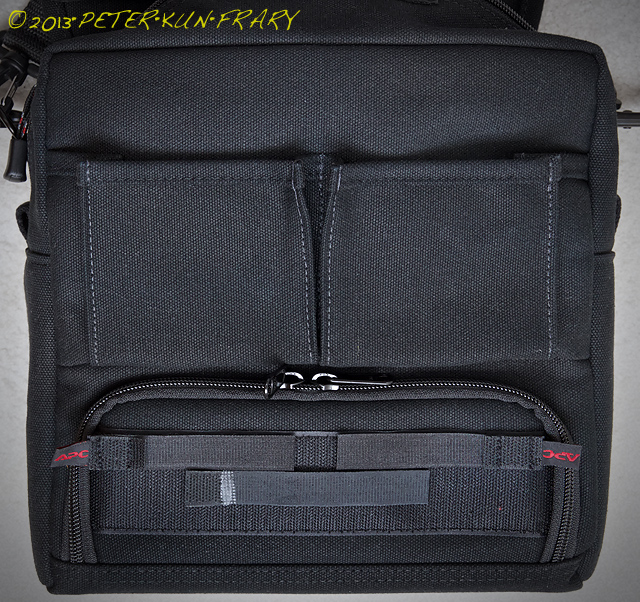 Domke F-5XC | Side view with 5D MKII and mounted 70-200 4L IS USM inside. I added the homebrew grab handle and zipper pulls. Sadly, this bag lacks a mount system for side accessories like pouches.
Stuffing in Gear

The F-5XC has two tall dividers/pillars with padded "wings" on top. The dividers are strong enough to support a DSLR with mounted lens, but are sectioned so they can be bent to partition the compartment into two levels, with the lower level accessed via the zippered trapdoor on the front. I use the compartment full length with one divider fully extended to store a lens on the left side (an EF 70-200 2.8L USM fits with hood reversed). The upper end of the other divider is bent over to the right as a platform for a camera with mounted lens. The dividers are semi-rigid and have Velcro in every possible place, so they will not move while your gear is stowed.

The F-5XC swallowed my EOS 5D MKII with mounted EF 70-200 4L IS USM with plenty of room for another medium sized lens and a large shoe flash. Yes, that was pushing it but the flap closed just fine and there were no bulges. Due to the lack of padding, there's more room inside than it appears. Nevertheless, gripped DLSRs and pro models, e.g., EOS 1D series, do not fit.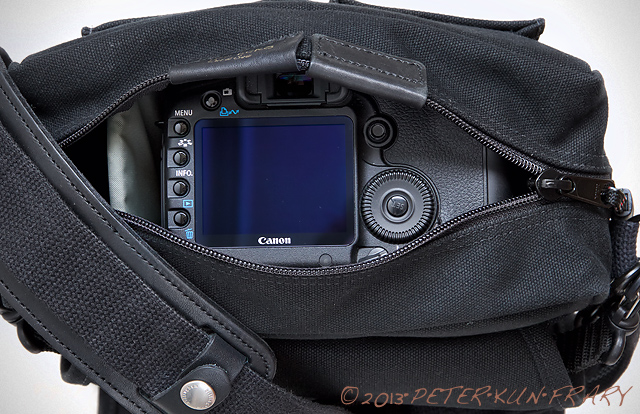 Cons

With an EOS 5D2 and 24-105 4L IS USM inside, the 1.5 inch strap bites into my shoulder like an angry dog. A thin strap is fine for M4/3 cameras but a wider strap and/or shoulder pad are needed for a DSLR. I suspect Domke designers didn't test this bag with a DSLR. If you carry a DSLR, expect to pony up $20-30 for a wider strap and/or shoulder pad. I added the Billingham SP-15 shoulder pad and it's more comfortable and grippy than the stock strap. It also matches the vintage vibe of the bag. If you prefer to stay pure Domke, you can buy a matching Domke 2-inch Gripper Strap (black) from B&H or other photo gear retailers.

The F-5XC lacks a grab handle and the strap is awkward as a handle. This omission bothered me so much I rigged up a handle by sewing Timbuk2 cross-strap hooks to a handle I removed from an old Tamrac bag. Works great! Domke makes a handle replacement for their J series bags but it's too long for this bag.

The mammoth Velcro under the front flap is too grippy and loud. I found an easy fix: buy enough Velcro to cover 75% of the two Velcro patches. It still grips but is weaker and easier to use. A leather and brass latch would be a more elegant solution.

The main zipper is bothersome as it rubs the top of my 5D MKII each time I pulled it in or out, so I stitched a leather bumper in the center of the zipper. I can still zip the bag far enough to keep out dust and rain as long as the main flap is down.

A lack of pockets for accessories or personal items is this bag's greatest shortcoming. There is no zippered inner pocket to stash your wallet or passport. The two front pockets are almost completely useless. The tiny weeny front pockets wouldn't bother me so much if I could add a pouch for my iPhone or sun glasses but there is no provision for side mount accessories.

Final Blurb

This is my first Domke bag and it revealed excellent fit and finish, quality materials and a classic albeit somewhat Spartan design ethic. Yes, it's pricey but has surprising storage in a small space. The soft cotton canvas molds to your body thereby taking some weight off the shoulder. Even loaded with a 5D MKII and EF 70-200 4L IS USM I found it comfortable to hump around town all day, provided I wear it sling style with a shoulder pad. The cotton canvas is easy on clothing and does not "sand" delicate fabrics like ballistic nylon used in other bags.

This bag is for the minimalist street shooter desiring a bag that doesn't draw attention. Out of the box it is ideal for a M4/3 or APS-C mirrorless kit. My Olympus E-P3 and four lenses swim inside with room to spare. It also works well for a small DSLR kit if you are willing to perform a minor modification or two, e.g., replace the 1.5-inch strap with a 2-inch strap and/or shoulder pad.

Obviously the design of the F-5XC could have been more thoughtful but they got the basics okay. And the army surplus look is growing on me. Appearance and size are perfect for travel but, sadly, it lacks the pockets and expandability to be a travel bag. Such roles are best left to "pocket wolf" bags like Crumpler or Thinktank. Also the lack of padding makes this bag a poor choice for hikers or those prone to dropping their bag. Nevertheless I find the F-5XC ideal for casual shooting around town.

Domke F-5XC | With extra grab handle and shoulder pad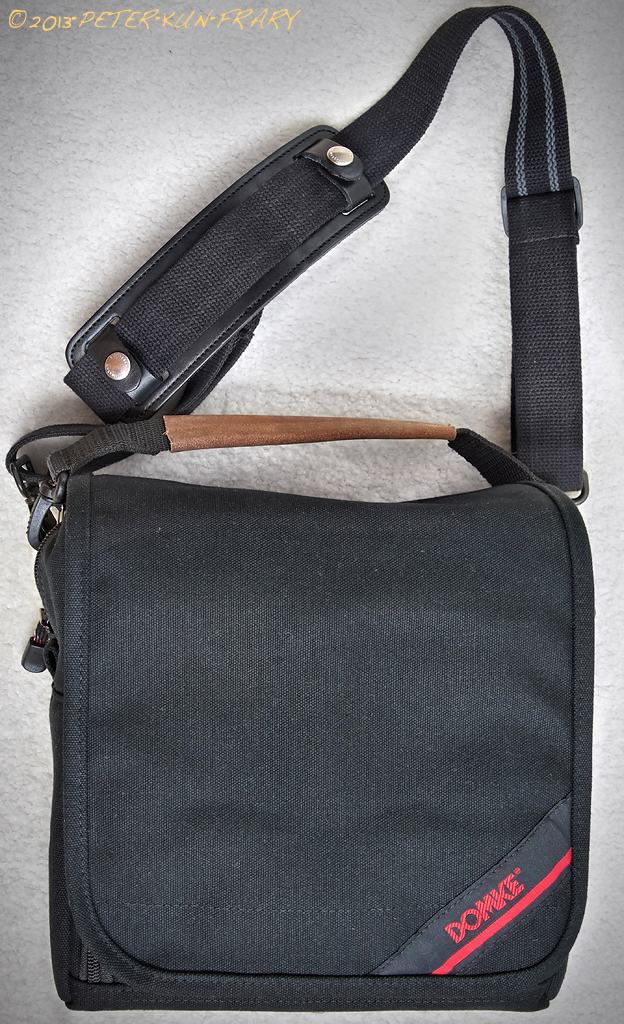 Features

• Water-resistant, breathable cotton canvas
• Two bendable interior dividers
• Two small front pockets (under flap)
• One Large Back Slip Pocket
• 1.5" wide Gripper shoulder strap (no shoulder pad)
• Zippered trap door for bottom access
• Zippered main compartment
• Velcro secured main flap

Specs

DIMENSIONS:
10.75"L x 5.5"D x 10.75"H (exterior)
10.25"L x 5"D x 10.25"H (interior)

WEIGHT:
1LB 11 OZ (765G)

01/28/2013 | Revised 01/01/2016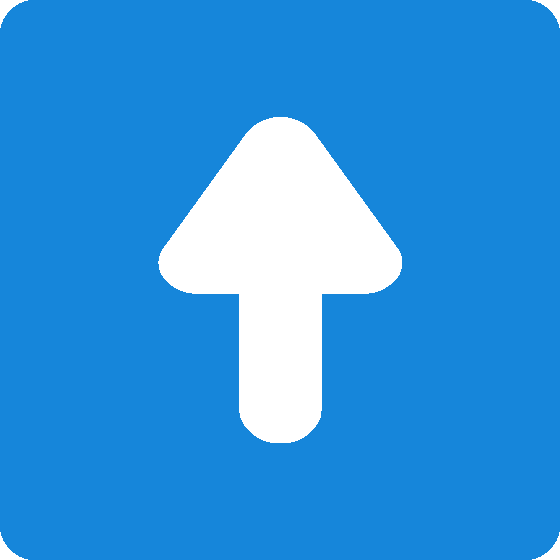 ©Copyright 2013-17 by Peter Kun Frary | All Rights Reserved