.
Desmond DBA-01
Arca/RC2 Compatible Quick Release Clamp
Peter Kun Frary
.
---
.
Like many photographers of my generation, I grew up with Manfrotto quick release heads. Back in the day they were among the best and few offered at local retailers. Eventually I needed better fitting plates for larger equipment and switched to the AS (Arca-Swiss) compatible system. However, I owned Manfrotto RC2 heads and hated to toss out my old friends. Manfrotto heads can be converted to Arca compatible if you find the right clamp, but then you can't use the RC2 system anymore. The Desmond DBA-01 clamp is the perfect bridge between both quick release systems, allowing one to seemlessly use both AS and RC2 compatible plates on the same clamp.

Desmond DBA-01 clamp on a Manfrotto 352RC Mini Ball (circa 1992)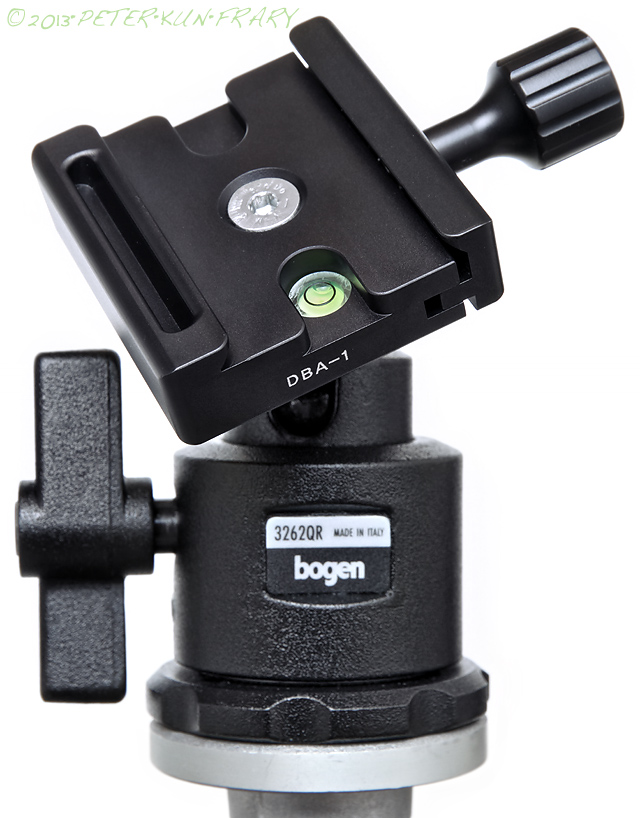 Installing the Desmond DBA-01 Clamp

How easy is it to install? For most models it is a five to 10 minute job. Most installs only require a 4mm hex wrench. A few models need a 10mm socket and ratchet.

The new millennium Manfrotto 486RC2 (replaced by 496RC2) was the first generation of phenolic resin (plastic) ball heads and sports a 3/8 inch stud on a flared stem. This series is easy to upgrade: screw the DBA-01 on the stud. Locktite 242 is recommended to keep it from twisting under heavy loads.

The Manfrotto Hydrostatic heads (468 series) have a M6 female thread in a flat flanged ball stem. Drop in a M6 screw and tighten. Locktite 242 is recommended to keep it from twisting under heavy loads.

The 494, 496, 498 and 054 series ball heads are the black sheep of the Manfrotto clan, using a rare double boss stem key. You can mount the DBA-01 with a M6 screw but since the double boss doesn't fit, it makes for a wobbly and insecure connection. The Hejnar Photo FM496RC2 is the only clamp I've found that securely fits these heads.

| | |
| --- | --- |
| | The DBA-01 has a groove for a single boss and has a 3/8 inch threaded hole. So most single boss stems and flat tip stems should mount easily. If your ball stem has a 3/8 male stud (e.g., Gitzo G1177M or Manfrotto 486RC2), simply screw it on. If it has a female M6 or 1/4 inch thread on the stem, merely drop a screw through the clamp and tighten. |

My Install on a Vintage Manfrotto 352RC

I used a 4mm long handle hex wrench to remove a single M6 screw and pop the RC platform off my early-1990s 352RC (Bogen 3262QR in USA). Manfrotto used Locktite so I really had to muscle it to get it off.

Next I aligned the boss on the clamp with the groove on the ball stem and tried to set it in place. Unfortunately it didn't fit because the stem boss was 1mm too wide! Not being one to give up easily I grabbed a file and shaved the stem down and, 30 minutes later, it fit like a glove. Using a 4mm hex wrench, I tightened the single M6 screw so the clamp was snug and I was in business! The DBA-1 is a bit thicker than the original RC platform so I used a slightly longer M6 screw. My five-minute job ended up taking nearly an hour but ended well.

Once you know you want to keep this clamp the head, a dab of Locktite Blue 242 (removable with hand tools) on the screw threads will help prevent the clamp from turning under heavy loads.

DBA-01 on a Manfrotto 352RC • My boss filing could have been neater but it worked.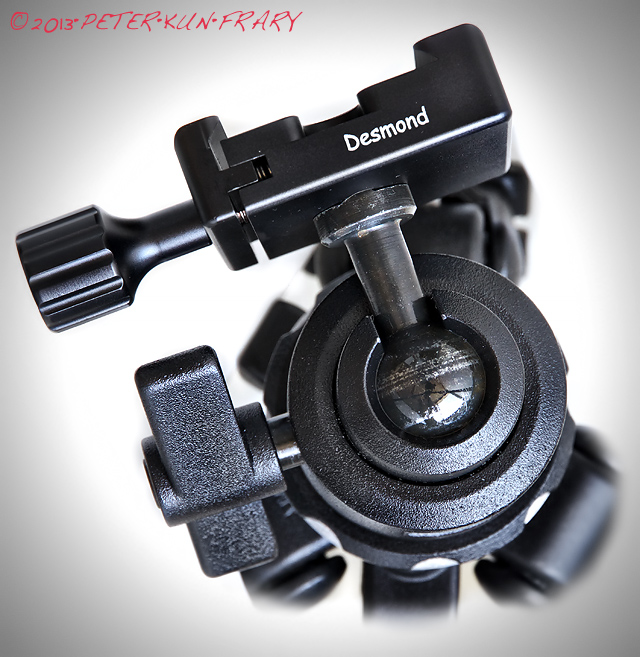 My Install on a Manfrotto 128RC

The newest version of the 128RC sports the Q2 quick release system, a tweaked version of RC2. Basically the 200PL-14 plate is held more securely on all four sides, making for a very secure grip of the plate with zero side play. The Q2 clamp is integral to the 128RC head and can't be removed like typical ball head platforms/disks. That doesn't mean it can't be converted for Arca. I simply screwed a Manfrotto 200PL-14 plate into the underside of the Desmond DBA-01, pressed it into the Manfrotto clamp and locked the safety lever. It looks OEM since the finish and size of the DBA-01 closely match the top of the head.

Construction & Appearance

The DBA-01 sports excellent fit and finish. The beautiful matte black anodized finish is noteworthy and better applied than many clamps at any price. The CNC milling work is precise and well executed. All exposed corners are rounded and smooth to the touch. There is no jaw scale but it sports a small bubble level, visible only before mounting the camera. The top surface features cutouts to accommodate safety stop screws on the bottom of plates.

The bottom of the DBA-01 is solid (not milled out). Omitting the extra milling is probably a cost saving measure. It is heavier than my 60mm Really Right Stuff B2 Pro II clamp, but at 135g is still reasonably light.

The Desmond works like most Arca clamps: turn the large knob to move the jaws while loading or removing a plate. The jaw movements are surprisingly smooth and precise and the plate locks securely. The knob is sturdy, finished in anodized aluminum but on the small side. It requires a little more turning than the large knobs on my Really Right Stuff and Hejnar clamps.

Using the DBA-01

Once the DBA-01 was mounted on the 352RC, I tried every plate I own. All my Arca Swiss plates fit perfectly, including Camadapter, Desmond, Herringbone, Sunwayfoto and DUALplate. The plates slid in fine and the tension knob handily locked them in with a couple quick twists. Removal was even easier since I could do it without lining up the camera/plate combo.

AS Compatible Plates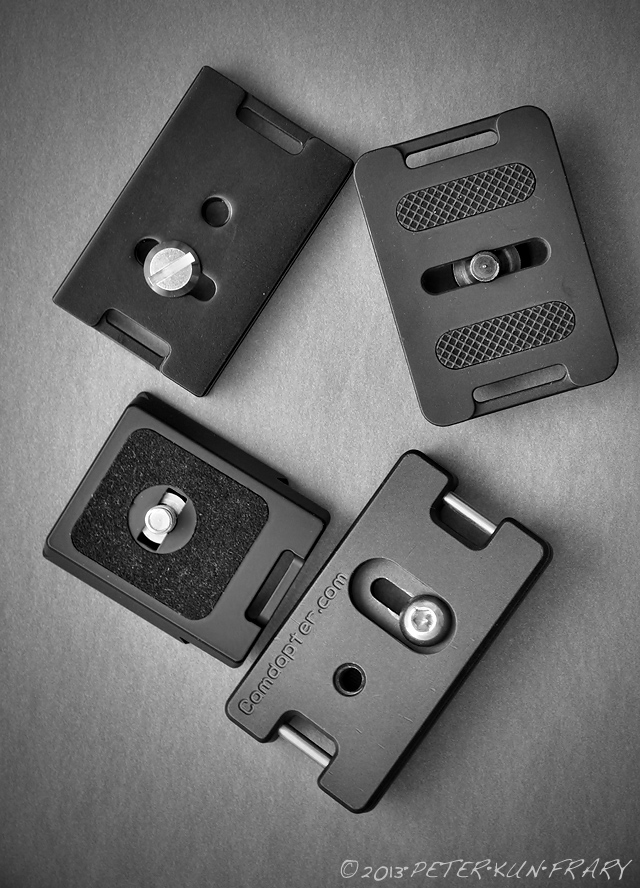 DBA-01 with a 70mm Camadapter AS Compatible Plate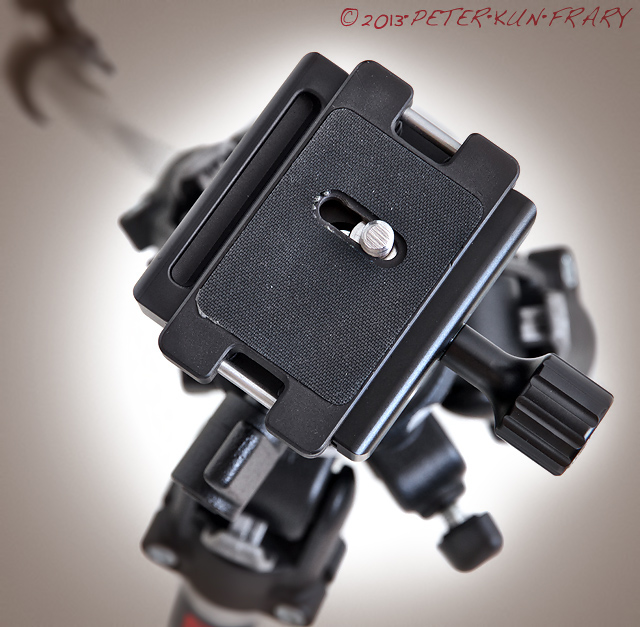 Manfrotto RC2 plates are mounted by placing the front of the plate into a fitted groove, opening the jaws just enough for the rear of the plate to clear and, finally, tightening the jaws snug. So it works like an Arca compatible plate and doesn't snap in like a RC2 clamp. A simple but ingenious design. It's extremely secure and my 200PL-14 has absolutely no side to side play, unlike most OEM Manfrotto RC clamps. The groove is angled at the same pitch as the 200PL-14 plate so, once the clamp is tightened, it ain't coming out and is as secure as the Arca compatible mount. If you forget to tighten the clamp all the way, it will be loose but will not slide out since the groove holds the plate and prevents side to side movement. In terms of security and fit, this design is an improvement over Manfrotto's RC design. However, it is slower to mount than than a snap-in RC2 clamp.

DBA-01 | Manfrotto 200PL-14 Plate mounted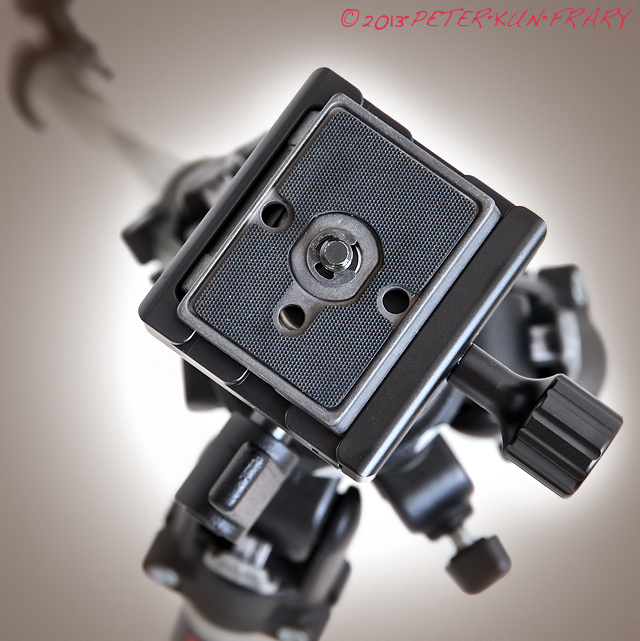 One minor gotcha concerning old Manfrotto RC plates: it only works with recent design 200PL-14 plates for the RC2 or Q2 Quick Connect system. And, yes, Desmond makes a point of stating the Manfrotto compatibility is for the RC2 system's 200PL-14 plate only. Old plates without the slide cutouts do not fit. For example, solid-side square plates from my early 1990s Manfrotto 222 (Bogen 3562) don't fit. Some RC2 "compatible" plates from third parties do not fit, e.g., Camadapter Manfrotto Plus. Although the Camadapter Manfrotto plate has the outer shape of modern RC2 plates and fits recent RC2 designs, it lacks the side cutouts of the 200PL-14 and thus won't fit in the DBA-01 groove. I have a couple cheap 200PL-14 knockoff plates and they fit perfectly since they have the cutouts.

Closing Thoughts

First, not even considering the RC2 abilities, the Desmond DBA-01 is a darn good Arca compatible clamp: attractive appearance, precision build, smooth jaws and solid build. It looks and feels like it should cost a lot more. The anodized finish is beautiful and nicer than my three times as expensive Really Right Stuff B2-Pro clamp. Yes, the RRS Pro jaws are slightly smoother moving and the adjustment knob is larger and easier to torque. It's likely a more durable clamp too. But by any measure the DBA-01 clamp is a rip roaring steal for $30 (Amazon).

RC2 compatibility significantly improves on Manfrotto OEM designers solid with no play--and propels this product straight into hog heaven!

With the DBA-1, my ancient 352RC has assumed a new life as my office tripod, ready for a impromptu group shot or wayward landscape off the building top. I can't testify to ultimate durability but the DBA-1 seems very solid and I suspect it will work for a very long time.

Please support this site by purchasing the DBA-01 from Amazon.
Desmond DBA-01 Clamp | Mounted on Manfrotto 352RC Mini Ball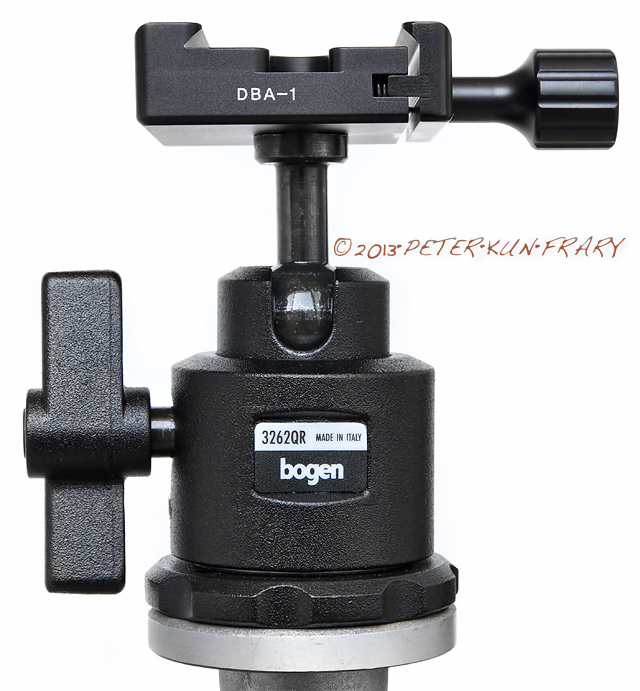 Desmond DBA-01 Specs

• Material: aluminum
• Finish: matte black anodized
• Attachment: threaded hole for 3/8 " stud (1/4" adapter included)
• Jaw size (L): 60mm
• Width: 85mm (with jaw closed)
• Height: 18mm
• Weight: Not specified
• Price: $30

03/12/2013 | Revised 03/09/2016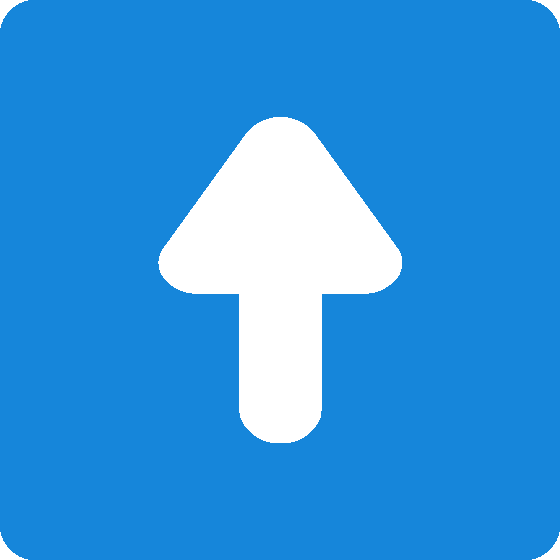 ©Copyright 2013-17 by Peter Kun Frary | All Rights Reserved