Peter Kun Frary | Photographer
---
Lion Dancer • Honolulu HI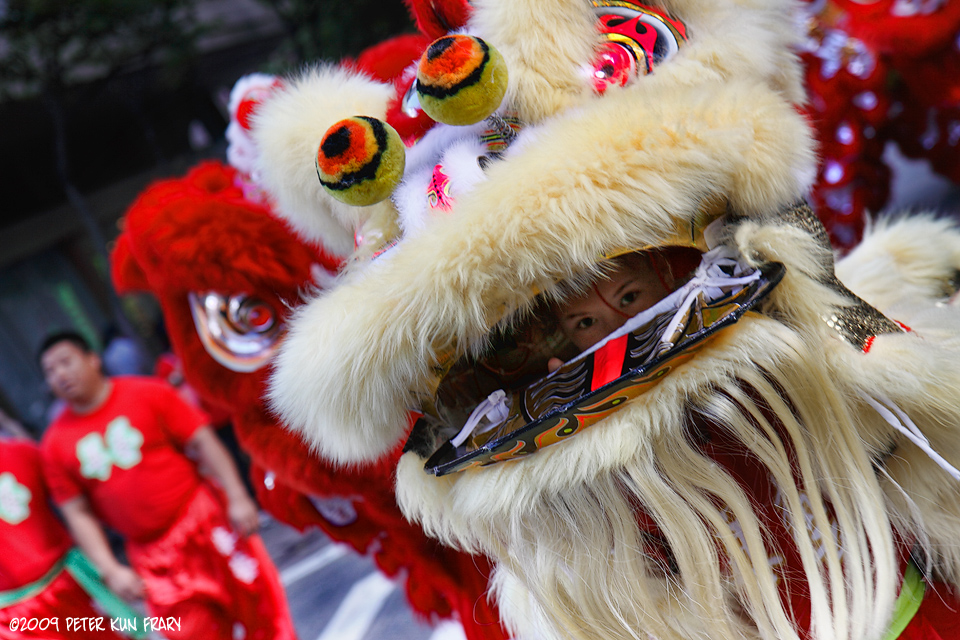 Young Lion dancer peers out from his money gathering mouth in the Chinese New Years Parade in downtown Honolulu: "Where's mah benjamin sucker!"
Kung Hei Fat Choi! It's 4707, Year of the Ox. These lively and colorful dancers in Honolulu's Chinese New Year's Parade were hard to resist. After the parade everybody streamed into the Chinatown block party and enjoyed oily and MSG seasoned food at inflated prices among a horde of party-goers. Oddly, no beer garden...
Both the parade and block party were great venues for street photography. People rarely seen crawl out of the woodwork. We were elbow to elbow with pigeon speaking locals from the countryside, swarms of FOBs, confused tourists and a few marauding Chinese lions. Plus the stench of stale cotton seed cooking oil and smoky BBQ grills accented with firecrackers made for a colorful if not uncomfortable night.
EOS 50D & EF-S 17-55 2.8 IS USM
---
©Copyright 2009 by Peter Kun Frary • All Rights Reserved