Canon EOS 6D
Full Frame for Light Packers
Peter Kun Frary
.
---
.
I bought a 6D Fall 2013 and have been on a photo binge, immersing myself in the features and performance of this camera. I also own a 5D MK II and 60D, and the 6D is a near marriage of the two older cameras: full frame innards of the 5D MKII coupled with the petite form factor and controls of the 60D. Toss in Wi-Fi, GPS, AF tweaks, enhanced high ISO, and that's the 6D in a nutshell.
4 Queens | Las Vegas | EOS 6D & EF 24-105 4L IS USM
Major Features

• 11 Point AF points: center cross AF point with EV -3 sensitivity

• 63-zone Dual-Level Metering Sensor: Evaluative, center weighted, partial (8%) and spot meter (3.5%).

• TFT LCD: 3"/1.04 mega pixels

• GPS Receiver and Wi-Fi Transmitter

• SD/SDHS/SDXC and Ultra High-Speed (UHS-I) memory cards

Canon EOS 6D | Photo courtesy Canon Inc.
Build Quality

The 6D is a handsome camera with top notch fit and finish: tough magnesium body shell, engineering grade plastic top panel and lightly textured matte black paint. The plastic top panel was used to enhance Wi-Fi/GPS reception. Canon claims the 6D is weather resistant to the same level as the 7D and 1N and, indeed, mist and light rain don't faze it but I'd protect it in a downpour. The textured rubber grip is comfortable for my medium sized hands and feels secure. It's noticeably smaller and lighter than a 5D MKII and the same size and weight as the 60D.

The 6D is very quiet. My 5D MKII and 70D thunder next to it. However, if quiet isn't enough, silent drive mode can fade operation to pianissimo, making it idea for stage and intimate ceremonies.

The 3.0" 1,040,000 dot LCD is vivid and clear and spanks my 5D MKII in terms of clarity. It appears to be the same LCD as the 60D but without articulating ability. The LCD is not a touch screen. I don't mind but the smartphone generation considers the lack of touch screen ability a puzzling omission.
Black Cat Tattoo | Chinatown, Honolulu | EOS 6D & EF 24-105 4L IS USM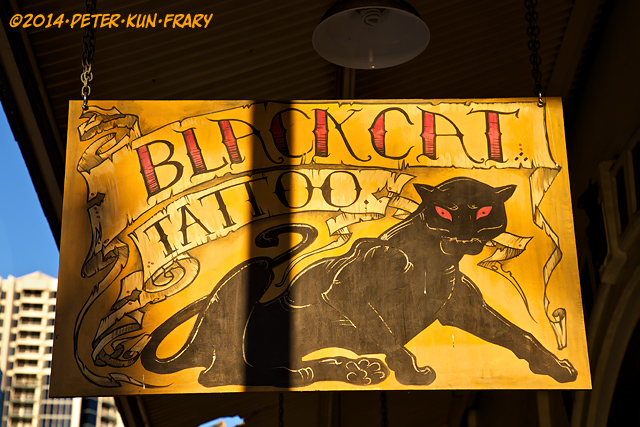 Controls

The Spartan control interface was inherited from the 60D but buttons and wheels feel more solid and precise. Like the 60D, there's no joystick, and dedicated flash exposure compensation (FEC) and white balance buttons are MIA. FEC is set on the LCD. I prefer a dedicated FEC button so flash compensation may be applied while looking through the viewfinder. One control was inherited from the 7D: a button/switch on the upper right for toggling between LiveView and video.

Canon EOS 6D | Simple control layout inherited from the EOS 60D. Dedicated FEC button is MIA. Photos courtesy Canon Inc.
Same Old AF with a Twist

The diamond shaped AF-array has similar coverage as the 5D MKII, but a but a total of 11 points rather than 9. The center-cross AF point has been significantly enhanced and is amazingly sensitive and sure-footed in low light, working all the way down to EV -3. It can snag focus in closets and caves! The 10 single axis outer points are not as sensitive but are better than those of the 5D MKII. All in all, a big step up from 5D MKII AF.

Contrast AF used in LiveView/Video is pokey compared to the 70D or SL1, but a level faster and more sure-footed than contrast AF on the 60D or 7D, and a couple levels better than the 5D MKII. If you're not in a hurry, it's very accurate and fine for macro and product shots.

Nacho Daddy | Las Vegas | EOS 6D & EF 24-105 4L IS USM at ISO 320

Image Quality

Overall image quality is the same as the 5D MKII from ISO 100 to 1600, i.e., great! The big wow of the 6D is high ISO performance. By ISO 3200 the 6D starts to pull away from the 5D MKII and is shockingly good at ISO 6400 and 12800 with noise reduction. Beyond ISO 12800 is emergency use only for me but if I ever need to shoot at ISO 102400 that center AF point should be up to the task. I'm not an avid "shadow lifter" but the 6D is amazingly clean--less patterned artifacts--and you can bump up shadows another stop over the 5D MKII if needed.
Magic Island Sunset | Honolulu HI | EOS 6D & EF 24-70 4L IS USM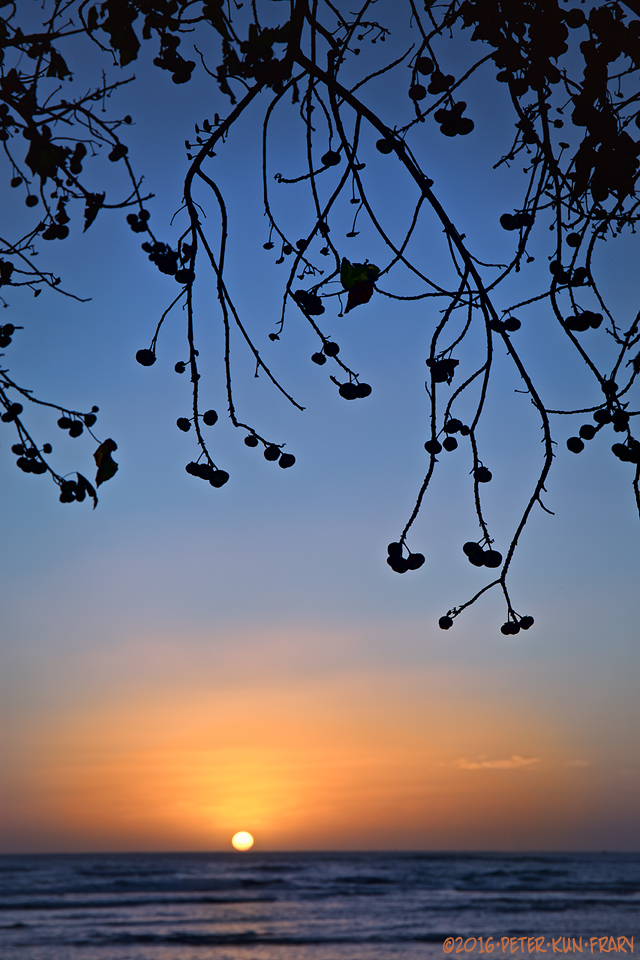 Wi-Fi and GPS

WI-FI via the EOS Remote app can be used to set exposure, select AF points, fire the shutter., etc. Like the wired EOS remote, you can use LiveView or save images on your iPhone, iPad or Droid. Wi-Fi drains the battery fast, so have spares ready. My only complaint is Wi-Fi is needlessly complicated to set up.

GPS setup is easy: a few menu selections, point the pentaprism at the sky and you're done. However, acquiring a GPS signal in downtown Honolulu was impossible due to tall buildings and nearby mountains. I was able to catch the signal here and there on Oahu but found GPS spotty. I had hoped GPS would bring clarity to my befuddling vacation images but I'll reserve final judgement until I get travel time in North America during the summer. For now, I disabled GPS since it shortens battery life.
Binions | Las Vegas | EOS 6D & EF 24-105 4L IS USM
Optical Viewfinder

The quality of the optical viewfinder is astounding. On paper the specs of 97% coverage and .71x magnification are less impressive than the 5D MKII/III. However, viewfinder clarity is a level above my 5D MK II, 60D or 7D. Even with a slowish F4 zoom the focusing screen is bright, grainless, smooth and vivid. It's a real pleasure to shoot with.

Flash

Although the 6D is a prosumer camera aimed at hobbyists, it lacks a popup flash. I use a Speedlite 430EX II and it works great but I miss having a popup for fill and E-TTL trigger use. If you're looking for a small Speedlite, consider the Canon 270EX II Speedlite: it fits in a pocket, can bounce and is about twice as powerful as a popup. If you want to go really small, the 90EX is about as about as strong as a popup but also works as a E-TTL trigger/commander for larger Speedlites like the 430EX II.

Garden Court Buffet | EOS 6D & EF 24-105 4L IS USM: auto fill flash (90EX)
Chinatown Mural | Honolulu | EOS 6D & EF 24-105 4L IS USM
Tripod Use

I often use a tripod and installed an Arca quick release plate, the Sunwayfoto PC-6D QR Plate. It's perfectly contoured to the bottom of the 6D, has double anti-twist lips and a loop for a hand strap.

Video

I rarely use the 6D for video since it lacks movie servo and an articulating screen. Live view contrast focus is extremely accurate but too slow for anything beyond landscapes and still life. However, HD video quality is excellent if you don't mind prefocusing or using manual focus. Below is a two video feed clip I shot with the 70D and 6D, the 6D being the second camera with an off-center subject (me!):

Peter Kun Frary | Etude in G Major (Aguado) | Tascam DR-60D MKII, Neumann KM184 (2X), EOS 70D and 6D
Final Blurb

Canon's blend of features from multiple cameras make the 6D the a highly evolved and refined camera. Tried and true works for me: menus, features and controls were very familiar. I barely needed to crack the manual. I also love the small form factor combined with full frame format. It's easy on the shoulder, able to capture clean and vivid images in almost any light and, for me, the ideal travel DSLR.

Finally, please help support this website by purchasing the 6D at Amazon.

6d Image Samples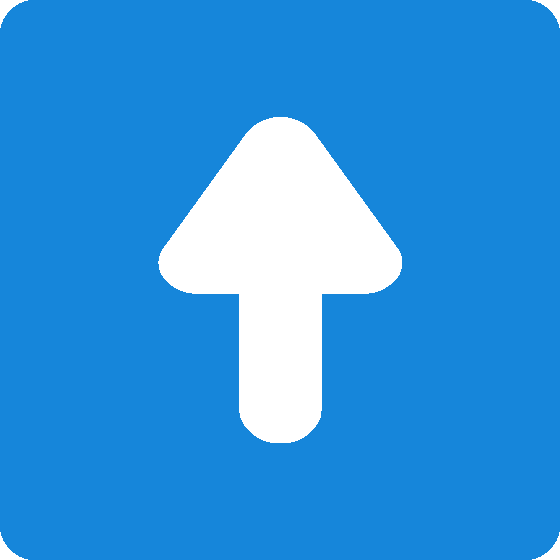 Source Materials

Canon EOS 6D Instruction Manual (CPX-E056-000). Canon Inc., 2012.

01/09/2014 | Update: 01/07/2017

©Copyright 2014-17 by Peter Kun Frary | All Rights Reserved