.
Canon EF-s 17-55 2.8 IS USM
Ultimate Walkaround?
Peter Kun Frary
.
---
.
What is a normal lens? In the heyday of film SLRdom it was a fast 50mm optic: coverage to meet the sweet spot of the human eye; fast aperture for bright viewfinder and usefulness in low light; petite stature for easy transport; and affordable for budding photographers. Back in the day, a young buck armed with a Nikon FM and Nikkor 50 1.2 AI was "the man," and was ready for any situation from murky bar portraits to in-your-face street candids.

Blue Rod | Las Vegas, USA | EOS 20D, EF-S 17-55 2.8 IS USM
Early zoom designs were expensive, bulky and not very sharp or flare resistant. Nikon released the Nikkor 35-70 3.5-4.5 in 1985, the first affordable and lightweight zoom with decent optics. It slowly became the new "normal lens." So, the normal zoom began by dancing around both sides of the old 50 mm full frame standard. Thus, 24-70, 24-85, 24-105, 28-70, 28-80, 28-105, 35-70, 35-105, 35-135, etc., are considered normal zooms for full frame bodies such as the EOS 5D.

Fremont Casino | Las Vegas, USA | EOS 7D, EF-S 17-55 2.8 IS USM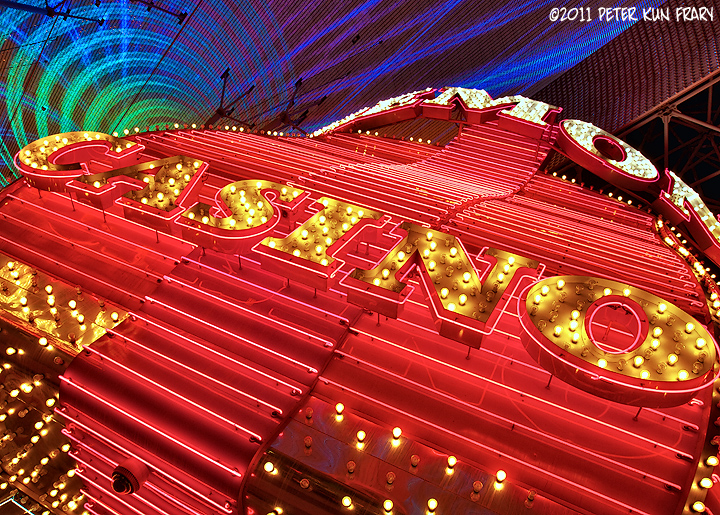 The popularity of the smaller APS-C sensor (1.6x crop factor) has redefined the normal lens as a fast 35 mm prime, e.g., EF 35 2.0 or EF 35 1.4L USM. Thus the new generation of 17-40, 17-55, 17-85, 18-50, etc., optics are the normal zooms of APS-C DSLRs.

These normal zooms are the most useful range for general and travel photography, encompassing wide, normal and short telephoto ranges. Mount a normal zoom on your DSLR and you're ready for scenics, group shots, candids and portraits. For many weekend shooters this is the only lens they need.

Normal Lens Deluxe

Introduced May 2006, the EF-S17-55 2.8 IS USM is an impressive feat of engineering: high-performance Image Stabilizer (IS), constant F2.8 aperture, ultra fast ring-type USM, wide zoom range (3.24x) and L series optical performance. I bit the bullet and replaced my oft and long used travel companion, the EF17-40 4L USM, with this amazing optic.

Canon EF-S17-55 2.8 IS USM | Red ring wannabee. Photo courtesy Canon.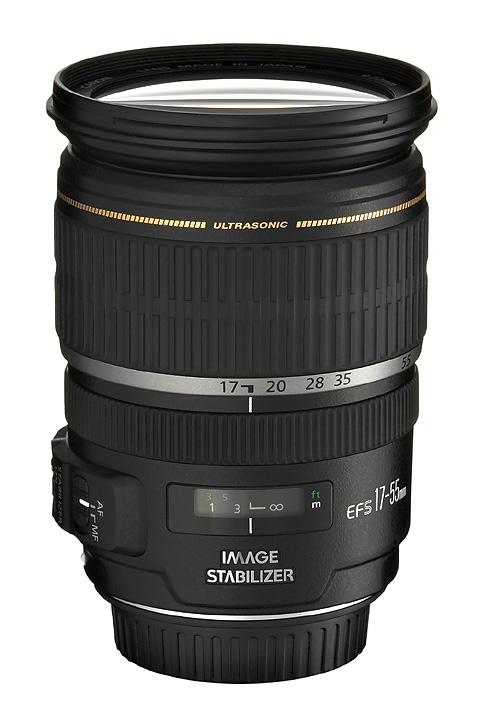 Construction

Due to the constant F2.8 aperture and image stabilization, this lens is on the large side. Build quality is excellent with good fit and finish, sturdy plastics and metal mount. It falls short of L series construction: no weather seals and the finish isn't as attractive as the EF 24-105 4L IS USM.

No lens hood included but the Canon EW-83J Lens Hood is available as an accessory for $45. Incidentally, the Canon EW-83H Lens Hood for the EF 24-105mm f/4L IS USM Lens fits perfectly, doesn't vignette, is just as handsome and is priced lower.

Pantheon | Rome | EOS 40D, EF-S 17-55 2.8 IS USM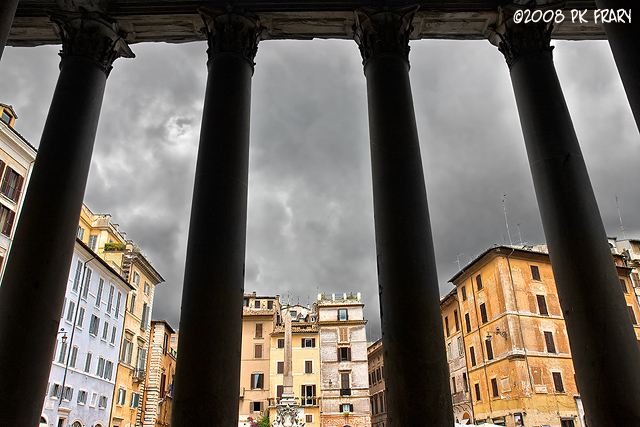 Focus and Zoom

A ring-type Ultrasonic Motor drives an internal lens group and AF is fast, silent and sure-footed on my 7D. The front element doesn't rotate or extend during focusing. The FTM feature allows manual focus without switching out of AF mode. The focus ring is narrow and a little coarse in pitch, so not ideal for video pulls but fine for normal photography. Although not a macro lens, it focuses close enough for head shots (35cm/.17x).

Yellow Rod | Las Vegas | EOS 20D, EF-S 17-55 2.8 IS USM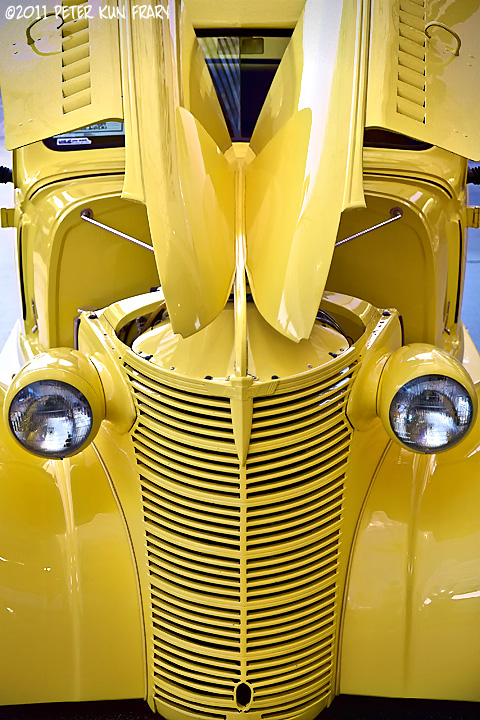 The twist zoom action is damped and does not creep, but not as smooth as an EF-S 15-85 3.5-5.6 IS USM. The single nested barrel extends considerably--nearly doubling in length--when zoomed to 55mm. The zoom ring is large and covered with a ribbed rubber surface.

Bartender on Fremont | Las Vegas, USA | EOS 40D, EF-S 17-55 2.8 IS USM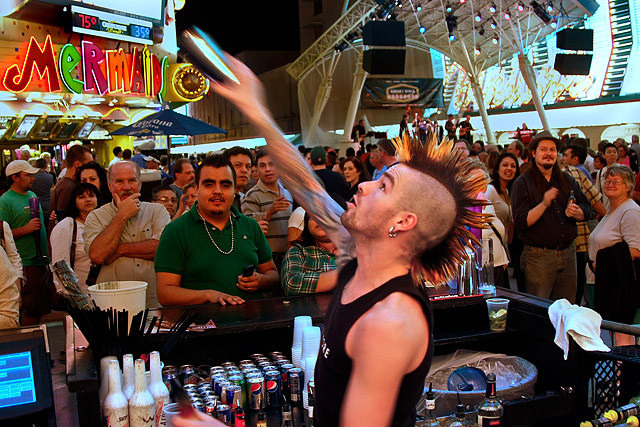 Optical Quality

This is among the best zooms I've owned: wide open as it's sharp and contrasty at all focal lengths from close focus to infinity. At F2.8 it shows some softness at high magnification around the edges, but is pin sharp in the center. The edges sharpen up nicely by closing down a stop.

Florence, Italy | EOS 40D, EF-S 17-55 2.8 IS USM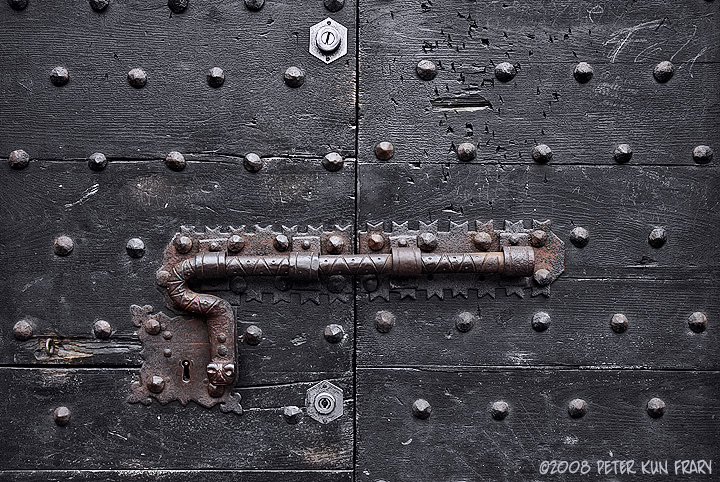 Racked out to 55mm and wide open it is an excellent portrait lens. Plus, the circular 7-blade diaphragm produces an attractive background blur (bokeh) when stopped down. Although bokeh isn't as smooth as some L series primes and zooms, the EF-S17-55 2.8 IS USM still brings home the bacon. Optical quality is comparable to my EF 24-105 4L IS USM and slightly better than my EF 17-40 4L USM. The 17-55 suffers a small loss of contrast and sharpness at macro distances (35cm). In this regard my 24-105 4L and 17-40 4L are slightly better.

The brightness, contrast and snap of this lens is apparent through the viewfinder. After all, there's plenty of exotic glass in there, e.g., three aspherical lens elements (one glass molded, two replica) and a UD (ultra-low dispersion) lens element. Flare is suppressed better than many consumer zooms, e.g., whips the EF 28-135 3.5-5.6 IS USM silly in this regard. However, flare is not as well controlled as the EF 17-40 4L USM or EF 24-105 4L IS USM. Hawaiian sunsets result in a little more ghosting and flare than my L zooms and even the EF-S 15-85 3.5-5.6 IS USM.

EF 85 1.8 USM | Canon EOS 7D & EF-s 17-55 2.8 IS USM, F11, ISO 400, foil & white reflectors, RC-1 & Manfrotto 190 tripod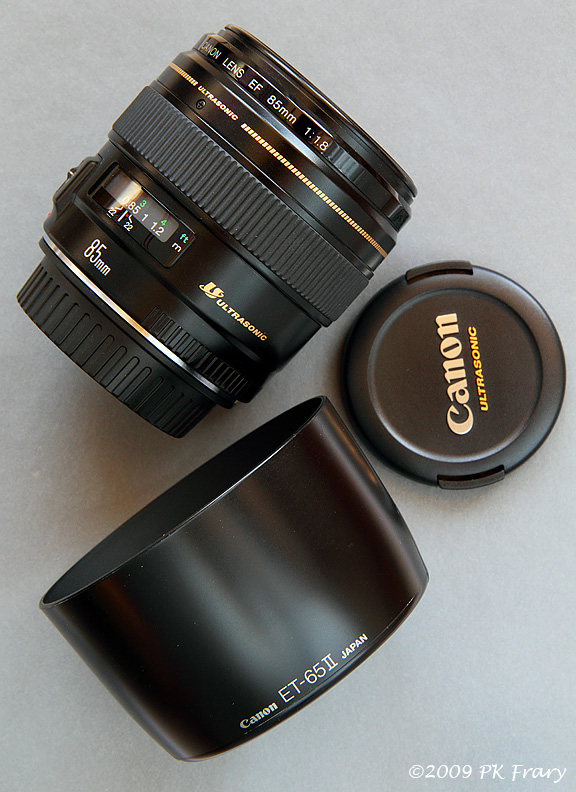 The short end, like all wide zooms, suffers from a bit of barrel distortion. The long end has slight pincushion distortion. With that said, distortion is less pronounced than my EF 24-105 4L IS USM or EF-S 15-85 3.5-5.6 IS USM. I don't notice distortion unless I look really hard.

Flare suppression whips the EF 28-135 3.5-5.6 IS USM but is not as effective as the EF 24-105 4L IS USM or EF-S 15-85 3.5-5.6 IS USM. Blazing Hawaiian sunsets will result in some ghosting and flare, but otherwise you probably won't notice flare artifacts.

Like all wide zooms, the EF-S17-55 2.8 IS USM reveals a small amount of light fall-off at the wide end when shot wide open. In typical night scenes and portraits, I don't notice light fall-off since edges are naturally dark or de-emphasized. Stop down a little and light fall-off is gone.

Nice Knocker | Firenza, Italia | EOS 40D, EF-S 17-55 2.8 IS USM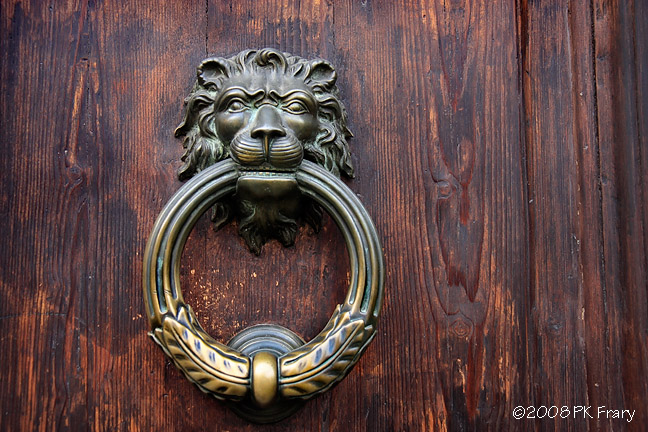 Image Stabilization

Tiny gyro sensors coupled to a CPU detect the degree and direction of camera shake and counteract this vibration by moving a compensating optical group. Subsequently, I almost always get a sharp picture, even three stops below my normal hand held shutter speed. If I brace myself or shoot a volley of shots I can get away with another stop.

Here's what Papa Canon says about IS in the 17-55:

...equipped with such features as the company's high-performance Image Stabilizer (IS), which provides the equivalent effect of a shutter speed three stops faster, and full-time manual focus, Canon's EF-S17-55mm f/2.8 IS USM lens dramatically expands photography opportunities for professional and advanced amateur users.

Church of Our Lady | Brugge, Belgium | EOS 40D, EF-S 17-55 2.8 IS USM
Image Stabilization does nothing for subject movement and will not replace a large aperture prime for sports shooters. However, IS is a Godsend for general photography and worth its weight in gold.

Rape of the Sabine Women | Firenza, Italia | EOS 40D, EF-S 17-55 2.8 IS USM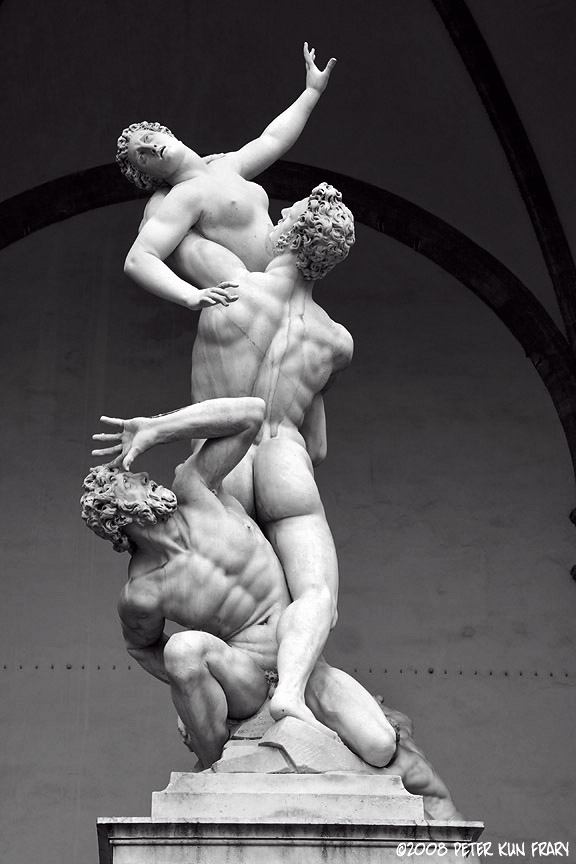 Popup Flash Blocked?

I was surprised to find the popup flash of my 7D usable with this lens. I assumed such a bulky lens would completely block the popup but such is not the case. At 17mm from 2 meters out there is no shadow from the lens. At closer distances there is a small shadow at the bottom of the frame. For daylight fill, it is normally unnoticeable.

Dust Vac?

The vents behind the front element retaining ring suck in dust during zoom and focus operations. However, dust problems mainly come from lenses lacking UV filters. The filter prevents most dust from being draw in. I've always used a UV filter for protection and my EF-S 17-55 2.8 IS USM is clean after many years of use in deserts, streets, beaches and smoky bars.

If you went without a filter and find a barrel full of lint, you may find these dust images and fix enlightening.

Florence, Italy | EOS 40D, EF-S 17-55 2.8 IS USM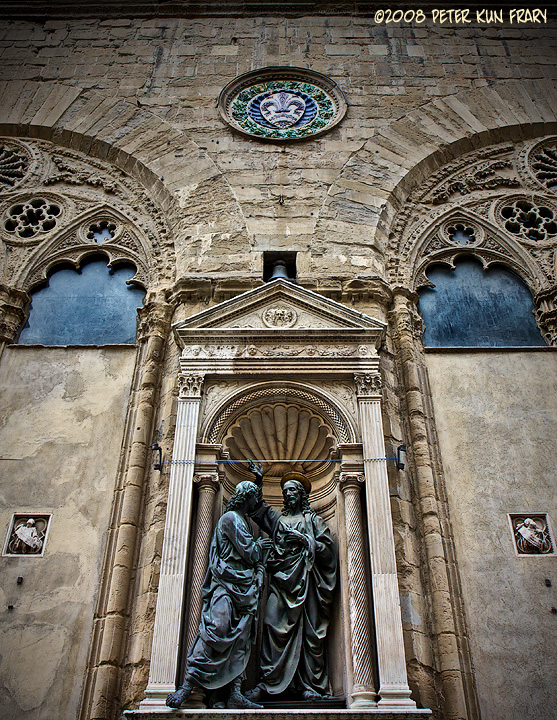 Last Blurb

This is the big daddy Royale of normal APS-C zooms: well made, sharp and fast AF. I love the range, aperture, AF speed and sharpness of this lens. The combination of 3-stop IS and fast F2.8 aperture make it ideal for available light shooting on city streets and in building interiors. I feel confident to shoot wide open in any situation and bring back sharp images. I bought this lens in 2006 and humped it from Vegas to Venice without a whimper or glitch. As of 2014, that's 8 years of clicks!

Finally, please help support this website by purchasing this lens at Amazon.
Fashion Show Mall Girls | Las Vegas, USA | EOS 40D, EF-S 17-55 2.8 IS USM
More Images taken with the EF-S 17-55 2.8 IS USM (click to enlarge)

| | | |
| --- | --- | --- |
| | | |
| | | |
| | | |
| | | |
| | | |
| | | |
| | | |
| | | |
| | | |
| | | |
| | | |
| | | |
| | | |
| | | |
| | | |
| | | |
| | | |
| | | |
| | | |
| | | |
| | | |
| | | |
| | | |
| | | |
| | | |
| | | |
| | | |
| | | |
| | | |
| | | |
Source Materials
Canon EFS Lens EF-S17-55mm F/2.8 IS USM Instruction. Tokyo: Canon, 2006. (CT1-7561-001).

Richard MacDonald | Las Vegas | EOS 40D and EF-s 17-55 2.8 IS USM (@F2.8)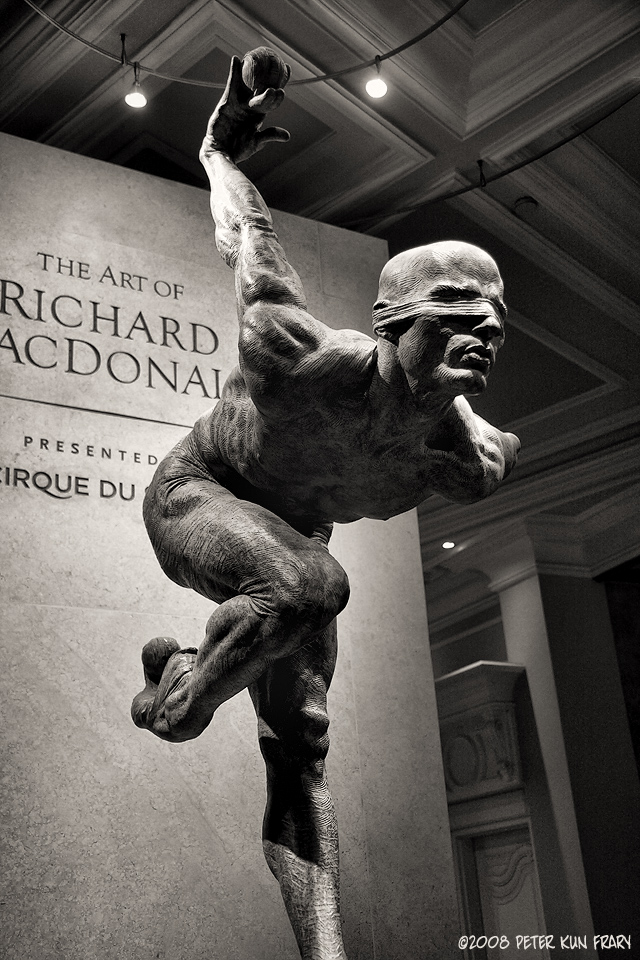 Canon EOS Equipment Resources

01/11/2007 | Revised 06/14/2017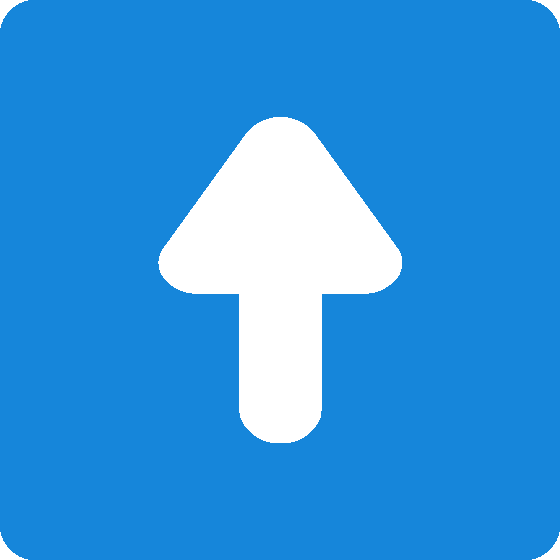 ©Copyright 2007-2017 by Peter Kun Frary | All Rights Reserved