..
Canon EF-s 10-18 4.5-5.6 STM
Wide, lightweight and Slow
Peter Kun Frary
---
•
The EF-S 10-18 4.5-5.6 IS STM is the least expensive and smallest ultra wide zoom among a small field of contenders. The EF-S mount is for APS-C (1.6X crop) cameras only, e.g., Rebel or 70D, and doesn't fit full frame models such as the 5D series or 6D. I bought this lens primarily for shooting DSLR video in tight quarters, e.g., an unmanned camera within a performing ensemble, but ended up enjoying it even more for photography. Here's my take on this lens after a couple months shooting on a Rebel SL1.

Gardeners | EOS SL1 & EF-s 10-18 4.5-5.6 IS STM, 10mm, F4.5, 1/64, ISO 400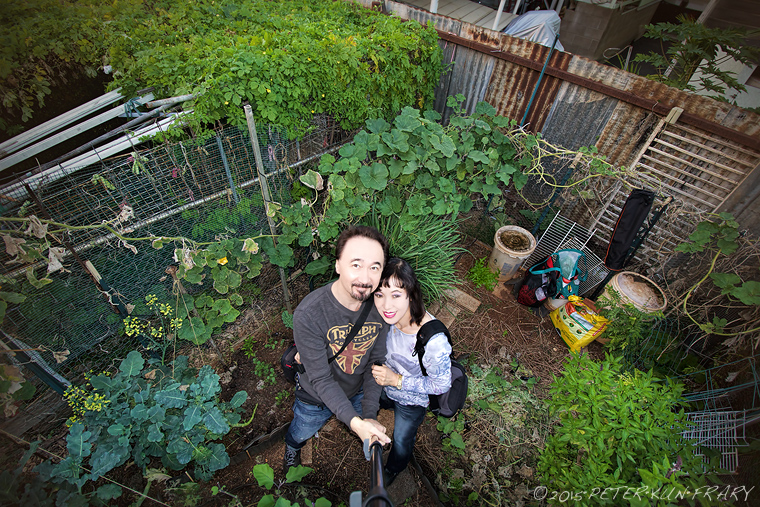 EF-s 10-18 4.5-5.6 IS STM | Image courtesy Canon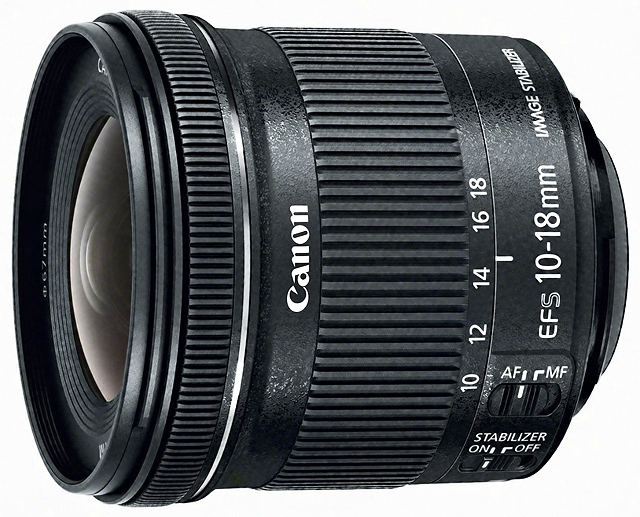 Build

Like the 18-55 STM, it's made of plastic, save for optics and electronics. However, it feels solid in hand: plastics are good quality, no play in the mount or barrel and it's nicely finished in matte black. This lens is a feather light 240g and easy to slip in a coat pocket or purse.

Samba No. 1 | Leeward Coast Guitars | In this two camera clip, the EF-s 15-85 3.5-5.6 IS USM is used on an 80D (main camera) with an EF-s 10-18 4.5-5.6 IS STM on the rear camera (70D).
Focus

Focus is internal—no front element extension or turning—and peppy enough, but noticeably slower than the EF-s 10-22 3.5-4.5 USM. However, focus is silent to onboard mics. The STM drive rendered pulls and Movie Servo silky smooth on my 70D and SL1.

The "by wire," i.e., powered manual focus is smooth, making fine adjustments and pulls easy. The MF ring is not mechanically linked and spins freely without stops. The FTM (full time manual) feature allows manual focus without flipping a switch. The gotcha is FTM only works when the camera is on with the shutter button half-pressed.

Haydn Minuet | Leeward Coast Guitars | In this two camera clip, the EF-s 10-18 4.5-5.6 IS STM is used on the rear camera (SL1).
Merry Mood | Frary Guitar Duo | In this two camera clip, the EF-s 10-18 4.5-5.6 IS STM is used on the second camera (SL1).
Zoom

The ribbed zoom ring turns silky smooth. A nested barrel extends from the main barrel slightly at 10mm and 18mm, but is fully retracted at 14mm. The 10-18 range is only 1.8X, but short ratios are the norm for ultra wide zooms.

Image Stabilization

The image stabilization (IS) feature yields two additional stops of hand holdable range at 10mm and three-stops at 18mm, but not the four-stops claimed by Canon. Somebody with a more steady hand might squeeze out four-stops. Also, IS is quiet and isn't audible on video when using built-in mics.

Dusk | EOS SL1 & EF-s 10-18 4.5-5.6 IS STM, 18mm, F5.6, 1/8, ISO1600
Image Quality

Performance wide open is sharp center frame to edges but slightly soft in corners. Stop down to F8 and corners sharpen up. Sharpness is consistent across most of the zoom range, with minor degradation towards the long end. There's slight barrel distortion at the wide end but fades as you zoom towards 18mm. Chromatic aberration (CA) is well controlled with only slight magenta fringing along high contrast edges. e.g., tree branches against a bright sky. CA is nominal at 10mm but a little more pronounced at 22mm.

Walk on Water | Ala Moana Beach Park | EOS SL1 & EF-s 10-18 4.5-5.6 IS STM, 18mm, F7.1, 1/100, ISO100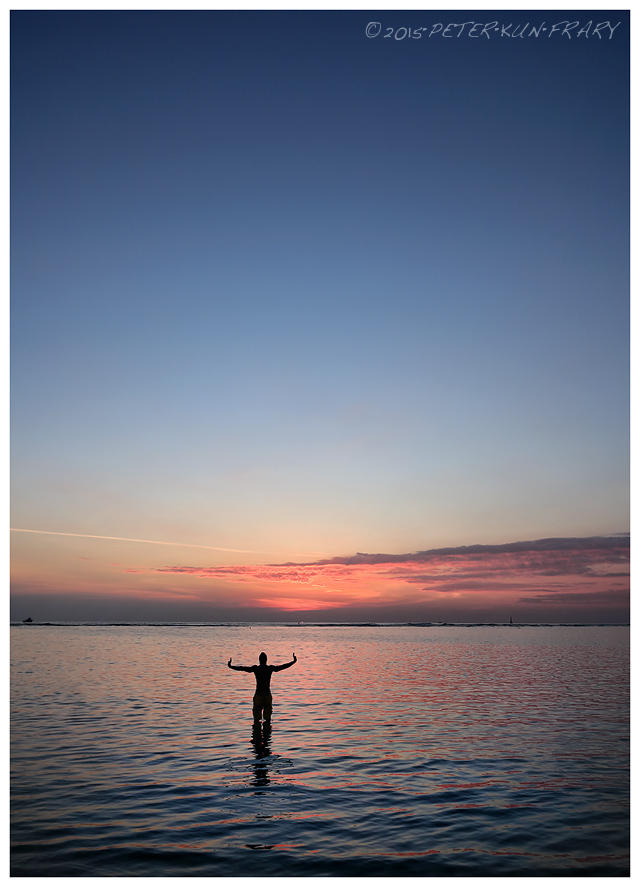 Light falloff (corner darkening) is pronounced: heavy vignetting at 10mm from F4.5 until F11. It lessens as you zoom toward 18mm and/or stop down, but is always there. If you shoot JPEGs, Peripheral Illumination Correction can automatically reduce light falloff. RAW shooters may correct with a few clicks in Lightroom or DPP.

Photos of sunsets, spotlights and other bright light sources exhibit little or no flare. However, plenty of flare can be invoked with the afternoon sun in the frame when stopped down to F11 or 16. Flare at such tiny F-stops are a non-issue for me since I rarely venture beyond F8 due to increased diffraction (detail loss). Hood use is recommended to help protect the front element from stray light.

Twilight Lagoon | Ala Moana Beach Park | EOS SL1 & EF-s 10-18 4.5-5.6 IS STM, 18mm, F5.6, 1/32, ISO640
EW-73C Hood

The EW-73C is a twist-on petal hood designed for the EF-S 10-18mm 4.5-5.6 IS STM. It offers protection from glare, raindrops, doggie noses and stray baby fingers. Fit and finish are excellent: quality plastics, fingerprint resistant matte black exterior and flat black interior to nix reflections. The finish is matched to the 10-18 lens. Although it can be reverse mounted for more compact storage, I don't bother as the lens and hood are so small they fit ready-to-shoot in most bags.

Tae Kwon Do | EOS SL1 & EF-s 10-18 4.5-5.6 IS STM, 10mm, F5.6, ISO100
EW indicates it's designed for wide angle lenses, 73 is the diameter of the lens barrel in millimeters and C distinguishes it from the longer EW-73B for the 17-85mm f/4-5.6 IS lens. I also own the EW-73B and it has rayon interior flocking instead of black paint, is Japan made and costs less to boot! If you happen to own two or more lenses using the EW-73 series and want to share the hood, buy the EW-73C. It's a little shorter than the EW-73B but fits fine on the 17-85 IS USM and 18-135 STM. On the other hand, the longer EW-73B fits the 10-18 STM but the petal cutout vignettes at 10 and 11mm. If you're a do-it-yourself type and already own an EW-73B, you can dremo off a wee bit of the EW73B to nix vignetting on the 10-18 STM.

The EW-73C works great but is pricey when you consider that Canon omitted flocking and moved production offshore (China) to reduce costs. Nevertheless, it's an essential accessory and a worthwhile buy.

Canon ES-52 Lens Hood (image courtesy Canon)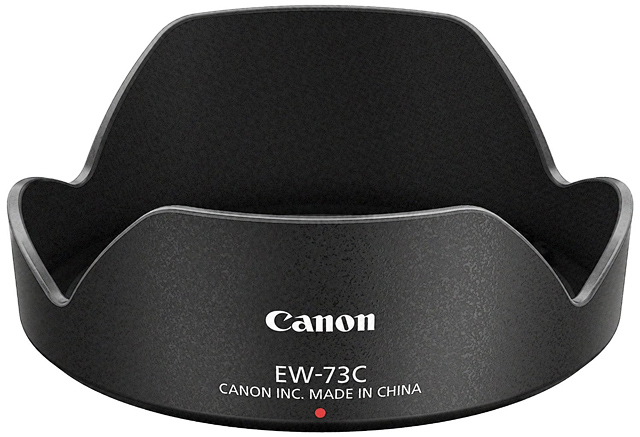 Last Blurb

The dilemma is choosing between this lens and the EF-S 10-22mm f/3.5-4.5 USM. Image quality is a toss-up so other features may be the deciding factor. The USM lens has 4mm of additional reach, 1-stop faster aperture at 10mm, better build, distance scale, direct MF linkage, sturdy metal mount and blazing fast AF. On the other hand, the STM lens is $300 less, smaller and lighter, includes IS and the STM drive is silent when shooting video with Movie Servo on the 70D, 80D, 7D MKII, T5i, T6i and SL1.

Canon cut corners to swing this price point but did so with few compromises in optical quality or function. The result is a marvelous lightweight zoom for landscapes and tight quarters, i.e., any situation a sweeping view is desired. I loved using it to shoot video and stills of music ensembles and was able to get ample coverage despite having my back against the wall. The EF-S 10-18mm f/4.5-5.6 IS STM is a wonderful performer and value.

Finally, please help support this website by purchasing this lens at Amazon.
Tokachiya | EOS SL1 & EF-s 10-18 4.5-5.6 IS STM, 10mm, F4.5, 1/64, ISO400
Specs

Focal Length: 10-18mm

Aperture: F4.5 to 25

Lens Construction: 14 elements in 10 groups

Min. Focusing Distance: 0.72 ft. | 0.22m

Angle of View (Diagonal): 107°30' - 74°20' (APS-C)

No. of Diaphragm Blades: 7

Filter Size: 67mm

Diameter & Length: 2.9 x 2.8 in., 8.5 oz. | 74.6 x 72.0mm

Weight: 8.5oz | 240g

Included Accessories: lens caps

Cost: $299.99 (MAP)

01/21/2015 | Revised 01/27/2017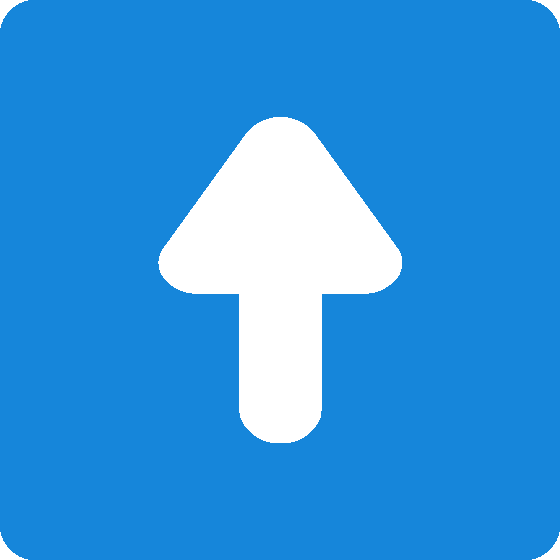 ©Copyright 2016-17 by Peter Kun Frary | All Rights Reserved