.
Canon EF 70-200 4L USM
L Optic on a Budget
Peter Kun Frary
.
---
.
If you like sharp, contrasty images, save your money for the best lenses you can muster. Ultimately, the caliber of your images is mainly determined by the quality of the lens and your technique, not the camera. Quality lenses are an investment for the future as they will work on all EOS cameras from film to the latest digital.

Aloha Tower Reflections | EOS 5D & EF 70-200 4L USM
The medium telezoom—70-210, 70-200 or 80-200—has been the mainstay of many amateurs and pros alike since the 1980s. These focal lengths are perfect for portraits, landscape, outdoor sports and isolating details, yet are hand holdable.

Construction & Feel

The optical design and antireflection coatings of today's zooms have evolved to the point that the best examples rival prime lenses. Unfortunately, most consumer zooms are cheap plastic affairs with silk-screened symbols and coarse zoom and focus action. Canon's EF 70-200 4L USM bucks this trend and combines modern optical design and AF with the durable construction and silky zoom and focus action of yesteryear. At $650, it is more affordable than the EF70-200 4L IS USM ($1200) or EF70-200 2.8L IS USM MKII ($2500), but offers similar build and optical quality.

The hybrid metal (barrel) and plastic (trim) construction and quality components make it tough as nails, but it's a reasonable 705g (24 oz.). Both the zoom and focus mechanisms are internal. Fortunately, internal mechanisms are less prone to sucking in dust than front extension designs.

Waianae God Beams | EOS 5D & EF 70-200 4L USM
The EF 70-200 4L USM is a classic two-touch design: focus ring near the end of the barrel and zoom ring near the mount. The large twist action zoom ring is smooth and fast. Unlike most AF lenses, the manual focus ring is large, ribbed, rubberized and nearly as smooth turning as the manual lenses of yesteryear. The focusing ring feels too far out on the barrel. At least I never confuse it with the zoom ring! Once you get used to the design, handling is nimble and decisive.

The off-white finish is elegant and the overall appearance similar to the EF 70-200 2.8L IS USM and other "great white L glass." The off-white finish screams "L glass" and draws attention to you. However, this lens stays cool even in the blazing Hawaiian sun. Unfortunately, my black EOS bodies don't.

Canon EF 70-200 4L USM | EOS 5D, EF 24-105 4L IS USM & Reflectors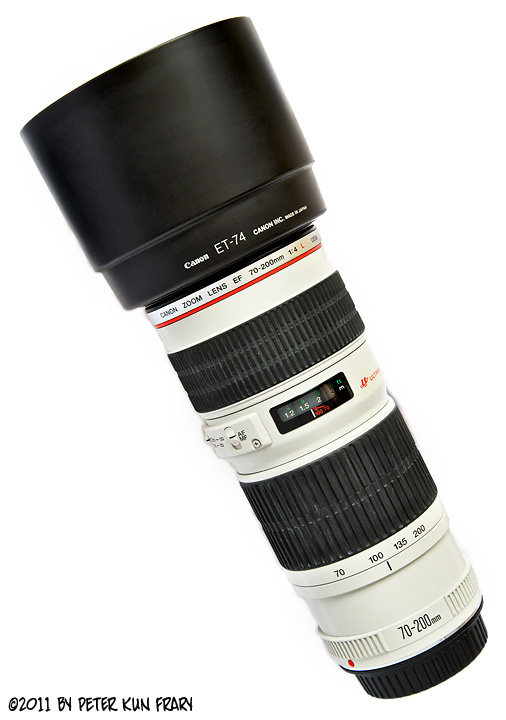 Auto Focus

This lens sports a ring-type USM (Ultrasonic Motor) that drives a lens group between the front element and diaphragm. The combination of internal focus and ring-type USM yield very fast AF. The front element does not rotate nor does the barrel expand or contract during focus or zoom operations. Surprisingly, the AF of my EF70-210 3.5-4.5 USM is even faster, perhaps due to the small elements in the rear focus group.

The motor of the EF70-200 4L USM is silent during AF, but I hear a pianissimo "rolling" sound as the elements move along the gear train. It has FTM, allowing you to manually focus without switching out of AF mode. If you prefocus manually, the distance window in meters and feet is extremely useful. It also sports an AF limiter. However, AF is so accurate I found little use for the limiter.
The zoom's AF worked flawlessly on my EOS 3, Elan 7NE, A2, 10D, 20D, 40D and 5D MKII bodies. That is, AF is fast, accurate and decisive. Moreover, the maximum aperture of F4 is sufficient to fully enable the center AF cross sensor on late model EOS bodies.

The filter size is 67 mm, making filters expensive and difficult to share with many Canon lenses. The only other Canon lens with this size is the EF 24-85 3.5-4.5 USM and EF-s 15-85 3.5-5.6 IS USM. However, the complementary zoom ranges and shared filer size makes these two zooms an excellent travel kit.

Chairs | Waikiki | Canon EOS 3, EF70-200 4L USM and Provia 100F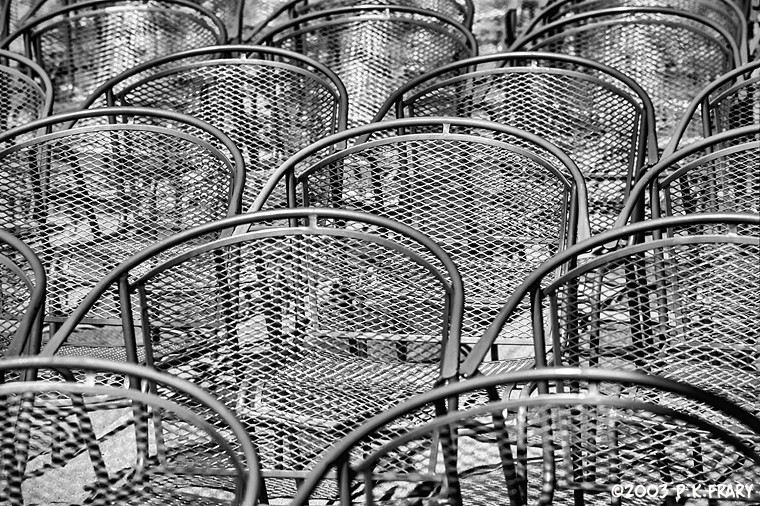 Optical Performance

Paired with my EOS 3 and EOS 5D, the EF70-200 4L USM proved to be an extremely sharp and contrasty zoom, a level above my EF70-210 3.5-4.5 USM. Images were sharp edge to edge, with only slight softening in corners at F4. The constant F4 aperture is a big plus for hand meter users and those that prefer manual or aperture priority exposure modes.

An advantage of this lens over consumer zooms is it exhibits little degradation of image quality at large apertures or the long end. In other words, it's sharp wide open and across the zoom range. Stopped down to F8 or F11, chromes from this lens and the EF70-210 3.5-4.5 USM are indistinguishable. Nevertheless, top image quality wide open is essential if you frequently hand hold your camera.

Aloha Tower Reflections 2 | EOS 5D & EF 70-200 4L USM
The contrast and snap of this lens is apparent even through the viewfinder. After all, there's some exotic glass in there, 1 Fluorite and 2 UD elements. The long end is not as sharp as my EF200 2.8L USM prime, but it's very close in the center. Image magnification is a little less than my EF 200 2.8L USM, leading me to suspect the zoom is just shy of 200mm. There is little distortion--barrel distortion is apparent at close focus--but flare is extremely well controlled. With full frame coverage (35mm), some flare and ghosting may occur with bright sunsets. Smaller formats, e.g., APS and digital, exhibit little or no flare or ghosting. Nevertheless, this lens is more flare resistant than any telezoom I have owned--almost as good as a Canon prime. You should use the huge lens shade (ET-74) to help keep flare in check.

Sand Island Cranes | EOS 20D, EF 70-200 4L USM | Although this lens has good flare resistance, a brilliant sunset may create ghosting problems. You can see ghosting just to the left of center. With an EF 75-300 IS USM, the ghosting would be much worse (mirror image of the sun). My EF 300 4L USM exhibits little or no ghosting in the same situation.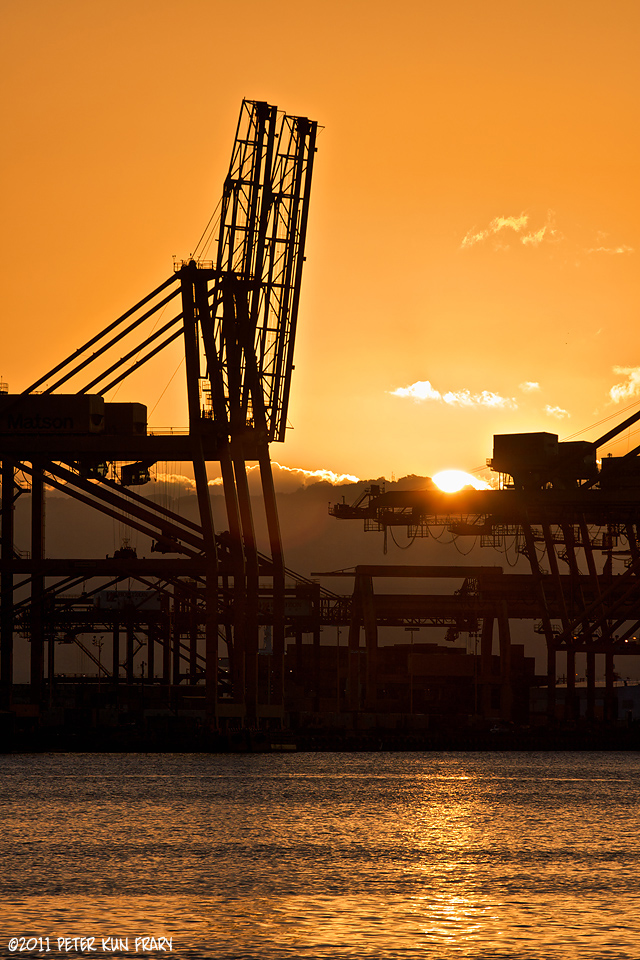 Extenders

Most L series telephotos and telezooms are designed to use L series Extenders. The rear of these lenses have a space for the protruding element of the Extender (that's why Canon didn't use the faster rear element focus group). With 16 elements in the barrel of the EF 70-200 4L USM, I'm not excited about adding 5 to 7 more elements with an Extender. Light must really struggle to make it through all that glass (21 or more elements). Extenders are best used with prime lenses as there is less degradation of image quality. Nevertheless, the Canon Extender 1.4x allows a reasonably well performing 98-280 F5.6 zoom. Unfortunately, bright light sources—e.g., sunsets, street lights, car headlights—will generate more flare with an Extender.
Ala Moana Beach Park, Honolulu HI | EOS 3, EF 70-200 4L USM & Elite Chrome 100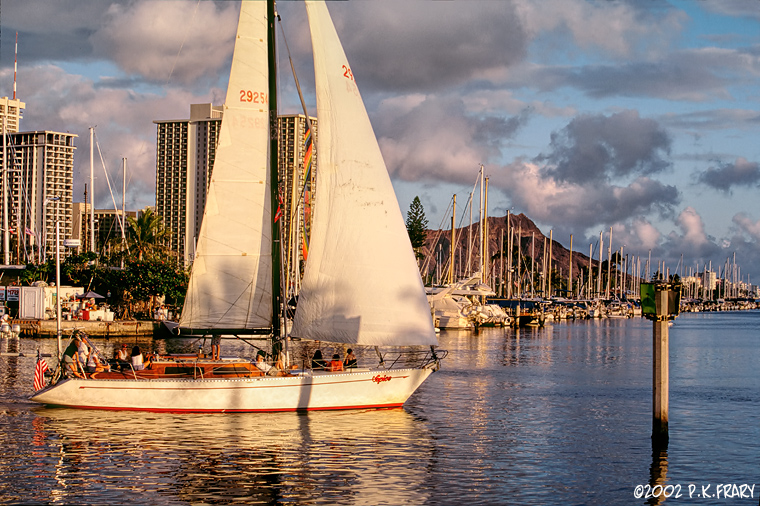 Tripod Collar

The EF 70-200 4L USM has the option of using a tripod collar, i.e., Tripod Mount Ring A (white, #2889A002). Although this lens is so light a tripod collar is unnecessary, a collar makes tripod use easier, especially verticals. If you want a tripod collar, you may save a few bucks by purchasing the Tripod Mount Ring A (black, #2888A002). It's exactly the same as Tripod Collar "A" (white) except for the black finish. The tripod collars are interchangeable between the EF70-200 4L USM, EF80-200 2.8L, EF200 2.8L USM, EF300 4L USM and EF400 5.6L USM. The Tripod Mount Ring B will not fit.

There is one potential gotcha with the Elan 7E/BP-300 and the EF 70-200 4L USM with Tripod Mount Ring A: the BP-300 will not clear some tripod heads. For example, the protruding front grip of the BP-300 hits the mounting plate of my Bogan 3265 Ball Head. I can mount the rig backwards and it works fine, but it's awkward with the release lever in the front. Most screw-in tripod heads are fine as the mount rides a little lower. Quick-release heads are prone to this problem because the QR plate elevates the camera slightly. With larger cameras such as the EOS 3, 20D or 5D there is more clearance and, hence, no problem.

Honolulu's Chinatown | EOS 5D, EF 70-200 4L USM | Another rooftop detail.
Cons

Compared to the EF 70-210 3.5-4.5 USM or EF 100-300 4.5-5.6 USM, this lens is big, white and draws attention to itself. Of course, that's the price you pay for constant aperture and internal zoom and focus. Plus, the EF 70-200 4L USM is nearly as long as the EF 70-200 2.8L USM and, thus, requires the same amount of space in a camera bag. It's heavier than most consumer zooms so it balances better on heavier bodies, e.g., EOS 3, 5D or 7D. You may find it front heavy on a Rebel Ti or XS. Without the BG-E2 (battery grip) I find it front heavy on a 40D.

Final Blurb

If you mainly use the long end of a telezoom, buy the EF200 2.8L USM or EF300 4L IS USM instead. However, if you need a telezoom, this one is among the best. The EF 70-200 4L USM has similar build and optical quality as the famous EF 70-200 2.8L USM, but at half the price, weight and shy a F stop. Most pros buy the EF 70-200 2.8L IS USM as the extra stop may mean the difference between getting an important shot (paycheck) or not. For discriminating hikers, travelers and amateurs this zoom deliverers quality without breaking their shoulder and bank.

Finally, please help support this website by purchasing this lens at Amazon.

Japanese Hula | EOS 10D, EF 70-200 4L USM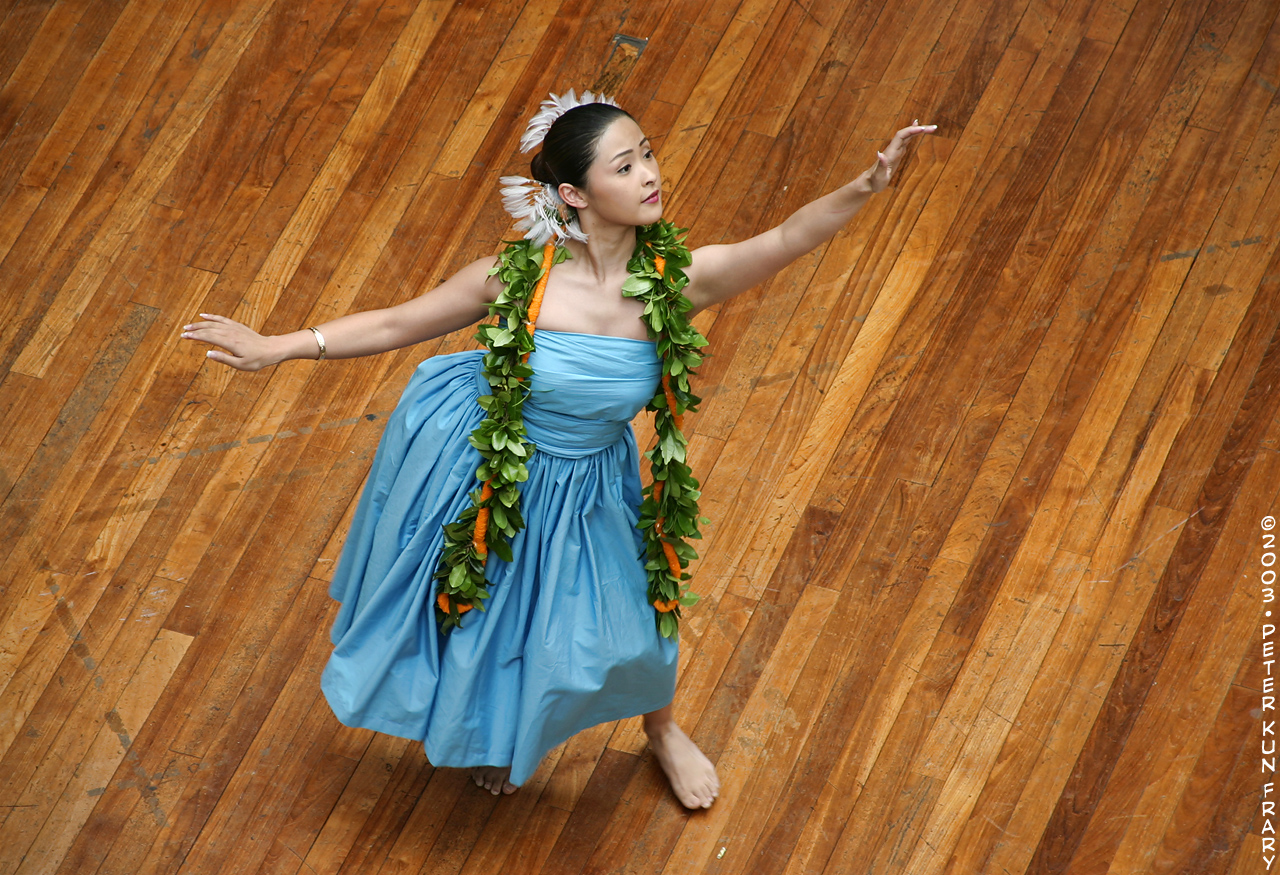 Specs

Focal Length: 70-200 mm

Aperture: F4 to 32

Lens Construction: 16 elements in 13 groups with 1 Fluorite and 2 UD elements

Min. Focusing Distance: 1.2 m/3.9 ft.

Diameter & Length: 76 x 172 mm/3 x 6.7 inches

Weight: 705 g/24 oz.

Included Accessories: ET-74 Lens Hood and Storage Bag

Cost: $650

More Images taken with the EF 70-200 4L USM (click to enlarge)
| | | |
| --- | --- | --- |
| | | |
| | | |
| | | |
| | | |
| | | |
6/01/2002 | Updated 06/16/2017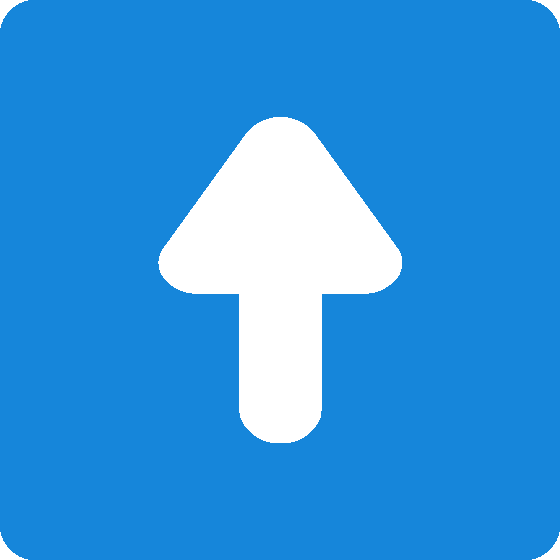 ©Copyright 2002-2017 by Peter Kun Frary | All Rights Reserved