.
Canon EF 24-70 4L IS USM
User Review
Peter Kun Frary
.
---
•
The EF 24-70 4L IS USM, introduced late 2012, features 4-stop Hybrid Image Stabilization (IS), constant F4 aperture, .7x macro mode, beefy construction and weather seals. The debut MAP of $1499.00 was silly expensive and I held off on purchasing one. Canon dropped the MAP to $999.00 during Summer 2014 and I added a new EF 24-70 4L IS USM to my bag. Here's my take on this able optic.

Guitarist Grace Frary • EOS 6D & EF 24-70 4L IS USM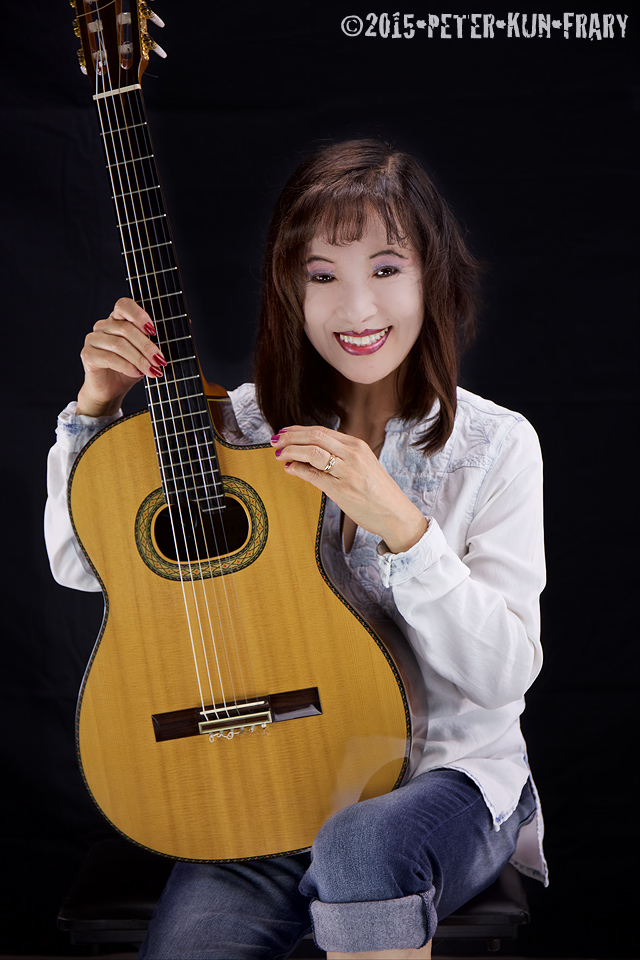 Construction & Feel

Construction is excellent: quality plastics, weather seals, attractive semi-matte finish and sturdy metal mount. Electrical switches are beefy and nearly impossible to inadvertently change. The ribbed rubber zoom and focus rings are large and grippy, and positioned similarly to my 17- 40L and 70-200 4L IS, making switching between lenses seamless. Appearance is similar to the 24-105L but a notch shorter and lighter. It feels solid and balanced on a 6D.

EF 24-70 4L IS USM • Sharp, steady and sturdy (image courtesy Canon)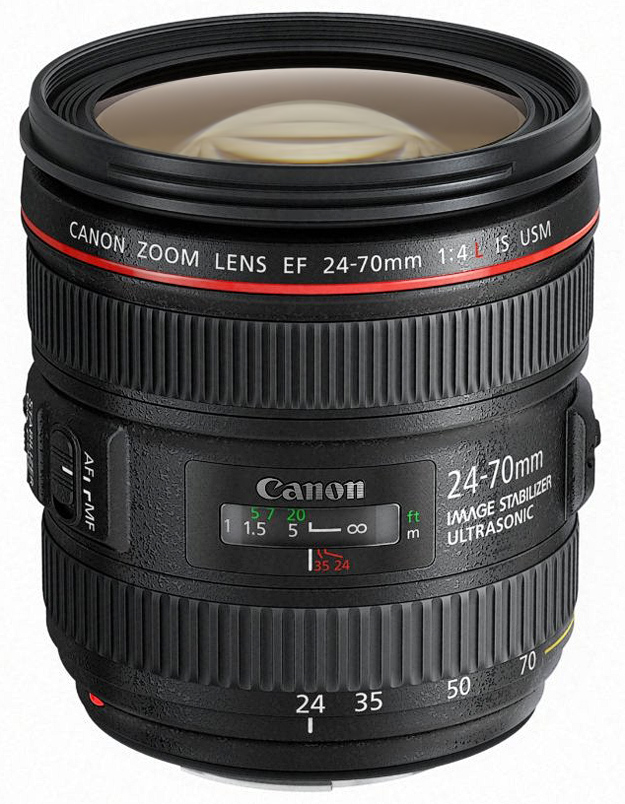 Focus is internal so the barrel doesn't rotate or change in length. AF is blazing fast and accurate on my 6D. Manual focus is always active (no switch flip required), smooth and finely pitched, allowing precise adjustments.

Sunset Trees • Ala Moana • EOS 6D & EF 24-70 4L IS USM
Zooming is accomplished via a single nested barrel. Zoom action is smooth but slightly stiff between 50 and 70. There is no zoom drift when pointed up or down so the barrel lock at 24mm seems superfluous. However, zooms tend to loosen with use so maybe I'll appreciate the lock a few years from now.

Tree of Life • Ala Moana • EOS 6D & EF 24-70 4L IS USM
Optical Performance

This lens required +5 Microadjustment (MA) at 24mm for optimal sharpness (front focusing) on my 6D. The long end was tack sharp at default (0). Once dialed in, images were satisfyingly sharp, contrasty and vivid edge to edge at F4. In contrast, my 24-105 4L is sharp at defaults (0) and required no MA on my 6D or 5D MKII. Center frame sharpness is similar to my 24-105 4L but corners are vastly improved. The best overall performance is at 24mm and 70mm, with slight deterioration at 50mm.

Fort Street at Twilight • Honolulu HI • EOS 6D & EF 24-70 4L IS USM
There is a small amount of light falloff or corner darkening at 24mm and F4 but noticeably better in this regard than the 24-105 4L. Light falloff at 70mm is about the same as the 24-105L. Stopping down to F5.6 renders light falloff inconsequential. Honestly I don't notice light falloff unless testing on an evenly lit white wall.

Magic Island Sunset • Honolulu HI • EOS 6D & EF 24-70 4L IS USM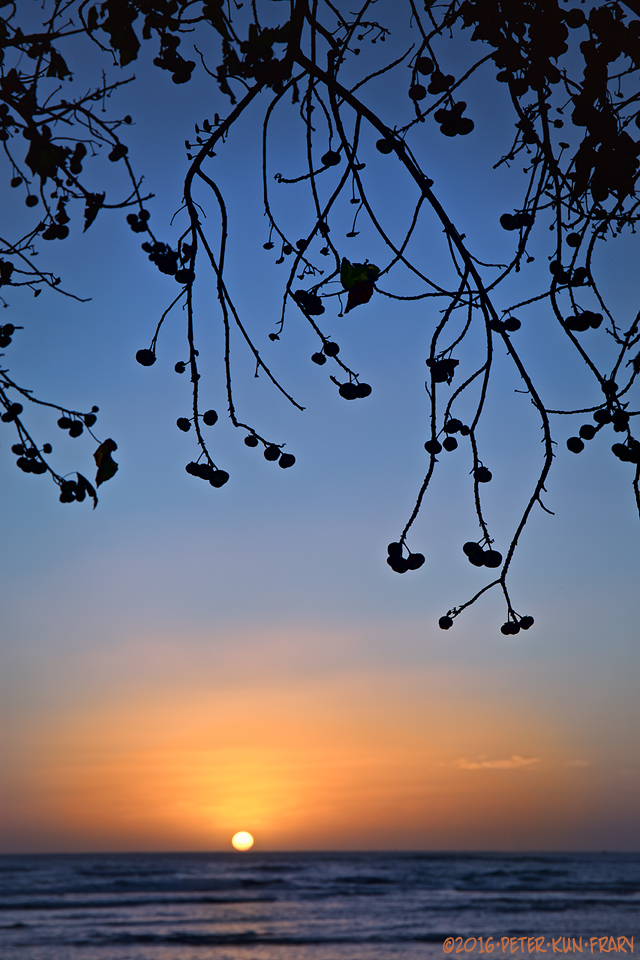 The most noticeable improvement over the 24-105L is the near absence of barrel distortion at 24mm. Ocean horizons look straight! Chromatic Aberration (CA) is also reduced: a tiny amount of color fringing is visible pixel peeking corners at 24mm, but almost nothing at longer settings. It certainly bests my 24-105 4L in this regard.

Capital Place & Half Moon • Honolulu HI • EOS 6D & EF 24-70 4L IS USM
Sunsets, spotlights and other bright light sources exhibit little to no flare. Flare resistant is markedly better than the 24-105L, making blazing Hawaiian sunsets a snap! However, use of the included EW-82L hood is recommended for protection from stray light, raindrops and doggie noses. This hood sports rayon flocking, matte black paint matched to the lens and petal cutouts. It has a lock release button but is a little loose and will come off with a light whack or firm rub on a beer gut. I prefer the snug fit of the EW-82H, the OEM hood for the 24-105 4L IS USM. And, yes, the EW-82H fits the 24-70 4L perfectly albeit slightly deeper. There is absolutely no vignette so it's staying on my 24-70 4L.

Wonder of Childhood • Honolulu HI • EOS 6D & EF 24-70 4L IS USM • Flare resistance is excellent and distortion is well corrected.
Macro results are impressive at .7x, making it ideal for flowers, small products and artwork. Press and hold the macro switch while turning the zoom past 70mm to engage macro range. Combined with the highly effective Hybrid Image Stabilization I got sharp free standing flower shots I normally need a tripod for. A tripod is still preferred for such shots but being able to get a sharp impromptu macro is a wonderful feature for travelers.

EF-s 24 2.8 STM & Rebel SL1 • Macro mode at 70mm and F16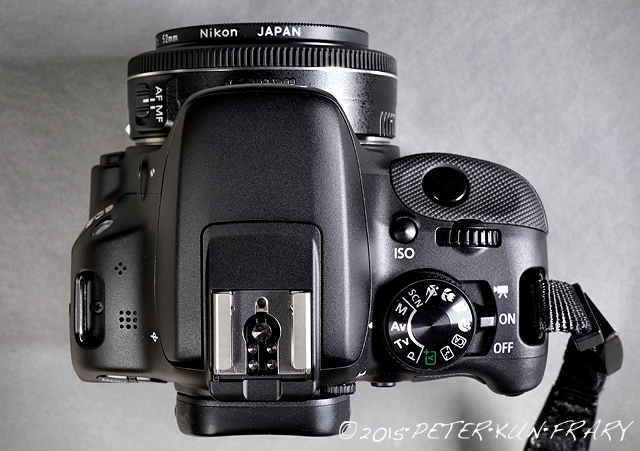 Image Stabilization

Image stabilization (IS) gave me three additional stops of hand holdable range at 70mm and sometimes four on a good day (no coffee and 8 hours sleep!). The big deal is Hybrid Image Stabilization adjusting for both up and down and swaying forward and back movements. The swaying back and forth movement often foiled my attempts at shooting museum artwork where tripods weren't allowed, so a welcome feature along with auto panning mode..

Canal • Honolulu HI • EOS 6D & EF 24-70 4L IS USM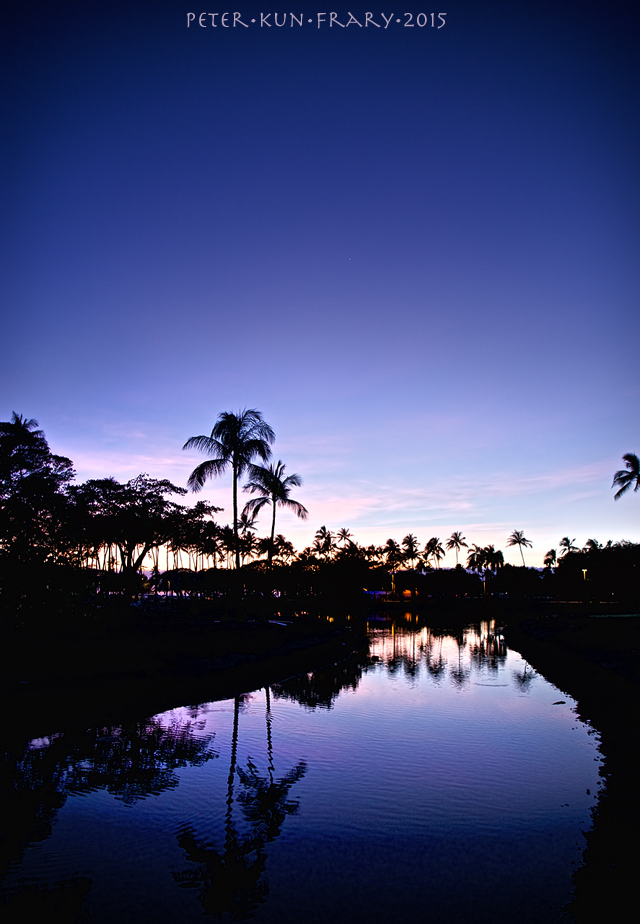 Last Blurb

Yes, the modest zoom range (2.9x) may leave some wanting and, for those folks, Canon has an excellent 24-105 4L zoom. The game changer--and the reason to pick this lens over the 24-105L--is the macro and Hybrid IS features. It's two lenses in one--normal zoom and macro--and allows me to leave my macro lens at home traveling light. This lens hits the sweet spot with top optical quality, ideal zoom range, nimble handling and reasonable size and weight.

Finally, please help support this website by purchasing this lens at Amazon.
Group Smooch • Honolulu HI • EOS 6D & EF 24-70 4L IS USM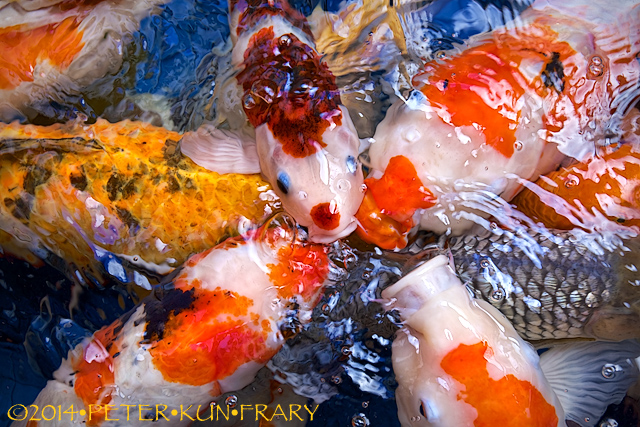 Specs

Focal Length: 24-70mm

Aperture: F4 to 22

Lens Construction: 15 elements in 12 groups

Min. Focusing Distance: 0.38m | macro : 0.2m

Maximum Magnification: 0.21x | macro : 0.7x

Angle of View (Diagonal): 84° @ 24mm | 34° @ 70mm

No. of Diaphragm Blades: 9

Diameter & Length: 83.4 x 93mm

Weight: 600g

Filter Size: 77mm

Included Accessories: lens caps, Lens Case LP1219 & Lens Hood EW-83L

Cost: $999

Outrigger Lesson • EOS 6D & EF 24-70 4L IS USM
More Images taken with the EF 24-70 4L IS USM
09/30/2014 | Revised 03/05/2017

©Copyright 2014-17 by Peter Kun Frary | All Rights Reserved