.

Tone Woods

.

The woods used in the construction of musical instruments are called tone woods. The guitar's value and sonic qualities are strongly influenced by the manufacturer's choice of tone woods.

Soundboard

The soundboard is the most vital component because it vibrates to create the guitar's sonic personality. Soundboards in better guitars are made from solid spruce or cedar, soft woods that vibrate easily. As a solid wood soundboard is played over months, even years, it grows in beauty of tone and volume, i.e., it breaks in.

Hirade TH-8SS | Classical guitar with spruce top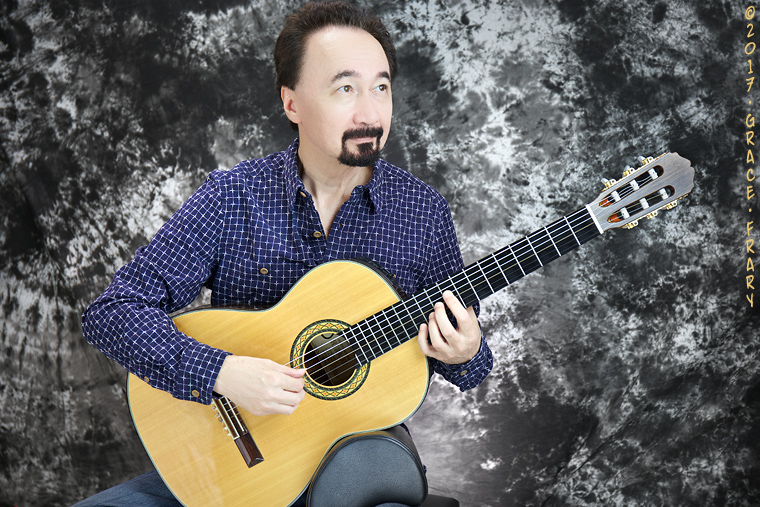 Veneer or ply soundboards are less resonate than solid wood and don't break in. However, veneer is considerably stronger than solid wood and thus makes a good choice for children and rough and tumble tours. Moreover, a quality veneer top will sound better than a poorly made solid top. Nevertheless, design and construction quality being equal, solid wood sounds better than veneer.

Cedar Top | Takamine C132S | Cedar has straight grain and brown to amber color.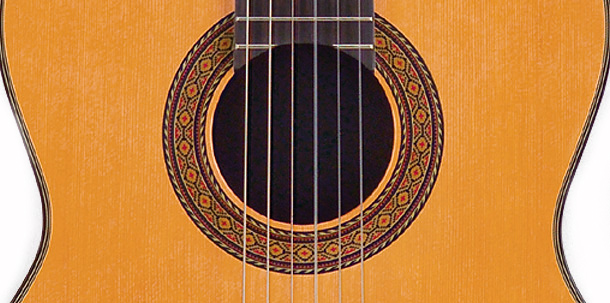 Spruce Top | Takamine TC135SC | Spruce has straight grain and a light yellow to amber color.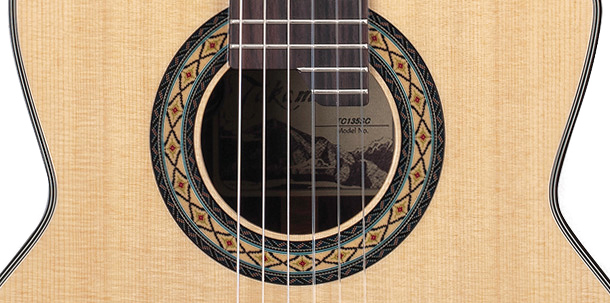 Back & Sides

The back and sides, constructed of hardwood, provide structural support for the soundboard and neck. They also form a resonating chamber; that is, they amplify the sounds from the strings and soundboard. Indian Rosewood is traditionally used for back and sides but varieties of Brazilian Rosewood may be found on ultra expensive models and custom designs. Rosewoods are preferred by many players because of their strength (high density), beauty and tendency towards a darker tone.

Softer hardwoods such as nato, mahogany, walnut, koa and maple are excellent and are often less expensive than rosewood. These hardwoods are common on steel-string guitars whereas classical designs are predominately rosewood.

Hardwood veneers are frequently used in the back and sides of guitars costing under $1000. Hardwood veneers have 90% of the musical properties of solid hardwood but are stronger, less prone to cracking and less expensive. Nevertheless, if you can afford it, a well designed and constructed solid wood guitar offers the ultimate tone.

Takamine G124 | Nato Back & Sides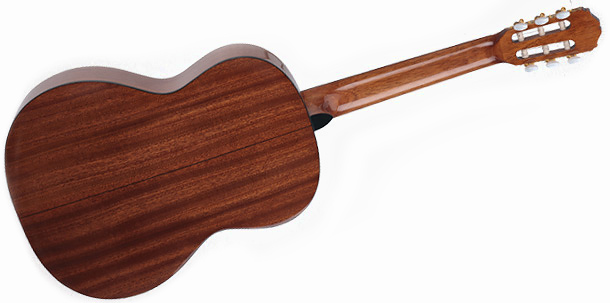 Takamine EG128SC | Indian Rosewood Back & Sides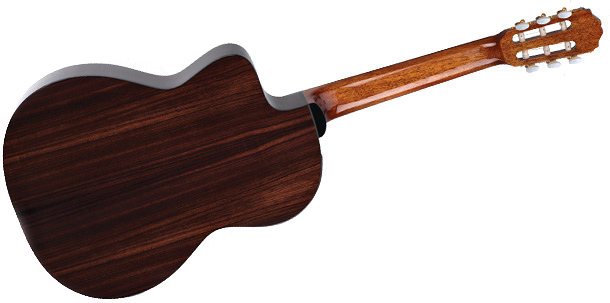 Hirade H25 | Brazilian Rosewood Back & Sides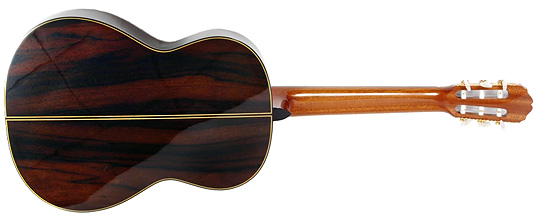 Necks & Fingerboards

Necks are primarily constructed of mahogany, but other hardwoods such as maple or nato may be used. Fingerboards take a beating and thus are made from dense hardwoods such as ebony or rosewood. Ebony is preferred due to its durability and stiffness but is normally found in guitars costing over $1000, e.g., Hirade H5 and Alhambra 5P. Rosewood fingerboards are the norm in mid-priced instruments, e.g., Takamine G128S and C132S, but are excellent albeit a level below ebony in terms of durability. Nato, veneer or soft woods are used in fingerboards of budget guitars.
Hirade TH8SS | Ebony fingerboard
Takamine C132S

| Rosewood fingerboard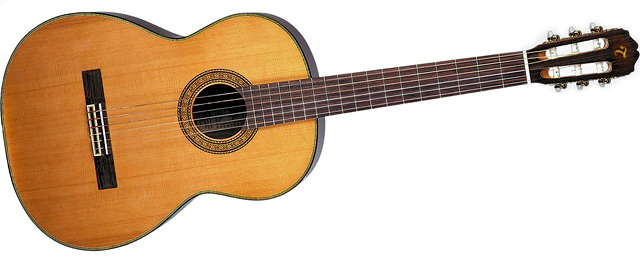 Wood Choice Influences Sound

The choice of wood is not just about beauty or durability. Each type of wood has a unique sonic signature. Cedar soundboards take six months to a year to break in and sound relatively dark and robust. Moreover, they are more forgiving of sloppy right-hand technique than spruce. In contrast, spruce soundboards take several years to break in and offer more clarity than cedar, but less warmth. Is one better than the other? Nope. It's all about choosing the soundboard that fits your technique and taste.

Spruce Tone | In this video clip, I play a Douglas Ching classical guitar with spruce soundboard and Brazilian rosewood back and sides. Notice the bright clarity and transparency of the tone?
Cedar Tone | The Frary Guitar Duo performs with cedar soundboard guitars: Douglas Ching (cedar & koa) and Jose Ramirez (cedar & Brazilian rosewood) classical guitars. Notice how dark, blended and romantic the tones are compared to spruce?
Of course, accomplished players can adjust their technique to sound good on both spruce and cedar soundboards. I love both woods equally but use them for different purposes. For Spanish and romantic music, I reach for my cedar top guitars. For ensemble and Baroque music, I grab a spruce top instrument.

The density and character of the hardwood used in the back and sides also influences timbre (tone color), although to a lessor extent than the soundboard. Dense hardwoods, e.g., Brazilian Rosewood, produce the darkest timbre. Softer hardwoods, e.g., maple, koa, walnut or mahogany, have a brighter timbre.

The combination of tone woods also influences timbre. Spruce and cedar sound boards are traditionally coupled with rosewood back and sides, yielding a balanced timbre. A spruce soundboard and soft hardwood back and sides—e.g., maple or mahogany--yields the brightest voice. A cedar top and soft hardwood back and sides—e.g., koa or walnut—yields a full-bodied voice with a touch of crispiness.
A Man Playing a Guitar (c. 1830) | George Chinnery, 1774–1852 | Yale Center for British Art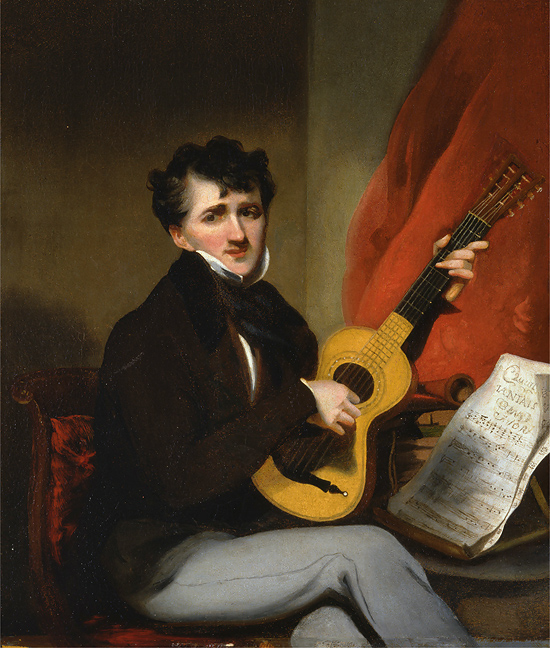 ©Copyright 1998-2017 by Peter Kun Frary | All rights reserved