.
StudioPro Twist Muslin Backdrop
Portable Folding Backdrop
Peter Kun Frary
.
---
.
I shoot videos and portraits of classical guitarists—mostly my wife and I—and have an ever growing collection of backdrops. The StudioPro 5' x 6.5' Blue Collapsible Twist Muslin is one of my favorites: convenient to transport, fast to set up and easy on the eye. It's a blue muslin marbled with random patches of white and darker grayish blues, almost resembling the sky with faint popcorn clouds. I love how it photographs and my sample is a little darker and more attractive and than the product photos on StudioPro's website.

Grace | StudioPro 5' x 6.5' Blue Collapsible Twist Muslin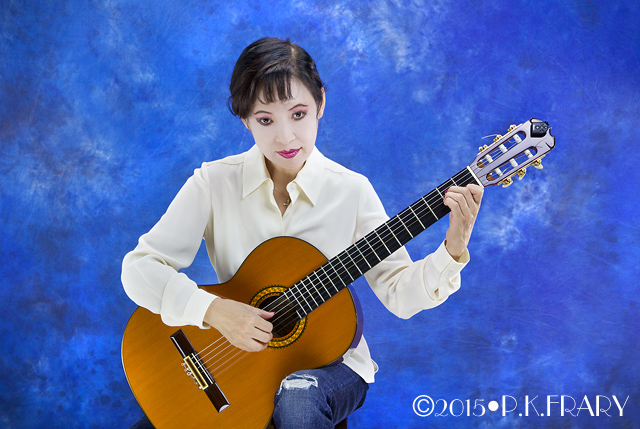 The fabric has a slight odor similar to vinegar and evaporated milk but airs out if left unfolded a few days. The fabric, as expected, is lightweight but good quality cotton. By definition Muslin is lightweight cotton cloth and, yep, it's thin so a backing layer is necessary if used against a bright light or window. It looks wrinkled when collapsed but is smooth once unfolded.
Peter Kun Frary | Etude in G Major (Aguado) | Shot with the StudioPro 5' x 6.5' Blue Collapsible Twist Muslin
Hanging

I use a CowboyStudio Background and Reflector Clip on a Kupo Sidearm to secure the StudioPro to my hair light boom stand. The StudioPro rim is a little fatter than most reflectors so I have to angle it in the clip before locking down. It's easier to attach the clip to the backdrop first and then mount the clip on the stand. The metal backdrop rim is heavy enough to be stable indoors. The clip merely keeps it from shifting.
StudioPro 5' x 6.5' Blue Collapsible Twist Muslin in horizontal position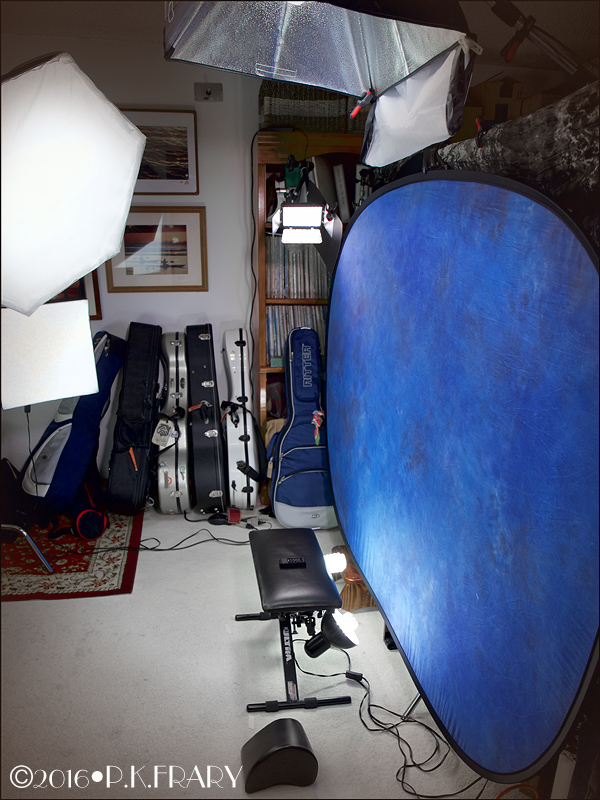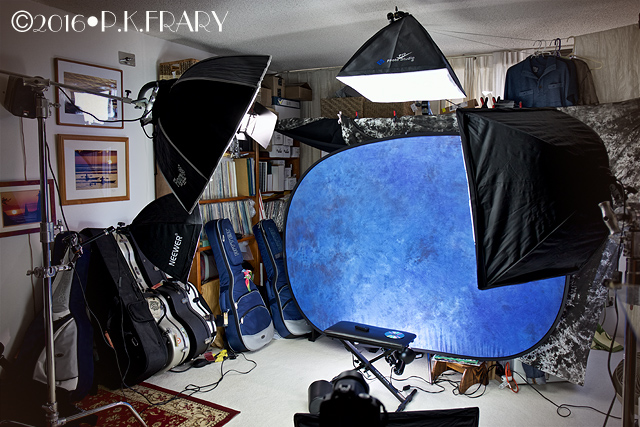 When I shoot on location or in my tiny office, I simply lean the StudioPro III against the wall or hang it from a light stand or mic stand using the CowboyStudio Background and Reflector Clip.

Peter Kun Frary | Ecossaise Russe (Giuliani) | Shot with the StudioPro 5' x 6.5' Blue Collapsible Twist Muslin
Folding

Folding it into a circle for storage is easy if you've used collapsible reflectors or car sunshades before. The folding technique is the same and takes two or three seconds. The difference is, at 5' x 6.5', it's tricky to grab both sides of the backdrop and the metal rings are really beefy compared to reflectors. I have to sit it on the floor lengthwise, tilt and flex it in order to grasp both sides before initiating the fold. Once folded, slip it into the 27" diameter zippered bag and it stores flat as a couple magazines. If you can't figure out how to fold it, watch StudioPro's demo video.

Twist, fold and store! (image courtesy StudioPro)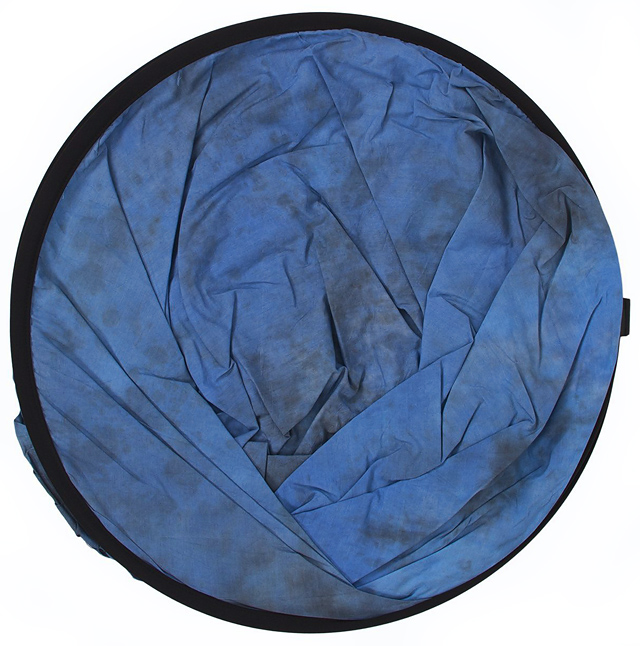 Last Blurb

Yes, it's pricey compared to a typical 6' x 9' backdrop but is worth it for the portability and fast setup. Realize it is just large enough for a single standing or sitting subject. Duets will not fit! All in a good deal and an attractive backdrop for shooting portraits or sitting classical guitarists.

Price: $58

Please support this site by purchasing this backdrop from Amazon.
Selfie | StudioPro 5' x 6.5' Blue Collapsible Twist Muslin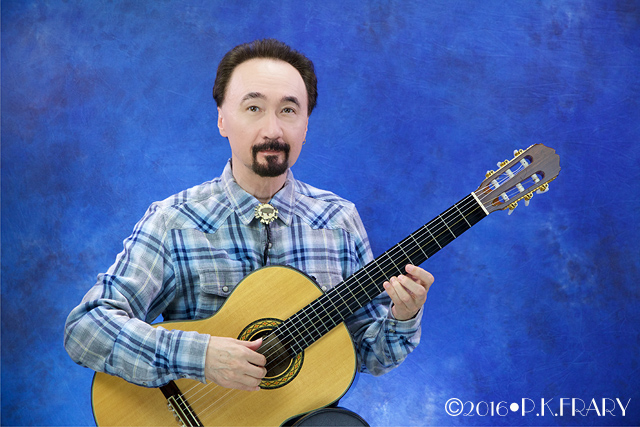 Like our video performances? Please subscribe to our YouTube channel.

03/18/2016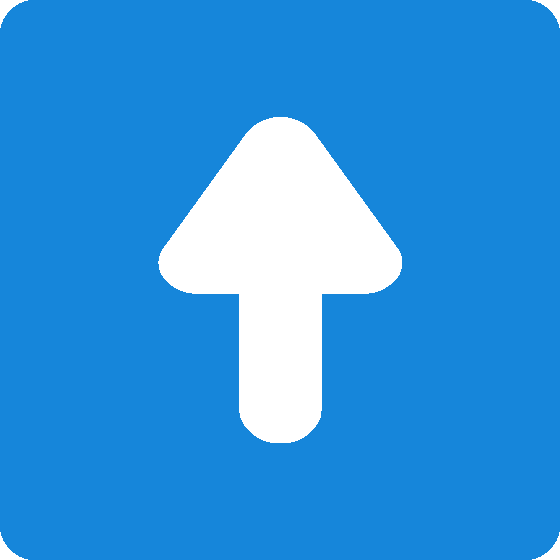 ©Copyright 2016 by Peter Kun Frary | All Rights Reserved